A Guide to Home Networking with Windows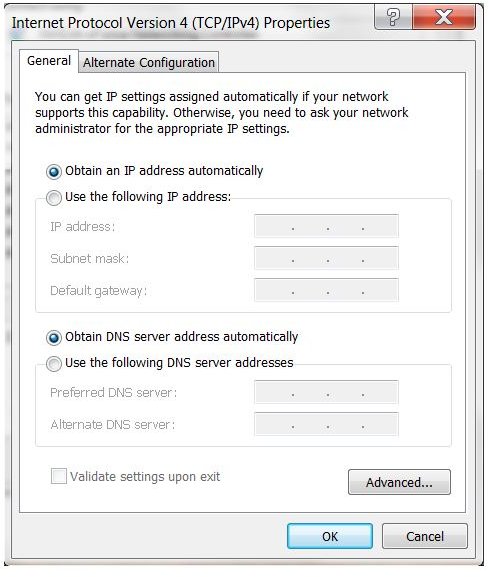 Network Types and Connections
A computer network is a set of computers connected together that share resources like files, printers, or an internet connection. Each computer has his own unique IP address that identifies him on the network. The IP address can be set manually or automatically if there is a DHCP (Dynamic Host Control Protocol) server. Your home network is a LAN or Local Area Network. This type of connection is used for small networks.
WAN is short for Wide Area Network and this is usually the network from where you get your Internet connection. In order to have Internet connectivity on your LAN computers you need a Router, which is a device that serves as a gateway between these two networks. You can share and use the Internet without this device but the process is a little bit more complicated. Your Internet connection comes to your house via phone, coaxial, optical cable or wirelessly, then a modem decodes the signal and enables you to use Internet. There are two types of modems - ones that have a built in router and the option for connecting multiple users, and the other one which only supports one user.
Configuring Your Home Network Using an Router
The router-modem combo is the easiest and fastest way for networking Windows computers. All you have to do is connect your coax, phone or optical cable in the appropriate port and connect your LAN cables. The router will automatically assign IP addresses to every computer connected to the network and configure their internet connections. Remember, the Windows computers must be set to get their IP addresses automatically.
The router will also connect to the WAN network, set the IP addresses for all of the LAN computers and act as a proxy between these two networks. If there is some kind of problem when you configure your network for the first time, try rebooting your router and computers.
There are some Internet companies that provide you with a modem that supports only one computer. This situation can be solved by connecting a router between your modem and LAN computers. Some Internet providers have security settings that prevent users with different MAC addresses from connecting to the Internet so make sure to contact your provider with the MAC address of your router.
Today, many routers have WLAN or Wireless LAN capabilities. The default settings for this connection are not safe so make sure you encrypt and protect your wireless network with a password in the configuration menu of the router.
Setting Up a Home Network Without a Router
For this method the main computer or the computer with the Internet connection needs to have two LAN cards or one LAN and one WLAN. In this case the main computer serves as a router between two networks. The modem is connected to the first LAN port and the other computers to the other port. For connecting multiple users you need to connect a device called a "switch" used for networking computers in LAN.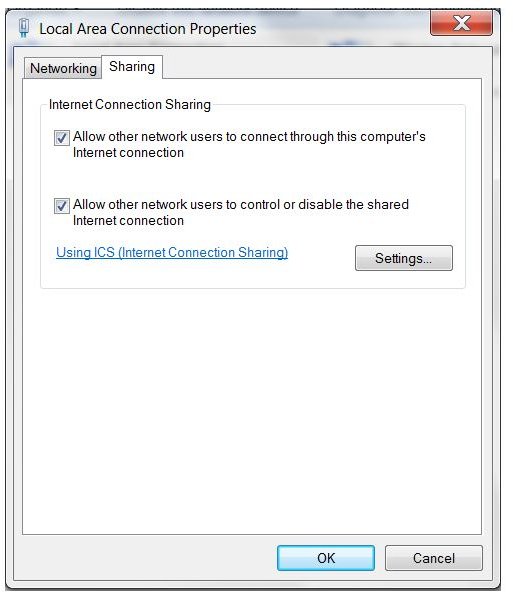 To set this connection in Windows and share the Internet with the other users you need to go to Control Panel - Network and Internet - Network Connections.
There will be two icons for the two connections. Right click on the connection with the Internet and select properties. Open the last tab named "Sharing" and Check "Allow other network users to connect through this computer's Internet connection" and under "Home networking connection" set the setting to your home network.
The next step is to connect all of the other users to the second LAN connection; directly for only one other user or via a switch for multiples users. Your primary computer will assign IP addresses to the other computers and act as a gateway to the Internet. The same method can be used with a WLAN adapter by creating Ad-hoc network with another wireless enabled computer. Remember to secure your wireless connection with encryption and a strong password.
Sharing Files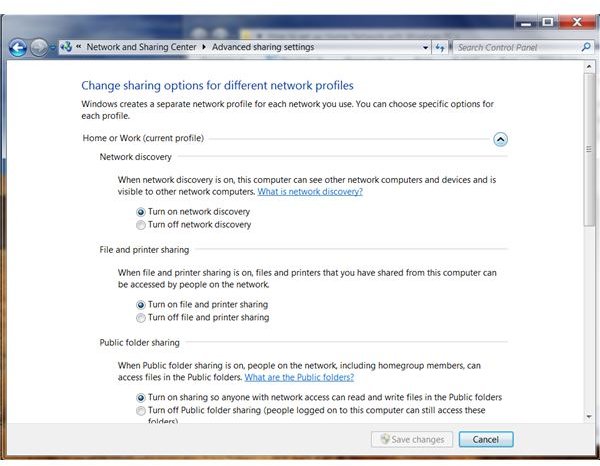 In order to share files between your computers go to Control Panel - Network and Internet - Network and Sharing Center - Advanced sharing settings.
There you will find all of the necessary settings for file sharing across different types of networks. After you've configured your settings, right click on the folder that you want to share, then go to "share with", then "Specific people…" and then from the new windows select the users that you want to access your files.
Which Method is Best?
The best solution for networking Windows computers is using a router. This device is basically a small computer that takes care of your network, has low power consumption, is noiseless and works independent of your computers. For the second method, the main computer has to be on all the time because it serves as a gateway to the Internet for the other computers and also the performance is lower because of the processor power needed to handle the traffic between the two networks. Using a router is also the safest option because they come with built-in firewalls that will help protect your network from intruders.
What are you using at home? We'd love to hear some feedback on your own configuration and welcome any questions using the comment section below.
References
All information from author's experience.

All images are screenshots by the author.