Microsoft Office Outlook Help - A Compilation of Troubleshooting Guides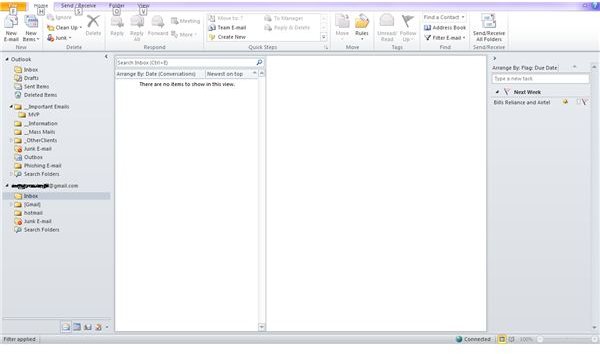 Microsoft Office Outlook Help - Alerts and Backup
This section of our Microsoft Office Outlook help and troubleshooting guide compilation contains links to articles that help you with basic tasks. These articles on Microsoft Office Outlook tell you what to do when you don't get alerts in Outlook and how to save your Outlook data on a different disk.
If you are using Microsoft Outlook 2010, you might have noticed that it does not play a sound for new mails in IMAP accounts. While Microsoft did not address this issue, we have a workaround that forces Outlook 2010 to play a sound for each new mail in your IMAP folders. Read Microsoft Outlook Does Not Play Sound For IMAP Folders for more details.
If you are using Microsoft Outlook 2007 or Outlook 2010, you can save your default Outlook.pst file on a separate disk and use it so that you need not back up contacts and tasks. You can always use the same file whenever you reinstall Outlook or upgrade to a newer version of Microsoft Outlook. For details, read How to Back up Microsoft Outlook - You Won't Need to Restore.
If you don't like the above method or if you are using Outlook 2003, you might want to back up the Outlook.pst on regular accounts. Also, if you have more than one account, it becomes necessary to back up all the account files so that you do not lose data in case of system crash or otherwise. Read How to Backup Outlook for details on backing up all the e-mail accounts. This does not cover backing up signatures though.
Microsoft Office Outlook Help - Other Tasks
This section of the Microsoft Office Outlook help deals with more complicated topics such as Spam, repairing Outlook files and what to do when you get certain errors in Outlook.
Often, you get error dialogs saying some program is trying to access your contacts folder. While you cannot disable the error dialogs, it is necessary to know which program is accessing your e-mail addresses and why. For details, read Microsoft Outlook Warning.
If you are using Microsoft Outlook 2007 on Windows 7, we have a guide that addresses the common problems that might arise. The guide also talks about speeding up Microsoft Outlook 2007. Please read Windows 7 Problems Running Outlook 2007 for details.
Often Microsoft Outlook 2007 fails to respond. If you are using Outlook 2007, you might be interested to know the causes and how to deal with the problem. Outlook 2007 is Not Responding talks about what to do when Outlook 2007 stops responding.
Microsoft Outlook presents problems when the data files (*.pst) is corrupt. If Outlook.pst is corrupt, Microsoft Outlook will hang. You can try repairing the PST files if your copy of Microsoft Outlook is hanging. If a PST file is damaged, you might not be able to see the saved messages and folders may be missing. Sometimes, you cannot open folders. Read A Guide to Outlook PST Repair to know about fixing such problems.
If you have been receiving too much Spam lately, you might want to use a Spam filter. Outlook 2003 and above versions have a default spam filter that can help you filter out junk mails. You can also block certain users from sending mail to you. Mails from blocked senders will automatically be directed to the junk folder when you use Outlook's default junk mail filter. Our guide on Spam Blocking in Outlook tells you about the filter and also offers some tips to reduce Spam.
This guide contains just few of the many Bright Hub articles on Microsoft Office Outlook help and troubleshooting. For more information please check out Microsoft Outlook.
References
Image from Microsoft Outlook 2010
All references from brighthub.com
This post is part of the series: Learning Microsoft Outlook
This article series on Microsoft Outlook aims to help you sharpen your skills on the email client from Microsoft. It offers tutorials, tips tricks, troubleshooting help and more.