Internet Explorer and New Security Options: IE 9 Security Setting

Internet Explorer 9 and Its Security Options
Version 9 of Internet Explorer is available for download at Microsoft website. The new version will only run in Vista and Windows 7 operating systems. It's currently in beta phase which means there are bugs that is maybe known and unknown yet to Internet Explorer team. To those who tried or currently using IE 9, you are aware already of the new design and feature improvements but for those planning or wanting to know what is the new security options in the upcoming and new version of Internet Explorer or what to do with IE 9 security settings, check the sections below to learn what to expect.
Malicious Download Notification via Download Manager
One of the new IE 9 security settings or features is the addition of Download Manager. Like a basic download manager, you can pause or restart any file download in the list. The neat and useful feature of the download manager in IE9 is the notification when a file is malicious. This is done with the help of SmartScreen Filter feature in Internet Explorer that is also available in version 8 of IE.
Below are an example of file downloads that I tested using Internet Explorer 9's download manager: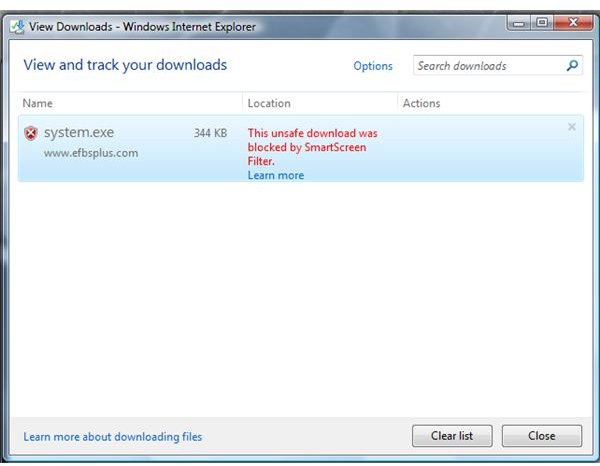 Prior seeing the download manager, IE9 notified me already using the message bar: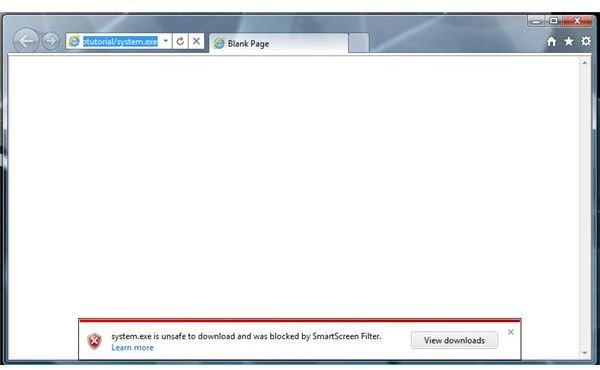 Add-on Performance Advisor
One of the common problems faced by Internet users is when an add-on for the browser is causing problem. Add-ons like toolbars, browser helper object, ActiveX, widgets and other browser extension applications is not often updated to be compatible to browsers. In some cases, add-ons have incompatibility issue with other application such as Internet Explorer, Outlook, Windows Mail, or to the system itself. Microsoft decided to include a new feature called "Add-on Performance Advisor" in IE9. Any add-on that is causing the browser to slow or performed bad is checked by IE9's Add-on Performance Advisor. This let you decide to remove or disable the add-on and use it again when it has been fixed by the add-on software developer.
The Add-on Performance Advisor in IE9 can also notify you if the add-on you've installed is ready to use which means you'll also see an option to disable or enable the new add-on. This feature is quite useful just in case a malicious add-on have bypass the User Account Control and the protected mode features in Vista/Windows 7 and Internet Explorer, respectively.
An example how Add-on Performance Advisor in IE9 will work is when you install add-on or several browser add-ons, IE9 will display the performance advisor notification and the option to disable any add-on that is causing speed problems: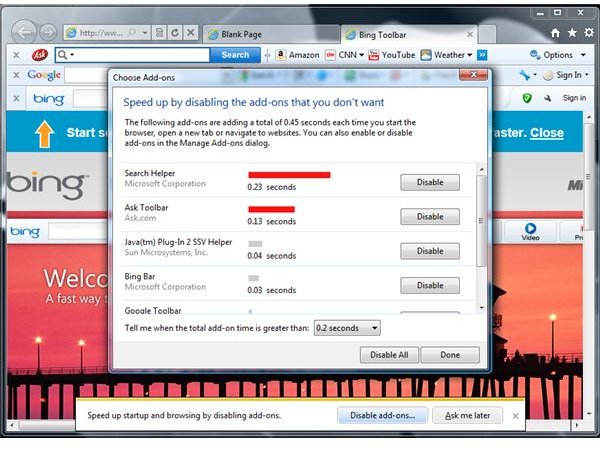 Tracking Protection
Microsoft is aware of the privacy issues when browsing the Internet that's why they are going to add Tracking Protection feature in Internet Explorer 9. The privacy feature gives Internet Explorer 9 users an option to control which third-party site can track them. In short, there will be control and list for users to take advantage. More information about Tracking Protection feature for IE9 is in Internet Explorer Team's blog. I'm not sure though if it's worth using the said feature because most privacy conscious users prefer to block any sites that is proven to track end-users Internet browsing history, location, gender, age, and many others.
In addition to Tracking Protection, there will be an option to control what information will be sent to search providers e.g. Google, Bing, Yahoo, etc.
Final Words
It's good to see new security and privacy features is being added and implemented in web browser, Internet Explorer in addition to providing SmartScreen Filter, InPrivate filtering, Protected Mode and IE security settings for specific sites. It's recommended to keeping up-to-date applications especially the browser but wait until it is a final and stable version.
Image credits: Screenshot taken by the author, IE9 Logo https://upload.wikimedia.org/wikipedia/commons/b/b7/Internet_Explorer_9_wordmark.svg by Linfocito B (talk · contribs). Originally author: Microsoft Corporation [Public domain], via Wikimedia Commons