Solutions to Windows Live Service Isn't Available at This Time Error Message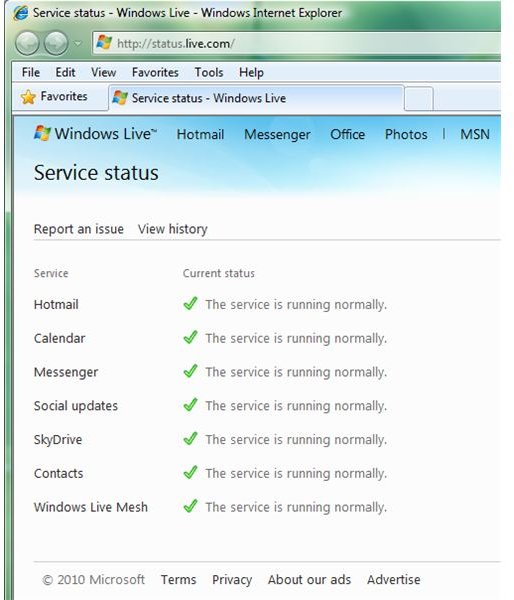 Windows Live Services
Windows Live is a hosted service by Microsoft that allows computer and Internet users to use several online and offline products. You are not required to have a Windows Live ID or Hotmail account in order to use some of the services except Messenger, SkyDrive, Family Safety, Hotmail or Windows Live email, Calendar, Groups, Mesh and Live Office.
Other Windows Live services or software may require Windows Live ID to connect to the Windows Live server, if the end-user will use sharing capabilities of a particular application, e.g. Photos or Writer.
If you are one of the Windows Live users that see an error message, "Windows Live service isn't available at this time," try the troubleshooting checklist in this article before contacting Windows Live support.
Is Windows Live servers running?
Windows Live server status can be checked via https://status.live.com/ website. It will display whether Hotmail, Calendar, Messenger, Social Updates, Contacts, SkyDrive and Live Mesh servers or services are currently running:
If there's a known issue or problem, you don't have to panic but wait until the service is back up online. In the Windows Live status page, you should see the previous server status of Windows Live: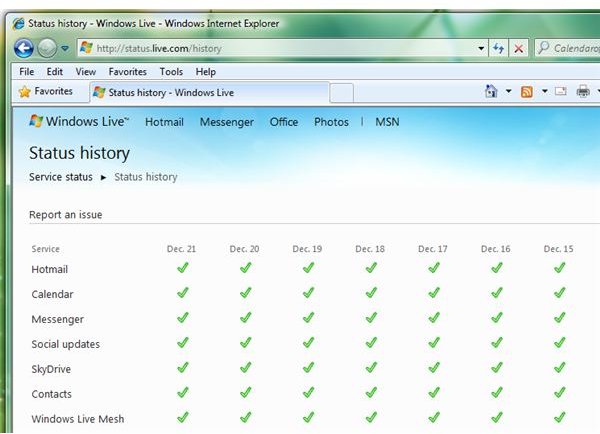 On the same page, there's an option to reporting the issue, if Windows Live server isn't working at your location for many hours or days.
Error code is displayed
If you are receiving an error code with the error message "Windows Live service isn't available at this time", you need to take note of the error code number because each error code corresponds to a different issue and solution. Example: Error code 80072f19 can be fixed by putting a check-mark on Server certificate revocation, SSL 2.0 and SSL 3.0 options in Internet Explorer's Internet options > Advanced tab.
Error code 81000378 can be fixed by the same steps but you also need to re-register the following dll files in Windows using the command prompt:
REGSVR32 softpub.dll
REGSVR32 wintrust.dll
REGSVR32 initpki.dll
REGSVR32 Rsaenh.dll
REGSVR32 Mssip32.dll
REGSVR32 Cryptdlg.dll
REGSVR32 Dssenh.dll
REGSVR32 Gpkcsp.dll
REGSVR32 Slbcsp.dll
REGSVR32 Sccbase.dll
Close the command prompt window after registering the above files, and then try again in using Windows Live services.
Locked or Blocked Windows Live ID account
Windows Live services are not available to users whose accounts were locked or blocked due to spam-like activity via email, instant messages, invitations, or Spaces services. You should be seeing a page with a guide on how you can unblock or unlock the Windows Live account.
Firewall and Proxy settings
Check the firewall software on your computer to see if it is blocking access to any Windows Live servers. You can verify if it is the firewall blocking your connection by troubleshooting the connection. Temporary disable the firewall protection, and then try to connect to any Windows Live services. If the connection is successful, configure the firewall to allow connections of the browser to port 80, or the outgoing and incoming traffic of Windows Live software in your PC.
You may also check the proxy and Internet connection settings of Internet Explorer. Ensure that proxy server is not enabled, if you are not behind proxy server. Also, check whether the connection settings are correct and actually using the correct DNS servers provided by ISP or your preferred DNS server settings.
Screenshots taken by the author courtesy of Microsoft's Windows Live (https://explore.live.com)