Beware of Windows Police Pro: It's Not What it Seems!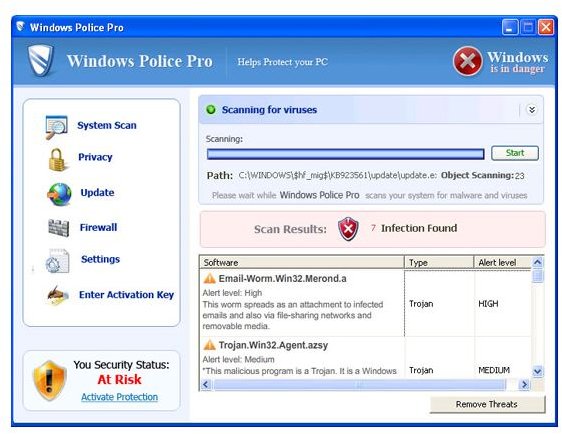 Windows Police Pro is an application that works by showing fake security alerts and asks you to scan your computer system. It mimics the characteristics of real scanners such as Windows Defender and it causes the rise of falsely accusing legitimate applications. The fake report shows threats that have a security kevel from mild to severe. When you click the scan button, the application will save itself on your computer. It's very much similar to the Internet Explorer Antivirus malware that also tricks users into thinking it's a legitimate application.
After running the setup, it will scan your computer system and show you a fake report about various threats present in your system. When you try to remove the same, it will ask you to purchase the application. Ii will also show you several infiltration alerts, like an unknown virus detected. It might also be possible that when you purchase the application, your credit card info is also stolen.
But, the story behind the scene is that by the time software has been installed on the computer, it might have already infected your computer system with several other threats. One of the common symptom is that you will notice message like "svchost.exe has encountered a problem". Such messages are shown, whenever you reboot your computer system or while you are performing some task.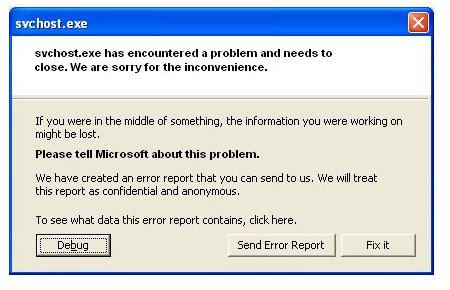 "Svchost.exe" process does get corrupt sometimes but that is very rare. If you see this message often, then you can be 100% sure that your computer system has been infected with Trojans and viruses that have been downloaded by fake application.
Other Symptoms Include:
Open the task manager by pressing the Ctrl + Alt + Del keys together. In the task manager, go to Processes tab and check if you are able to see any of the following processes: "dbsinit.exe", "Windows Police Pro.exe", "minix32.exe" or "ANTI_files.exe"
You can also check for the following directories in your computer system's "Program Files" folder: Windows Police Pro.
You might also notice frequent ads while browsing internet using Internet Explorer.
If you do notice any of the above symptoms, then your computer system's security has been compromised, and immediately you need to take some action, before it gets too late. The damage caused by this fake application is still unknown, but users around the world have complained about frequent system crash after running this fake application on their computer system.
It's always wise to have some type of anti-malware installed to prevent applications such as Windows Police Pro from executing themselves on your computer. It's also one of the top ten ways to protect yourself against malicious users, such as hackers.
Images Credit
Windows Police Pro application screenshot by bleepingcomputer.com
svchost.exe message screenshot by Microsoft Windows
This post is part of the series: Windows Police PRO
Windows Police Pro is a threat to your computer system that shows false and misleading information about computer system infection. This application is a copy of its predecessor application named Windows Antivirus Pro.