Review of Symantec Norton Internet Security 2012
Introduction to Norton Internet Security
When it was launched back in the latter part of 2011, Norton Internet Security 2011 was well received by users after several years of poorly performing products that many termed 'bloatware'. Previous incarnations of the software were plagued by mediocre detection and removal rates, while placing huge demands on system resources.
In answer to its critics, Symantec completely rebuilt Norton Internet Security 2011 from the ground up, giving it a new user-interface and introducing a raft of new features. It was a welcome return to form by the company and now with Internet Security 2012, Symantec have built and refined the product further into a wholly impressive security suite.
NIS2012 User Interface (4 out of 5)
Norton Internet Security 2012 is essentially a reworked and refined version of its predecessor, and while this latest version adds some new functionality into the mix, most of the changes seem to be cosmetic with some enhancements made to the existing features found in Norton Internet Security 2011.
Firstly, the over-crowded user interface has been streamlined with many of the lesser-used functions hidden behind a slide-up panel, leaving most users' core tools – the ability to update virus definitions, and the ability to run a scan – being the most prominent. Overall the user interface is much more intuitive and user-friendly than before, with easy-to-navigate menus.
New Features & Enhancements (4 out of 5)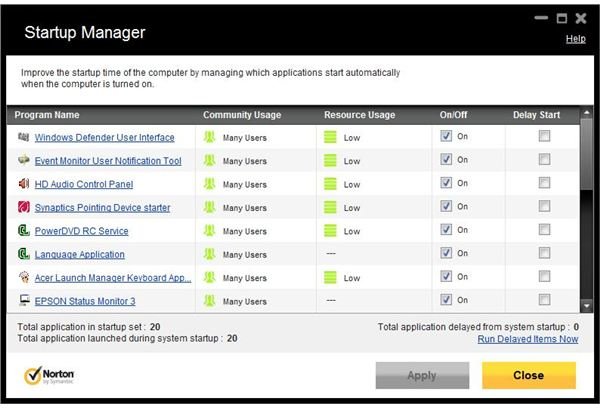 One of Norton Internet Security 2012's biggest improvements has been to its SONAR (Symantec Online Network for Advanced Response) behavior-based detection engine. SONAR has been improved to track more process and threat behaviors than before and compare them with other threats' behaviors. When SONAR detects a new threat, it is automatically blocked and removed if classed as high-risk, or prompts for user-intervention if classed as a lower risk.
Symantec has also introduced a Bandwidth awareness function that can be used to limit the use of your shared internet connection across adapters. It has been primarily designed for laptops and mobile devices to guard against monthly bandwidth limits by preventing devices from downloading large software updates across WiFi.
A new Start-Up manager also debuts in the new suite, making the transition from Norton 360 and lists every application that starts automatically on a users' PC. The tool shows how many resources each application uses and provides users with more information about the application, helping them decide whether it needs to run at startup or not.
Norton has also refined its Power Eraser function, which now runs in WinPE (Windows Pre-install Environment) and is accessible via the Norton Bootable Recovery tool. This means that the tool has much more scope to remove malware as it runs from a completely separate environment that malware doesn't access, meaning the full OS and more partitions can be scanned and cleaned.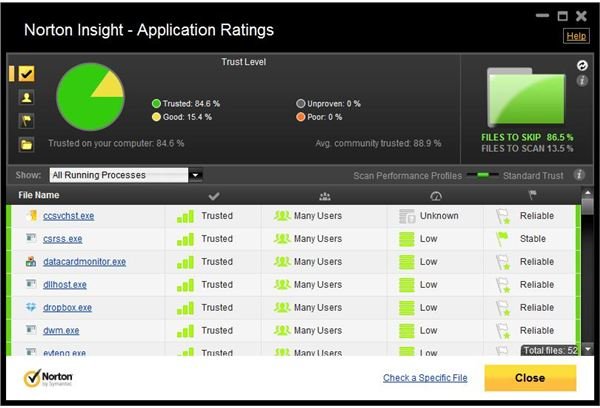 The Norton Insight tool offers information about the reliability of programs installed onto a users' PC. The tool works by monitoring programs installed on different OS and reports a stability score derived from four factors to give users a better indication of how a program might affect their system resources and overall performance.
Identity Safe has also been streamlined to provide better protection, syncing its information with Norton's cloud to provide a permanent back-up. Users can set usernames and passwords for websites such as Amazon and internet banking that requires login data, and Identity Safe logs the user in whenever they visit.
Performance (4 out of 5)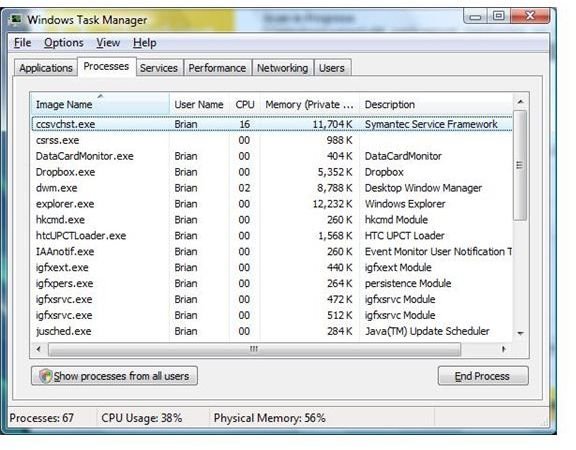 All tests of the software were performed on an Acer laptop, fitted with 2GB of RAM, a 160GB HDD and running Windows Vista with Service Pack 2 installed.
In testing, Norton Internet Security 2012 performed well with my assorted test files of virii, rootkits and malware. The software detected all my samples, removing all but three samples at the detection stage. However, those it couldn't remove were eradicated using the Norton Bootable Recovery tool.
The software also blocked all attempts to download a virus via email and IM, and also blocked all web threats that attempted to download themselves from attack sites.
In the past I've found Norton Internet Security products to be relatively resource-heavy but with NIS2012, the peak CPU usage even when scanning was only 16% and my laptop didn't feel sluggish when performing other tasks while scanning took place.
However, scanning speed of the 80GB of files on my laptop was very slow and took over 2 hours to complete.
System Requirements (5 out of 5)
Norton Internet Security 2012 supports the following Operating Systems:
All versions of Microsoft Windows XP (32bit) with Service Pack 2 installed
All versions of Microsoft Vista (32/64bit) with Service Pack 1 installed
All versions of Microsoft Windows 7 (32/64bit)
It's hardware requirements aren't too taxing, requiring a 300MHz CPU (XP) or 1GHz CPU (Vista/W7) along with 256MB RAM and 300MB of available HDD space. A DVD-ROM drive is required for retail packs.
Pricing (3 out of 5)
Pricing of Norton's Internet Security 2012 is on a par with other internet security suites, with a 1-year license for up to 3 PCs weighing in at $69.99 and there are license options for up to three years. Symantec also offers a 30-day free trial of the security suite through its website.
Existing NIS2011 users should get a free upgrade to NIS2012.
Verdict (4 out of 5)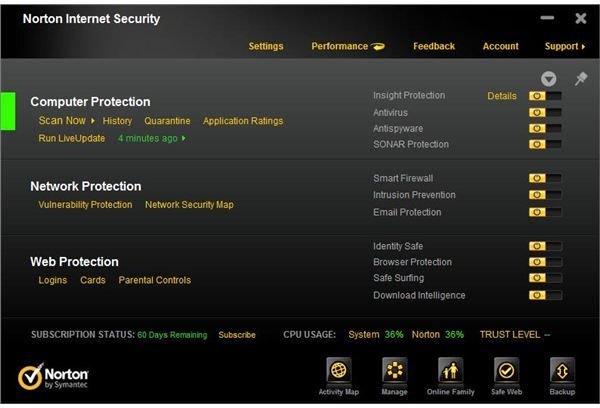 Symantec has taken its impressive Norton Internet Security 2011 package and beefed it up with some enhancements and new features. A new interface and a relatively small impact on system resources, as well as some impressive detection and removal rates makes Norton Internet Security 2012 a solid choice of PC protection for new computer users.
However, users of other suites such as Kaspersky Internet Security 2011 or Bitdefender Internet Security 2011 will likely find that Norton's latest offering doesn't bring anything sufficiently different in terms of functionality or superior protection from their current security suite that would make them consider switching their existing security software to Symantec's product.
References