Complete Guide to Disaster Recovery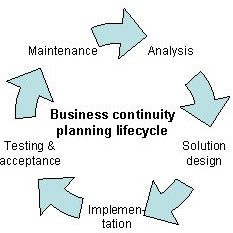 What Is Disaster Recovery?
In the event of a fire, hardware theft or damage, or worse, a disaster recovery plan can be put in place to make sure that you or your organization is able to proceed as normal. This is called "business continuity", but what is disaster recovery?
With data potentially lost forever, information is needed so that your most vital tasks can continue. Following the implantation of a disaster recovery plan, this can be done relatively quickly thanks to data that has been backed up. Restoring your business-critical files and folders is vital for business continuity, which is why a disaster recovery plan is so important.
Understanding Business Continuity
Business continuity is about more than simply data, however. If you are a sole trader, your car or computer could break down or be stolen. Having a plan to overcome such a difficulty is vital for short-term continuity.
Similarly, a fire or damage to your property could force you to close operations unless you have a back-up plan. This is the basically the nature of business continuity – being aware of what steps you can take to continue normal operations in the event of a major incident impacting your ability to continue business.
Some Suggested Software for Disaster Recovery
Disaster recovery for organizations and small or home businesses can be managed using utilities that have been designed to help users backup and archive their data. Applications such as Acronis True Image and Norton Ghost are typical choices, offering the ability to quickly copy data stores and even complete computer operating systems.
Meanwhile, recovery software can be employed to restore lost or damaged data in the event of a hardware failure. While having such tools is recommended, they represent the most basic level of planning in business continuity. However, you shouldn't have to rely on this solution as backups should already have been made.
Managing Your Backed-Up Data
Backing up data in the event of a hardware failure (or worse) is only half the job, however. If your server room or office was destroyed by fire, the chances are that your backups would be too. In this event, you should be employing an off-site data storage solution.
This might be a remote location that you or your organization own which is secure and large enough for a dry, air-tight and fire-proof safe to be installed. Alternatively, you might contract a third party company specializing in such solutions.
Another approach that is gaining popularity is cloud computing, which is where data is stored online at a remote server.
Understanding and Testing Disaster Recovery Plans
Developing a disaster recovery plan requires considerable attention to detail. Before you create your own, you should be aware of as many variables as possible, such as potential catastrophic incidents that can impact your business, phases that can be implemented and of course techniques for testing your plans.
Having the best plan in the world is no good at all if you're unable to test it. Even if you only do this monthly or twice a year, it should be efficient and effective enough for you to work through should the worst happen.
Create Your Own Disaster Recovery Plan
By now you should be ready to develop your own disaster recovery plan, which will include full details about the need for business continuity and how this can be implemented. Activating your disaster recovery procedure will more than likely involve some data recovery, so don't overlook this.
If you're concerned about writing a complete plan, our tips and templates should provide you with the answers you're looking for. As with most things it is better to be prepared than to wake up one morning and discover that you have a potentially life-changing problem on your hands.
References