Simple PC Tools Internet Suite 2011 Review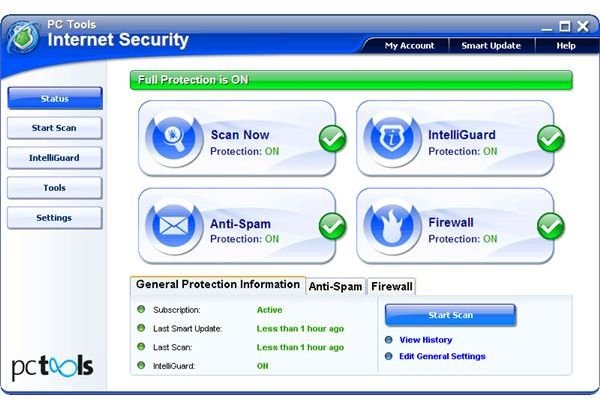 Comprehensive Internet Security Suite (5 out of 5)
Protecting our computers from viruses, spyware, phishing, and other malicious threats seems to have become our primary goal these days. We keep looking for new products in the market to zero in on these malicious threats and PC Tools Internet suite 2011 seems to be one of the best online and offline protection suites.
After having used the product myself, I hope to give a fair PC Tools Internet Suite 2011 review. PC Tools Internet Security suite, a comprehensive security program, offers powerful protection and security against online threats, including spyware, adware, Trojans, spam, viruses, firewall, phishing and hacking attacks.
Like any other antivirus function of detection, blocking, and removal of threats, PC Tools Internet Suite 2011 runs Full and Custom scans of hidden files, archives, documents, sensitive areas. It also quarantines infections, creates restore points, and eliminates malicious threats.
The best function of PC Tools Internet suite 2011 is its antispyware function, which makes it above par than other competitors in the group.
Features (5 out of 5)
Antispyware
Thanks to Spyware Doctor with AntiVirus, PC Tools Internet Security suite is an extremely effective top quality anti-spyware program. This feature protects inbound spyware from getting past your computer. In fact, this program incorporates all of the anti-spyware capabilities, which are hard to find elsewhere. With this feature, you can be rest assured that your PC would never be affected by spyware.
Antivirus & Firewall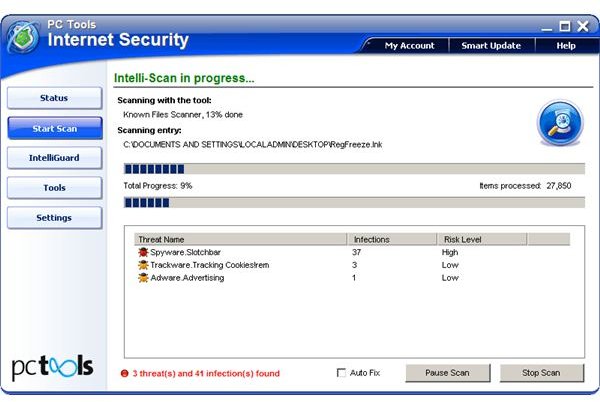 This program offers effective antivirus protection, which gives an edge over its competitors in this category.
ThreatFire™ Behavioral Intelligence efficiently and quickly blocks threats. The multi-layer browsing protection feature helps ward off even the minutest bugs trying to breach your electronic serenity.
The IntelliGuard feature offers advanced spam and firewall protection against threats trying to compromise your PC. It monitors malicious threats such as viruses, spyware, Trojan horses, tracking cookies, keyloggers, browser hijackers, pop-ups, hackers, worms, identity theft, and other online security dangers, and ensures that none of these pose any threat to your computer.
Certifications
PC Tools Internet Security 2011 software comes from a creator that is highly reputed in the world of PC security. Products offered by PC Tools are known for their affordable cost and best protection against malicious threats. PC Tools internet security suite 2011 has received the highest rating from AV-test.org and VB100% designation from Virus Bulletin.
Ease of Use (4 out of 5)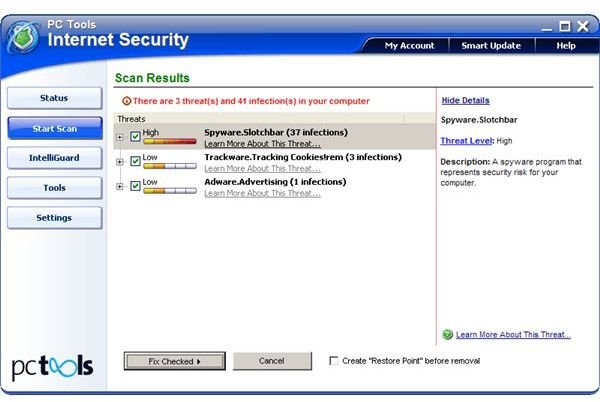 PC Tools Internet Suite 2011 is designed for all users irrespective of their level of technical or computing knowledge. Automatic configuration ensures that PC Tools Internet Security can be easily installed. Keep the default settings untouched and enjoy complete PC protection. This all-in-one PC security suite is your best bet for immediate and ongoing protection. If you have used Spyware Doctor before, you would not face any interface issues, as the interfaces of both these programs are almost same. Yes, additional security features, such as ThreatFire™ Behavioral Intelligence, Advanced rootkit detection technology, a new memory scanner, and the new Download Guard can be confusing. Although it appears that these extra features have been added to Spyware Doctor merely to create a security suite, one thing is sure that despite these additional features, there is no slowing down and you stay protected.
Windows Compatibility
Windows 7 is the officially supported operating system for this software. However, you can run it on Windows XP as well as Vista.
Help & Support
Phone, email, and live chat support is available for you, besides various user guides, knowledgebase, and online community forums.
Limitations
Though the trial version offers full protection, the threats detected during on-demand scans remain in your PC, as it does not remove them. But if you purchase the online version, you won't face any such issues with this security suite.
Price
At $49.99, you have can a one-year subscription for up to 3 PCs. Considering the security it offers, I think it is worth the price. For registered users, product activation is done online and does not require a system restart. What's more, with a 30-day refund policy, the product offers you 100% satisfaction guarantee; else you have the option to ask for refund within 30 days of the purchase.
Is It Worth Trying? (5 out of 5)
PC Tools Internet Security is highly recommended for its exceptional anti-spyware capabilities and firewall protection. While filtering your emails for spam, IntelliGuard technology alerts only when it detects a virus, true spyware, or firewall intrusion. This ensures that no cryptic questions would interrupt you every time you install a software program, add a website to your favorites, or change your computer settings. Thus you do not fear losing your important data to viruses or any other malicious threats. Take my word on this! I hope this PC Tools Internet Suite review has helped you decide whether you should step into the world of complete PC security.
If you are interested in PC Tools Internet Suite, please visit the PC Tools website.
Image Credit
1. PC Tools: PC Tools Internet Security Suite 2011
2. PC Tools: Intelli Scan in Progress
3. PC Tools: Scan Results