Setting-up Windows Live Family Safety to Protect Children

About Windows Live Family Safety
Windows Live Family Safety is one of the Windows Live online services by Microsoft. Parents can use this parental control software to restrict websites, games and programs that kids can access. In addition, it can be used to block children's contacts in Windows Live Messenger or any Windows Live services that use a Windows Live ID.
Note that Microsoft previously provided this service in Windows Live OneCare software, which is now discontinued.
Download and System Requirements
Windows Live ID, Hotmail or Passport users can use the parental control program and service, Windows Live Family Safety. The free parental control software runs on Windows 7 and Vista operating systems. It is free to use the parental control service or software, but if you create a Windows Live ID account for your child that is under 13 years old, you have to pay 50 cents. This is a required verification fee by the Children's Online Privacy Protection Act (COPPA) on registering such accounts for minors. Microsoft will donate this money to The National Center for Missing and Exploited Children.
Users can freely download and use Windows Live Family Safety from the Microsoft Update website, Windows Update application in Vista or Windows 7, or from the Microsoft website. The installer uses a bootstrapping method, which means it is an online installer. People who prefer to install Family Safety using offline installer should go to this page by Microsoft.
Setting-up Windows Live Family Safety
Installing Family Safety in Windows is straightforward. After the install, you need to sign in using a Windows Live ID. It will then detect the user accounts in Windows. If you already have multiple user accounts for yourself or family members, the program will automatically detect and display them. If not, you have the option of creating a new user account to monitor using Family Safety software. A notification icon of Family Safety will be created.
Note that you have to install Family Safety software on every computer that you want Family Safety program to monitor or apply restrictions.
If your family members or children already have Windows Live IDs, you can add them to your Family Safety account where you can also manage the restrictions or view the activity. You can set up another adult family member as parent, which means they are allowed to manage the Family Safety settings for the family.
A parent can use Family Safety program or website to manage who to monitor or restrict in using the computer or the Internet services.
Setting-up the Family Safety filter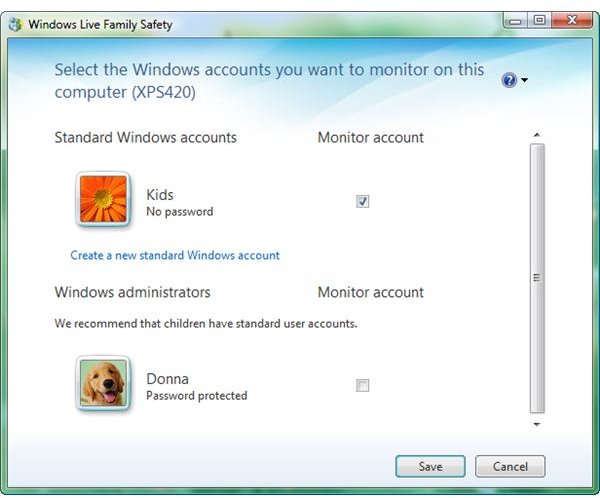 After installing Family Safety software, you can start adjusting or enabling the filtering service for every user account that you wish to monitor. Note that if the whole family uses one user account in Windows, you cannot view the activity report. It is recommended to create and use separate user accounts or user profiles for kids or other family members to benefit from all the features of Family Safety by Microsoft.
With the user accounts or Windows Live IDs of family members in place, you can now start using the filtering service or options:
Games and Program restrictions – select which installed PC games or software in Windows can be run or used.
Web filtering – add or remove blocked websites.
Time limits – enable or restrict when another user or kids' accounts can use the Internet or the computer.
Contact management – add Windows Live IDs that are allowed to or blocked from communicating with your kids.
File download – permit or block the kids or other user accounts from downloading files from the Internet.
Activity and Request – view the activity log and check whether there are requests from family members for websites, programs, games or contacts that they want to use, play or communicate with.
What Family Members Will See and How to Attend to Requests
Your children or monitored family members will see a message that a page or program is blocked, and there is an option for them to send you an email request or talk in person. Kids or family members can also add a note or comment so you can view them and then act, whether it is a site, program or games that you can consider allowing.
If you are a working parent, you can attend on requests by simply going to Family Safety website and then choose whether to approve the request for the particular account, all accounts, or deny the request.
What Is Your Child Doing on the Computer While You are at Work?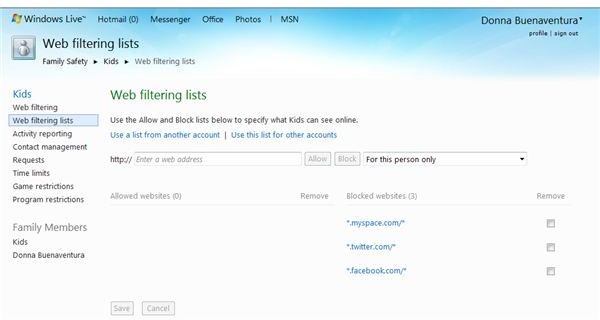 A neat feature of Windows Live Family Safety is the ability to log any activity by monitored or restricted family members with a Windows Live ID or Windows user account. You can view the following information in an activity report:
Web activity – view what websites kids or family members have visited or attempted to visit using a web-browser.
Internet activity – check what websites non-browser programs have accessed. Example: Microsoft Outlook, Windows Mail or a toolbar that connects to the Internet to retrieve emails or updates itself.
Computer activity – programs that are installed on the computer and used by kids are logged, including when and how many times the program was used. You can also view what time and how long the computer was used.
Can You Restrict Which Windows Live Services Family Members Can Use?
Windows Live includes several online services and software to which you can restrict access using Family Safety software or service. If you do not want your kids using Windows Live Messenger, you need to use the Contact Management feature in Family Safety.
If you do not want the kids to chat or email using Windows Live Messenger, Hotmail or Live Spaces, you will need to enter their Windows Live ID account via Contact Management. Next, you can block their contacts using the Windows Live services.
Updating or Removing Windows Live Family Safety software
Microsoft will provide updates for Family Safety software via Microsoft Update website or the Windows update application in Vista and Windows 7. It is an optional update that you will need to select when checking for available updates in Windows, Office or other Microsoft products. You can also get the free Windows Live Family Safety download at https://fss.live.com/
Removing Windows Live Safety is straightforward – simply open the Add or Remove programs utility in Windows to remove the parental control software. However, removing Family Safety does not remove the monitored accounts by parents. The parent or guardian should visit Family Safety website and then remove the monitored accounts.
Image credits: Screenshot taken by the author.