A Review of the New iLife 11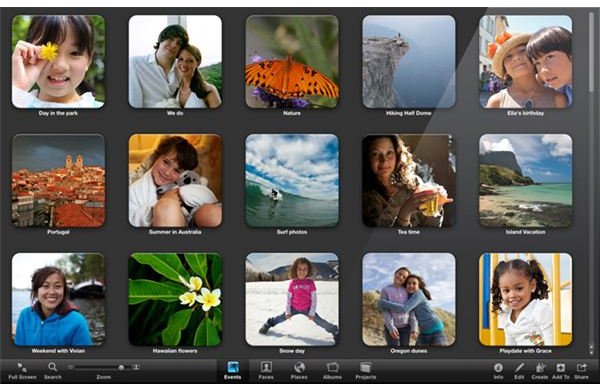 Introducing iLife 11
All Apple computers come with a suite of programs called iLife. This suite includes iPhoto, iMovie, iDVD, GarageBand, iWeb and the MobileMe Web Gallery.
The fact that Apple ships new Mac computers with this suite instead of an office or productivity suite underscores the idea that Apple computers are creative tools instead of cogs in a machine. While iDVD has little fanfare, Apple's iPhoto, iMovie and GarageBand are generally considered to be the most user-friendly tools in their respective markets.
During the Back to the Mac conference Apple announced the immediate release of iLife '11. There aren't any new programs added to the suite, but there have been some updates made. Let's check out the new features.
iPhoto - Now with location-based slideshows, full-screen albums and more
Apple's iPhoto software received a host of new updates that expand the creative possibilities of the program. One of the biggest additions was the announcement of revised photo book and card features. It is now possible to use iPhoto to create your own photobooks, wedding invitations, cards and more. These items can then be sent to Apple, which contracts with a print-shop to make your project and reality and ship it right to your doorstep.
This feature isn't free, obviously, but it convenient. It is surprisingly hard to create a project of this sort using most software, and harder still to put that information into the hands of a competent print-shop. Apple, in classic form, has integrated everything into one easy process.
Another really cool new feature is the addition of new slideshows that are based on locations. You can geo-tag photos and then, once you've done that, put them into a slideshow that displays the photos over a map of the location you visited.
Other new features include full-screen album views, the ability to organize photos by faces, and easy sharing of photos with others via email.
iMovie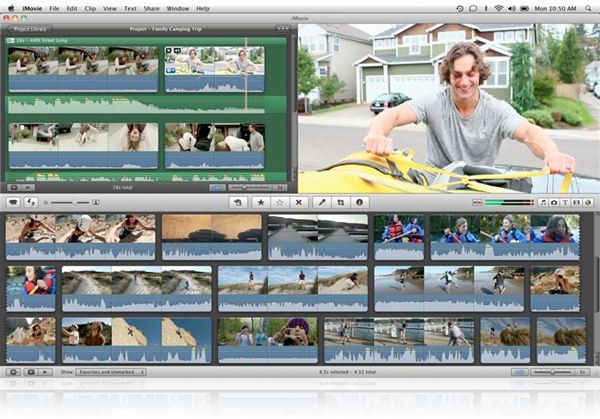 Many of the addition to iMovie in iLife 11 are simply more of the same. iMovie has always had various visual effects that can be added, but there are now more of them to choose from, and many of them are arguably more professional that already included.
Arguably the biggest addition, however, involves audio. Audio editing has never been strong in iMovie, and iMovie 11 makes some significant strides in this regard. The new audio editing interface makes it much, much easier to understand why the audio in a movie clip is over or underpowered. Once you know the problem, you can make edits that improve your film's sound quality. The interface for editing audio is the same as the interface for editing video, so you shouldn't have much trouble figuring out how it works.
A less useful but much cooler addition is the new trailer-maker feature. This does exactly what it says - it makes a trailer of your project by taking clips of video and organizing them into a trailer format. iMovie also comes packaged with some dramatic audio tracks that can be used as background.
GarageBand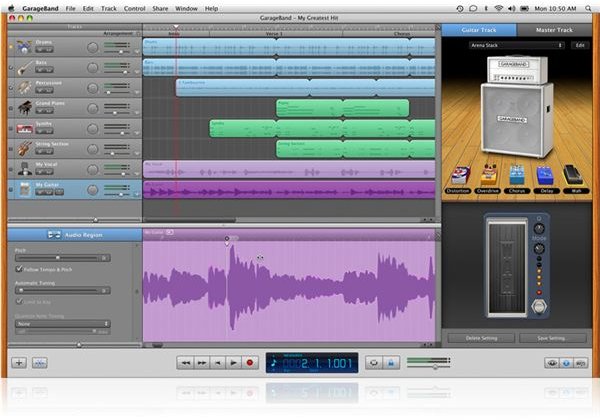 The two biggest additions to GarageBand are features that help you suck less as a musician. No, really.
The Flex Time tool lets you automatically change the tempo of different instruments in a recording so that they are playing to the beat. If you were jamming out, but you found later that the bass was a bit off, you can use Flex Time to automatically adjust the audio so that the bass is playing to the beat. That's right - if you can't play in time you can edit that fact out afterwards!
Another similar feature is the "How Did I Play?" tool. Usable with piano or guitar tracks, this tool can analyze how well you played a tune and point out where you make mistakes. This is handy feature for practicing to better play either instrument.
In addition to these central features there are a host of other minor addition and improvements including new guitar amps, stompboxes and lessons.
Conclusion
iLife is not a huge revision, but it does offer some handy features. If you regularly use these programs you will probably want to update iLife as possible in order to start learning what you can do with the new features. The new iLife is just $49, so it isn't an expensive upgrade. With that said, however, users who only use these programs on occasion can probably stand to wait until they buy a new Mac.