Top-Notch iMac and Mac Pro Accessories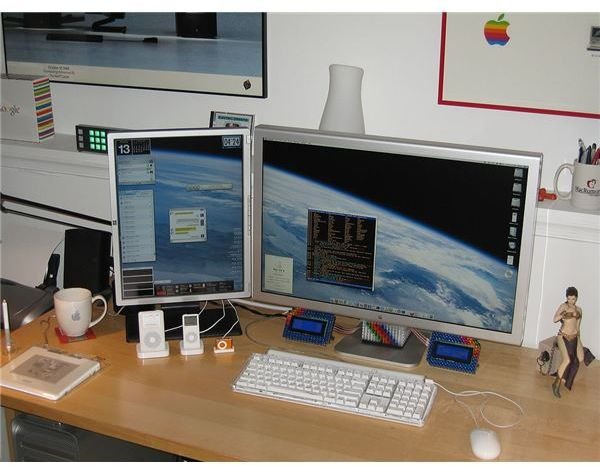 If you've recently bought a Mac for home or work use, you're probably noticing what a lot of people notice after a few weeks: It's awesome, but it's a little bland. Sure, it can do all of the basic functions that you'll need like internet, music making, photo-storage, and word processing, but it (like many computers) lacks in external accessories and aesthetic bonuses. At some point, you'll need to buy things like printers, external hard drives, wireless routers, and USB hubs, but how can you possibly find out about all of those things without spending hours scouring the internet? Check out this handy guide.
Whether you need something to help you at work or you just want to make your computer look better to all of your friends, we've got you covered.
Image: By Blake Patterson (Flickr: Mac Pro Up and Running) [CC-BY-2.0 (www.creativecommons.org/licenses/by/2.0)], via Wikimedia Commons
The first thing you'll need for a computer is the ability to store more stuff. More music, more files, more photos, at some point you're going to need this extra space, and thankfully you won't have to shell out too much money for it. External hard drives eliminate a lot of cost and the hassle of their internal counterparts, not to mention you can take them with you and use them to transfer files from computer to computer. An essentially accessory for any Mac owner for sure.
Even though they're simpler to work with than internal hard drives, external drives do take a certain level of knowledge and understanding before you can be sure that they'll work properly. After all, you wouldn't want to put your life's work onto an external drive and then lose all of it because you goof'd up the set-up or usage process.
So, for some reason you don't like external hard drives. No big deal; internal hard drives are fairly simple to work with, especially if you're using a Mac Pro. If you're one of those who uses iMacs? Well, you'd be better off going with the external options, because although it's possible, it's a pain to install new hard drives on those things.
Installing Internal Hard Drives On Your Mac Pro
If you're going with an internal option for hard drives, you'll need to know exactly how to install them. This quick and handy guide goes over every thing you'll need to know, from difficulty levels to installation procedures, both before and after the fact. Don't worry though, it's not as hard as it looks.
A lot of printers nowadays work with both Windows and Mac computers without much help from you. Plug it in, maybe find a driver, and then you're good to go. But with Mac, one of the downsides is that there are printers that won't work, so you'll need to know how to avoid them and go with the brands that are known to function best with these computers.
The downside to just getting one that "works" is that you may have to jump through hoops to effectively get the most out of the device. Scanning may take another device, faxing could be another device, and all in all everything will just amount to more stuff that you need to plug-in, and more stuff that you need to buy. These inkjet printers not only eliminate cost, but they perform more than one function so you can save time as well.
iMac's could be, in many ways, considered a revolution in desktop computer. A sleek, aesthetically pleasing, powerful computer that doesn't have a tower? Sign me up! But there is the issue of transporting it if you're moving or going on the road. Thankfully, there are quite a few traveling cases for such computers that can assist you in safe storage and travel.
Using Microsoft Wireless Keyboards with Mac
So, let's move onto the keyboarding devices out there. While most desktop Macs come with a keyboard by default, you may find yourself with a broken one or an otherwise unusable one. So what do you do? Shell out mega bucks for a new Apple wireless keyboard? Not at all. Just use a Microsoft wireless keyboard with your Mac using this quick and handy guide.
Pairing Your Wireless Keyboard
Once you've bought a wireless keyboard, what do you do with it? How do you make it work properly? What if something goes wrong? No worries; this useful step-by-step guide will keep you on track for the best results using your wireless keyboard, no matter what brand it is.
First Gen Wireless Keyboard Troubleshooting
If you bought one of the first generation Apple wireless keyboards, you're probably considering upgrading sometime soon. Don't get too hasty though, because if you follow all of these steps, you can keep that first generation wireless keyboard working flawlessly for years to come, saving you money and hassle.
Keyboard and Mouse Replacements
Whether it's the ones that came with your computer or some secondary ones you purchased, if your keyboard or mouse breaks you'll need to get some replacements. Here are some fantastic options you have that could actually leave you happy that your products broke, they're that good.
Is Dust Protection for your iMac Necessary?
A lot of people recommend protecting a computer from dust, but are these accessories really worth the extra money? Found out in this comprehensive analysis of dust protectors, so you can decide whether or not you want to put your hard-earned cash towards one.
You get up every morning, turn on your computer, and see all of the dirt and grime that has built up on it. "I'll dust it later." you say, pretending that you'll do it tomorrow. You won't, but you pretend that you will. Why go through this day in and day out when you can just get one of these handy products to protect your iMac from dust?
Did your monitor stop working? Is one monitor not enough for you? Well, you're in luck. All Mac computers come with the built-in ability to recognize a second monitor and use it either in compliment to your old one, or as a replacement for your old one. All you need is one of these nifty Mac to DVI monitor converters.
If a regular monitor isn't enough for you, and you have a few extra (hundred) dollars lying around, you can get a brand new, state-of-the-art touch screen monitor for your Mac, all courtesy of Apple-approved companies. These touch screens allow for quick and easy navigation across your OS, providing you the accessibility of an iPhone, but with the power of a desktop Mac.
Getting Online With USB Network Adapters
If your desktop Mac isn't your network hub and your wireless router is connected somewhere else, you'll need a way to connect to the internet wirelessly. While most computers now come with a built-in wireless adapter, some of them may break or lose strength. The best way to fix this? Get yourself one of these useful USB network adapters.
If you do want your desktop Mac to be the center for internet control of your house, office, or apartment, you'll need to get a wireless router. First, I'd recommend calling your internet service provider and asking them to provide one for you (since that's their job), but if you don't like their options or you want to try something new, there are some great options for you out there.
Skype is hugely popular these days, but you can't get the most out of the app if you don't have a webcam. While many Macs already have iSights built-in, if yours broke or you have an older model computer, here are some great options around town that won't break the bank. At least, not all of them will.
Five Great Accessories for the Holidays
The holiday season is quickly approaching, and no matter if you've got a Mac from this year, last year, or five to ten years ago, you'll need to know which accessories are perfect for your loved ones. Here are some great options from the general best to ones that would suit specifics, such as the musicians in your family.
So, you've bought a bunch of accessories, and most of them attach to your computer via USB cords. You forgot that you only have two- or maybe four if you're lucky- USB ports. So… how are you supposed to use all of this junk? Easy; get a USB hub. They're cheap, reliable, and can expand the number of USB ports by five-fold.
Business Card Scanners - If you're a business man, you probably travel often, and you probably don't have time to hand-type all of the contacts that you meet into your computer via their business cards. Well, there's an accessory for that too, a business card scanner. These handy devices will take your business card, run it through a scanner, and then automatically put the information organized into your computer. Pretty neat, eh?
Capturing Video With Video Capture Cards
If you're a journalist, movie enthusiast, video gamer, or anyone else who uses many different kinds of technology in many different places, you'll probably run into the need for a video capture card. These devices will take the video and audio from your TV and run it directly into your computer for recording and editing later. Especially useful when it comes to recording games or movies for online video reviews.
There are a lot of accessories out there to go through and pick from, but with a little time and effort you can easily increase your enjoyment of your computer exponentially. From something as simple as being able to store more files, to the complex tasks that only a video capture card can complete, from things that help you work to things that get you playing, accessories are the key, and you can find them all here.
References
Author's previous experience with Mac accessories.
All other information comes from the linked Bright Hub articles.