Need New Mac Messenger Icons?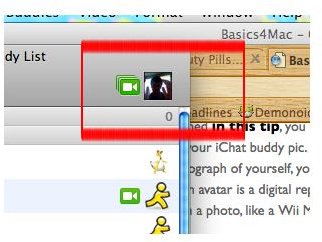 Mac Messenger/iChat - An Introduction
Before Skype, before GChat, and before MSN Messenger, a little company called AOL released a chatting client called "AIM" that revolutionized the way people communicated over the internet. Since then, many companies (including Microsoft, Google, and Apple) have released their own versions of this program, and it's even influenced things like Facebook, who has a chat functions installed in their website. Clearly, AIM's reach was far and wide, but Apple's version of the program- iChat- may be the most versatile of them all. Why? Well, many reasons, but one of them is how easy it is to create and use your own personalized icons that all of your friends can see.
Getting New iChat Icons - Method 1
The ease of use that is found within iChat's icon replacement tools is so vast, that you can take literally any picture you have on your computer, any picture you find online, or any picture from your camera, and turn it into an icon. Here's how to do it:
- Firstly, you'll need to find a picture. If you don't already have one saved on your computer, you'll need to obtain it from the internet or from a camera you have. To do this, head over to Google, click on the "Images" tab at the top, and type in what you want. No need to add "icon" to the end of it per se- if you want a Deadmau5 icon, for instance, just type in "Deadmau5".
- Alternately, you can plug-in a camera that you've taken a good picture with, go into the camera's storage folder, and save the image you like to a memorable place on your computer. I recommend the desktop, simply because there's no way you can lose something if it's there and you've kept it tidy.
- Don't succumb to the need to crop the image down to icon size- iChat will allow you to crop it yourself within its own confines. If, however, you want to do heavy image editing (such as smearing, color sucking/injecting, etc), you'll need to do those with a program such as Adobe Photoshop CS or GIMP, the latter of which is free.
- Once you've done any potential editing, open up iChat. Look in the upper right hand of your contacts window and you should see a little square with your current buddy icon stuck inside of it, unable to get free.
- Click the buddy icon, and scroll down to where it says "Edit Picture" and click on that. This will open up a new window.
- You'll see your current buddy icon displayed within this window, as well as a box around it. Click on the "Choose…" button in the botton left hand of the screen. This will open up a browser where you can select the image that you just saved either to your desktop or another easily memorable folder.
- Navigate to your image, click "Open", and let it load into the editor/cropper. What you see is your image displayed within the black box outline; everything inside this box represents what people will see as your buddy icon. You can now drag the image around, change the size of the image using the slider, or simply hit "Set" to make it your buddy icon.
- When you've got a setting you like, hit "Set" and you're all done. It should become your icon without a hitch.
Getting New iChat Icons - Method 2
While the first method should be enough to satisfy most Internet users, some people would rather just have something simple and easy to look at, such as a picture of themself. For this reason, Apple has another method of getting a buddy pic using your Macbook's built-in webcam or an external webcam connected to your Mac Pro.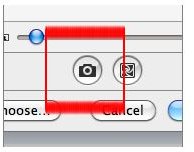 - Open up iChat and click the buddy icon in the upper right hand of the contacts window (see screenshot above).
- Select "Edit Picture" from the drop down list.
- Now, this is where we do things a little bit differently from the first method. Instead of clicking "Choose…", we'll instead select the little camera icon located on the bottom of the window. See the screenshot on the left if you're confused as to what I'm talking about.
- Right when you click this picture, get ready, because the computer will give you a three-second countdown before snapping a photo. Of course, if you don't like the way it turned out, you can always just click the button again and take a new picture.
- When you finally get a picture you like, you can crop and move it until it's perfect, followed by selecting the "Set" button. Once you do, congratulations, you've just made yourself a custom buddy icon of your face!
I hope this article helped you find the right icons you want, and taught you a little something about iChat in the process. If not, feel free to leave a comment and I'll get back to you as quickly as possible.
References
[Information] All information comes from author's prior knowledge.
[Images] All images are screenshots take by the author.