Do You Need More Data Storage? Three Network Attached Storage Systems Reviewed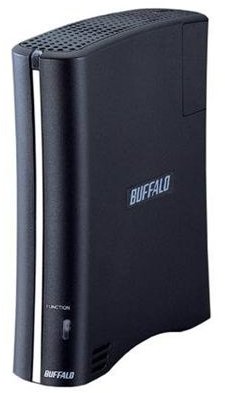 Network Attached Storage: What is it and how is it different from file sharing?
Network Attached Storage (Often referred to as "nas", rhymes with "class") refers to a solution that dedicates a networked computer or device to shared storage for the users of the network. Solutions range from a simple Network Attached Storage device that is little more than a file sharing device to complete dedicated servers with redundant disks (RAID) that are meant for hundreds of users.
For this article we will look at three different solutions for home and small business needs. For advanced users, or those who are more adventurous, we'll look at a Linux based solution. For the rest of us, we'll look at two commercial options for those looking for a plug and go solution.
Buffalo 1.5TB LinkStation Live Network Storage
The Buffalo LS-CH1.5TL is a NAS device that comes with a built in 1.5TB (1500GB) hard drive. Geared toward home use, it comes with DLNA (Digital Living Network Alliance) media server software built in. This means it can be hooked up to HDTV devices, media players, game consoles or any DLNA compliant device.
It also has a built in FTP (File Transfer Protocol) server, iTunes server, and print server. It also can act as a BitTorrent client, and get your torrents for you directly. That will save you time from having to move the downloaded files from your computer to the NAS.
Overall, this would be good for personal, home, or home office use. It sells for about $175 online. For more advanced business uses, we'll move on to the next device in this review, the Synology DS111.
Synology DS111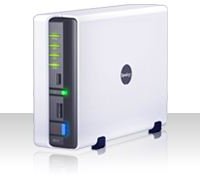 The Synology DS111 Network Attached Storage device is designed for business users who need more features and security than the average home or small business user may desire. At a $209 it is bit pricier as well. It does not come with a hard drive and one will need to be purchased and installed. It requires a SATA II 3.5" or 2.5" hard drive. It will handle drives with up to a 2TB (2000GB) capacity. With power saving drives such as the Western Digital Green series, and small 2.5" laptop drives, the device will use less power than most light bulbs, and only 9-10w when idle.
The setup is very simple, and allows for multiple shared folders with multiple user accounts. It can be configured to let different groups of users be allowed to access various shared directories. It also supports 256 bit AES encryption so that in the even that it is stolen or unauthorized users try to access data, it is nearly impossible.
It can also serve as a FTP server, a web server (up to 30 sites!), and more media services than you can throw a stick at. It can handle up to 8 surveillance cameras with a licensing upgrade.
Its only detraction is that it does not have two drives for redundancy, but there are other models that do allow for this. It does support external drives via USB and eSata.
A custom solution: Linux based FreeNAS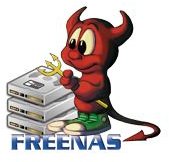 With a spare computer, a couple of hard drives and a USB flash drive, you can use FreeNAS (https://www.freenas.org) to build your own NAS solution. The beauty of it is that you can use an older PC that would otherwise collect dust. For the price of a hard drive or two and a bit of your time it is possible to set up a very advanced solution.
FreeNAS supports the same media services that the Buffalo NAS does, and it supports everything that the Synology does too, including encryption. It also supports RAID 0,1, and 5 for data redundancy or performance.
Really though, this is for the advanced user who has some parts laying around and some time on his (or her) hands. For plug and play solutions, see the options above.
NAS Solutions: You need need more data storage, and there it is
So when you need more data storage, your options are wide and varied. It is quite possible to use any of the above solutions in place of each other depending on your needs. We suggest looking at options available to you before purchasing a Network Attached Storage device. Here are a few BrightHub articles that will help you along the way:
How to Set Up the Safest Type of SATA Hard Disk RAID Array
Good NAS Drives for the Home/SOHO/ SMB