A Guide to Setting Up USB Host Mode on Your Android Tablet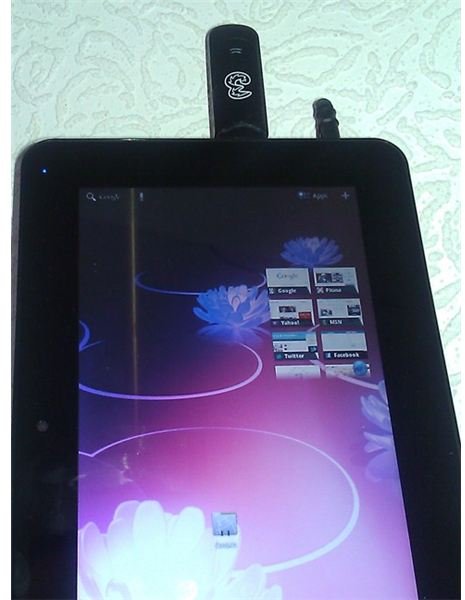 As great as the Android tablets are, there is one thing that they – like other tablets – are missing. A keyboard! While there might be an on-screen software keyboard, you just can't go wrong with a genuine hardware keyboard. With such a device connected it is possible to enjoy some fast and efficient typing, particularly useful if you use your tablet as a pseudo-laptop.
Thanks to the addition of USB host functionality, it is possible to connect keyboards and other USB devices to an Android tablet, allowing you to extend the possibilities of the device. In some cases suitable drivers may be required, but on the whole it is a case of plug and play.
The steps for setting up an Android tablet in USB host mode differ between devices, but once you have discovered how to do it you will be able to connect all manner of peripherals and external hardware to your device!
Different Devices that Can Be Connected in USB Host Mode
Many different types of device can be connected to a suitable Android tablet. Android Honeycomb devices are all designed to accept keyboards, which should allow you to gain some excellent flexibility from your tablet.
Whether USB host mode is enabled by default depends on the device, however. For instance, if you have upgraded an Advent VEGA to Honeycomb, you can enter USB host mode by restarting the device and holding the back button until the splash screen appears (it is often better to have the USB device inserted before restarting). Meanwhile, the Motorola Xoom accepts keyboards by default, but isn't so generous with USB flash devices.
While hooking up a desktop keyboard to your Android tablet might seem pretty cool, there are various other peripherals that you can connect. Again, remember - this does depend on your particular device.
In addition to USB keyboards and flash devices, hard disk drives formatted in FAT 32 can be connected, as can 3G wireless dongles. There are also reports of CD/DVD ROM drives being connected to Android tablets, as well as console game controllers and TV cards!
Does My Tablet Support USB Host?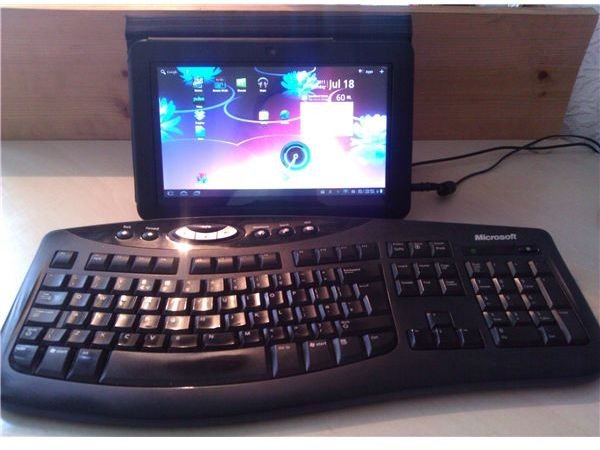 While the hardware of your tablet might support USB host mode, there is every chance that the operating system doesn't. As such, you might need to root your device. This depends entirely upon which Android tablet you are using, and which version of the operating system is in use.
For instance, if you are running an Android Honeycomb tablet, then you should expect the device to be capable of USB host mode. However, it may not be activated.
Conversely, there is less chance of a pre-Honeycomb tablet (for instance Android 2.2 Froyo) being suitable to host USB devices, although some of the small Archos tablets do feature this functionality.
Another thing to consider is the USB connector on your device. If you have a micro USB connector then USB host mode will not be possible without a special micro USB host cable; these are available for a few dollars on eBay.
Ultimately, however, if your device does allow you to connect USB devices such as keyboards and external storage, you might need to root the tablet in order to activate this setting feature.
Activate Host Mode via Root
Various root tools are available for Android, but arguably the best is z4root, a free app that can be downloaded from handheld.softpedia.com.
Once installed, you will be able to use z4root to unlock restricted access to the system directories on your Android (the root folder, hence the term "rooting") and then acquire the necessary tool to activate USB host functionality on your tablet. This depends entirely on your tablet, however, and as there are many different models a comprehensive guide on this isn't possible. Three options are available with this app, but before using it go to Settings > Applications > Development and ensure that USB debugging is enabled. When you're ready, launch the app and select Root, which will restart your tablet (full instructions for using z4root can be found in our Guide to Android Root Access on Tablets)
Do bear in mind that if your Android tablet is running Honeycomb then you should be able to access USB host mode by default for adding keyboards. If your Android slate uses a micro USB connector then simply connect the keyboard to a USB hub or micro USB adaptor before connecting this to your tablet.
References
Author's own experiences.
Samsung Galaxy S Forum, https://www.samsunggalaxysforum.com/samsung-galaxys-general-discussion/info-about-usb-host/
Gunther, Cory. "Motorola Xoom gets USB Host feature, use USB drives and keyboards [Hack]", https://androidcommunity.com/motorola-xoom-gets-usb-host-feature-use-usb-drives-and-keyboards-hack-20110310/
Images provided by author.