Do You Know What to Put in Employee Files?
The Important of Employee Files
Beyond finding an emergency contact for a sick or injured employee from within their file, the employee file is useful and often necessary for all sorts of things. It is, therefore, important to keep accurate records and up-to-date information. At times, you may want to consider protecting your employee and keep items of a sensitive nature in a more secure place.
All of this record-keeping comes in handy for various purposes such as employee reference letters, disciplinary actions, and even helping you win an appeal for unemployment insurance if you feel the employee doesn't deserve it. Deciding where to place each item often depends upon the security of your HR department and who has access to employee information.
Although neither the US Department of Labor or individual states dictate what to put in employee files, there are rules governing how long the information must be kept and in what form. To find out what your laws are on how long employee files must be kept, call your local department of labor.
Image Credit: Employee File (Morgue File)
Building a History
Think of an employee file as a sort of history on a person who works for you. That history should be in a timeline format that's easy to follow. Here's an example of what to put in an employee's file so it reads like the timeline you're aiming for:
Recruiting Information
Employment Application / Resume
Offer of Letter for Employment / Acceptance
Initial Position, Salary, and Start Date
Assigned Department and Job Description
Emergency Contact Information
Verified and Completed I-9 Form
Employee Handbook Acknowledgement Page
Other Company Policy Acknowledgement Pages (These could include discrimination and sexual harassment policies, workplace bullying policy, and confidentiality policy).
Training Received
Changes in Position or Salary
Written Warnings and Disciplinary Actions
Company Benefit Enrollment Forms (Medical, dental, vision, retirement, etc.)
Accrued Vacation, Sick or Personal Time
Record of Vacation, Sick or Personal Time Requested, Approved and Taken
Requests for Leaves of Absence (Programs like the Family Medical Leave Act).
Doctor's Time-Off Slips
Resignation or Termination Documents
Final Position, Salary and Hire and Termination Dates for References
Once you've determined what to put in employee files, you should keep those files either in paper or electronic format for up to five years depending upon your state laws. Again, your local department of labor can answer this question for you.
What to Avoid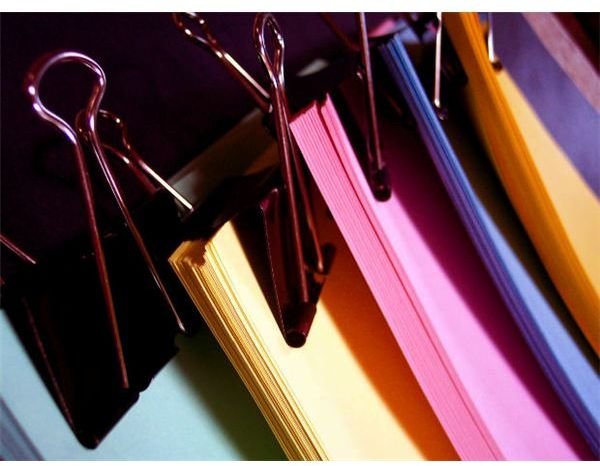 When considering what to put in employee files, there may be some items that you will want to keep separately and it's totally legal to do so. Some of these include:
Unemployment Claims, Responses & Appeal Information
Workman's Compensation Claims
Sensitive Medical Information
Disability Needs or Requirements
Employee Written Threats
Any Other Information Sensitive in Nature
Some labor law attorneys may tell you to even keep the I-9 form that verifies a person is eligible to work in the United States is of a sensitive nature and should not be kept in an employee's file, however, if you are audited by the Wage and Hour Division, you will need to produce all your I-9s for every employee and those audits may include certain employee file information.
Finally, it's not necessary to keep a copy of every paycheck, time card, or record of time worked within the employee's file. Those may be kept separate but should also be kept for at least 5 years from the date the employee leaves the company.
Image Credit: Keep Other Records Separate (MorgueFile)
Use Common Sense
Employees are allowed access to their files so when thinking what to put in employee files, use common sense. Although employees may view their files, they are not allowed to make copies or take the file off the premises of the workplace.
To avoid mishaps, keep general information in employee files and other items you feel are sensitive in nature that may hurt or harm the employee if leaked, should be kept in a more confidential manner.
Keep in mind if you are ever involved in an employee lawsuit, most likely, employee documents kept both in and outside of the employee's file will be requested and you will have to produce those documents.