Find Out What Changed in This Safari 4 Review
What's New?
Many who work from a home office rely on their computer and the internet. Keeping your bookmarks and search history organized can vastly improve productivity. This article will highlight the newest functions of Safari 4 that will appeal to anyone working from a home office. This Safari 4 review will focus on what's new with Safari 4.
One of the first things you will notice is that the toolbar is different. The refresh tool has moved to the address box. There is also a "+" in the top right corner that allows you to open a new tab. When you open multiple pages at once, the tabs are easier to see and manage. You can clearly see what tabs you have open, and you can drag the tabs to a new location along the toolbar by grabbing the tab by the upper-right corner. Since this is in beta form, there is also a picture of a bug in the right hand corner, allowing you to report any bugs you experience. After a few weeks of use, I have not had to use the little bug once!
The other change in the toolbar is an image that looks like a series of 12 small black boxes, this is the Top Sites Button. Clicking on this image brings you to an image of your most viewed pages (see inserted image below). You will see a visual of the sites and you can click on the image to jump to the site. Depending on the size of the image you choose, you can view six, twelve, or twenty-four sites at once. For someone who works at home, this is a great way to keep those sites you use the most available, and all in one location. The pin image in the left hand corner of each site allows you to pin that site in that position. There is also an "X" to delete the site from the list. Sites with a star in the upper-right corner show you that the site has new content since your last visit. There is a search box on the Top Sites page, allowing you to type in a search term. You then are provided with images of pages that match your term. A single-click lets you browse the search findings, and a double-click will bring you to that page.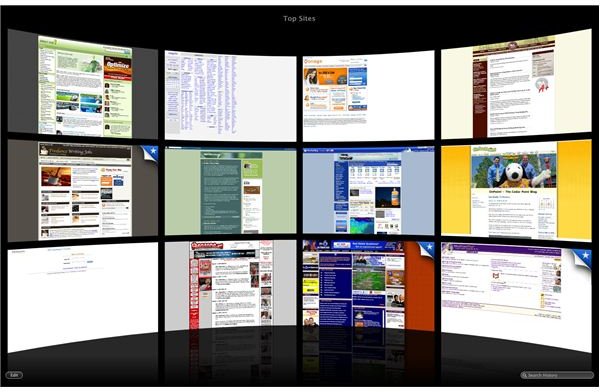 When you look through your history or your bookmarks, you can flip through the site images as you would albums in iTunes. A blue star in the corner of the page image means new content has been added to the site since your last visit, a very cool tool. These images are helpful when you don't necessarily remember the name of a site you visited, but an image of the site may jog your memory. I think this and the Top Sites page are the coolest new add-ons for Safari 4. Safari 4 utilizes Nitro Engine, and boasts that it is the fastest browser; I did notice that it was faster than the Safari I used previously.
You can add a full-page zoom tool to your toolbar, allowing you to zoom in on images or text. Safari scales the images as you zoom so that you still maintain a crisp image. Other offerings include a smart address and smart search fields. You start typing, and you will be offered suggestions as you type. Should you land on a suspicious page, Safari 4 will alert you immediately and will not open the page. Visit the Safari 4 page to see all of the features offered by Safari 4.
Recommendation From This Safari 4 Review
I have used Safari 4 for several weeks, and love it. Even though it is in Beta form, I have yet to experience any bugs. It is easy to use and the new features definitely add to the online experience. Anyone who relies on their computer and the internet while working at home will like what Safari 4 has to offer. Download Safari 4 and check it out yourself. As a free tool, it is a useful addition to any home office.