Invoicing for Freelance Work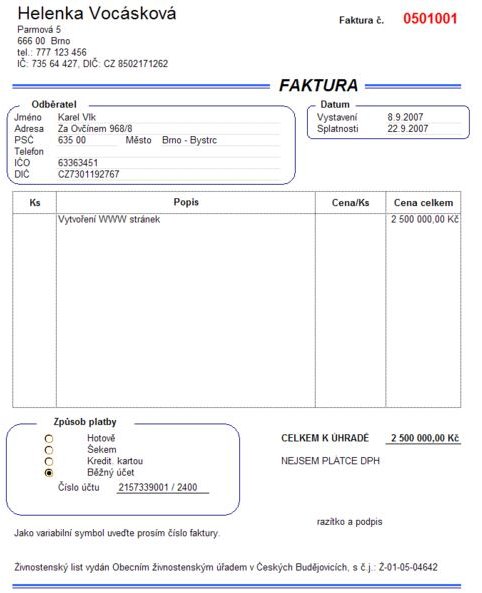 Tracking Invoices for Freelance Work
Invoicing can be the most tedious part of working a freelance job, especially when determining pay rates for freelance work. Establishing a system that is easy for you to follow is important. I do not use a fancy software program, and it took a few years for me to establish a routine that made it easy for me to know when I submitted an invoice, and when payment was due from a client.
The first task is to write an invoice that contains all of the necessary information. Some companies may not require you to submit your own invoice, but instead provide a form for you to fill out. In these cases, I still type of one of my invoices to keep on my computer for tracking purposes. For tips on typing an invoice, read Misty Faucheux's article "How to Create an Invoice for Your At-Home Work."
Once you create the invoice, how do you determine when to ask for payment? Unless you have another agreement with your client that states otherwise, asking for payment within 30 days is not unreasonable. Somewhere on your invoice add: Terms: 30 days. This lets your client know when you expect payment. If you have agreed on 45 days or another set amount of time, be sure to include that. By not listing a specified time, you are leaving yourself open to a misunderstanding on when you will be compensated for the work you completed. Deadlines on this end of the agreement are just as important as the deadline you meet when completing the work.
Once I have my invoices filled out, I simply keep a file folder in Word labeled Invoices, and then make a folder for each month. This way, you can go back to the folder for last month and see which invoices were completed during that time span. To keep your invoices organized by date, I always save them with the following labeling system:
Date
Amount
Title of project
So, for example: 081011 $225 Fleming Article
This invoice was submitted on October 11th, 2008. It was an article on Alexander Fleming and the total due is $225. By labeling your invoices this way, you can quickly look at when each was submitted and how much you are owed, without opening the file itself. The files will also be listed in order by date submitted in your folder.
Be sure to go through your invoices on a regular basis; you may find that Mr. Smith has not paid on an invoice from 45 days ago. First, do not let a 30 day invoice go much longer than 45 days without checking on it. The longer you wait the more difficult it may be to collect. Send your client a reminder letter and another copy of the invoice….just in case it was "inadvertently" misplaced. I have included a sample letter below that you can use to address these issues.
Keep in mind that you do have a right to hold clients to the terms of your agreement. The important thing to remember is to make sure everyone agrees to these terms up front, and if at all possible, get them in writing. Then, you have the support of this agreement when you have to hold clients accountable for paying on time. Below is a sample letter you can send clients if they are behind on paying an outstanding invoice.
Sample Letter
Dear Mr. Smith,
Attached is a copy of my invoice #100-08 that was submitted to you on October 11th, 2008. Under our agreed upon terms, this invoice was due to be paid on November 11th, 2008. Please send payment upon receipt and contact me if you have any questions.
Thank you,
Marlene G.
Don't be afraid to stand up for yourself and ask for payment when it is due. Things can quickly get out of hand, and you do not want to find yourself in debt to a client who has no intention of paying you; especially if you are continuing to complete work for him/her. Keep good records and follow through with your invoicing on a regular basis. Keep that income flowing!