Watermarking Documents in Microsoft Works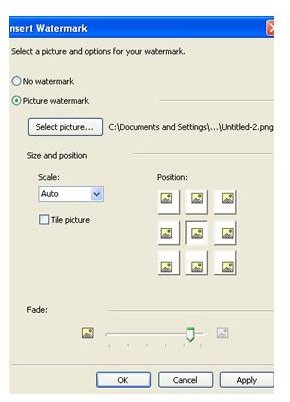 Microsoft Works Document Watermarks
In this beginner's guide, I will show you how to insert watermarks into your documents. When you think of watermarks, you probably think of watermarking photos. But you can also watermark your Microsoft Works documents too. This guide will walk you through inserting a watermark into your document. You can print these documents from your home office printer and the watermark will be visible. You can use text or you can use an image. This is also a great way to create your own stationary.
Creating the Watermark in Works
Open your Microsoft Works Word Processor. Go to the top of the page and click Insert > Watermark. The Watermark Options box will open. Let's take a look at the Watermark Options box.
The first option is No Watermark and the second option is Picture Watermark. Tick the Picture Watermark field. Now the select picture button will light up. Click that button to locate the graphic that you want to use. When the box opens, navigate to the graphic, click it and click the Insert button. You can use any graphic that you want. You can also save text as a graphic and use it.
After you select the picture, the other options in the box will light up. Your next option is how to scale it. You can automatically scale the size or you can select a percentage. Drop the box down and make your selection. On the right side of the box you will see nine little boxes. This is asking you where you want the watermark to appear. Click the box of your choice. If you want it centered, click the center box.
The bottom bar determines how faded the watermark will be. You don't want to fade it to the point that you can't see it but you also
want it to be light enough so that the text can still be read. Move the bar closer to the gray picture. If the watermark is too light, you can undo it and do it again.
Viewing Your Watermark
Your watermark is now ready to be applied. Click the Apply button. You can now see what the watermark looks like. The watermark options box is still opened. If you need to make adjustments, you can do so before closing the box out. Make any adjustments needed and click Apply again. When you have the watermark the way that you want it, click the Apply button and then the OK button.
Now you can type what you want on your page. When you print the page or save it, the watermark will stay on it. This is a great way to mark your documents.
Image Credits
Screenshots taken by author for educational purposes only.