How Browser Add Ons Can Help You Get Things Done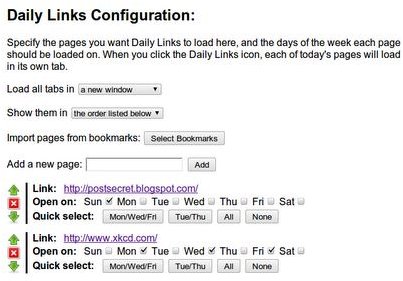 Sweet Freedom!
Working from home can a liberating experience. There is no boss hovering over you, work hours are conducted by you and your desires, and you can come to work in whatever you decide to wear, even if it's your PJs. Home office workers and freelancers know that there are many positives to working at home, but there are as many negatives as well. Like distractions.
Nothing is more distracting that than the Internet. While it is great for searching and researching, the Internet is also filled with distracting websites. The simple five minute email check suddenly turns into a twenty minute check; the simple post to Twitter now spirals into tweeting about upcoming tweetups or the movie you want to see; the simple trip to an information page has deteriorated into a wikiwalk…
The concept of GTD - or getting things done - is to get all of those things that need to be done out of your head and placed somewhere externally and take control of the things that need to be done. Created by David Allen, the technique helps with overwhelming tasks and organization in order to…get things done.
Daily Shortcuts
Time is money, and when time gets away from you, that's money that has flown away too. Daily routines are what keep us going, though sometimes it's these routines that take longer and longer to achieve. There's email to check, news to read, social media to check… All of this can take a lot of time, however with shortcuts, the daily routine can be sped up.
Morning Coffee (Firefox)/Daily Links (Chrome) - these two add-ons do essentially the same thing. They bring up your daily websites.
These addons bring up the websites that you've entered on the days that you need them to come up. For example, if on Tuesday, you read a certain comic or read a particular blog, when Tuesday comes around the sites that you check on Tuesdays will open, allowing you to quickly get through your routine. For Firefox users, you can specify Morning Coffee to open tabs each time you open your browser.
Google Shortcuts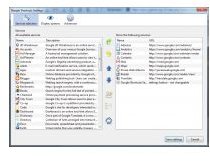 Available for both Firefox and Chrome, Google users don't need to constantly go back and forth in their Google programs. A button is installed within your browser that allows for you to choose which Google application you need to check; the program includes all of Google's services and allows users to customize which services they want.
For instance, say every morning you check your Google email. Instead of typing in mail.google.com, you can just hit the icon for Gmail and be taken to the page (especially handy if you are currently signed in). You can do the same with YouTube, Calendar, Reader, and even maps.
Production & Time Management
Keeping productive and managing your time are two of the hardest things to do when working from home. As mentioned, distractions can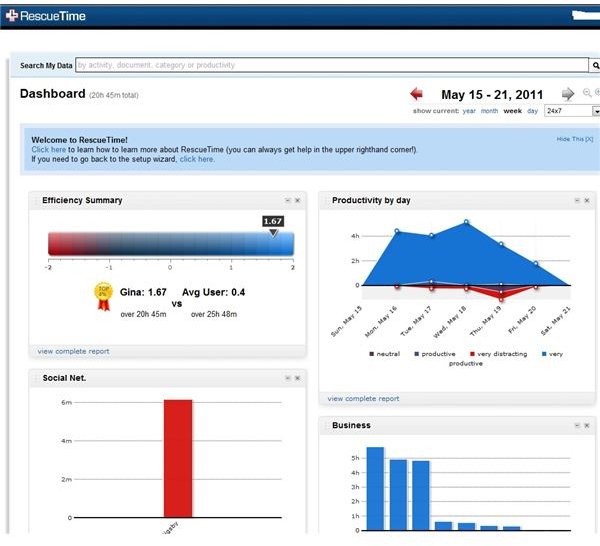 easily deter you from what you were doing or what you were originally looking for only hours later. GTD is essentially a time management concept, in which to help an individual concentrate on a particular task in a particular amount of time, therefore helping them complete it.
Here is a list of handy and helpful ways in which you can keep productive and even see where your time went.
Rescue Time - a professional time tracker that is offered for both free and premium prices, as well as for group collaborations, Rescue Time keeps track of the things you did online. When first set up, Rescue Time will ask what you find the most productive and the least productive and will then set up some reports for you. You can customize these by adding in websites that you feel are productive to your work, as well as sites that are distracting.
Rescue Time runs in the background of any computer, tracking where you go online. In the premium version, a pop up will notify you on how many minutes you've spent doing distractive tasks, such as check email or watching YouTube videos. Reports are reported by months, weeks, or even days and you can even specify the times in which you want Rescue Time to run. The program also includes a feature in which you can get focused, essentially blocking those websites you said were distracting.
There is also a mobile version that can track how long you spend texting or checking social networks.
Xmarks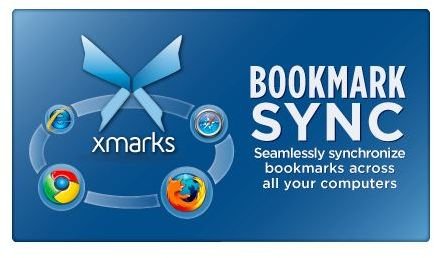 For anyone who uses more than one computer, keeping track of your bookmarks can be problematic, especially if you happen to use different browsers on different computers. The solution to this is using Xmarks. Xmarks synchronizes your bookmarks, so that you can keep track of those websites that you want to view.
There is a ton to love about Xmarks - first, it's offered for all the major browsers. So if you use Internet Explorer on your work computer, use Firefox on your laptop, and then Chrome when at home, all of your bookmarks will sync across all three computers. Secondly, in the case that you're using a computer that's not yours (say a friends or at the library), you can access your bookmarks online from Xmarks main site. Third, it's free and there's nothing that can beat that.
SplitScreen
If your job involves doing research, flipping back and forth between tabs or windows is a hassle. Enter SplitScreen, used with both Firefox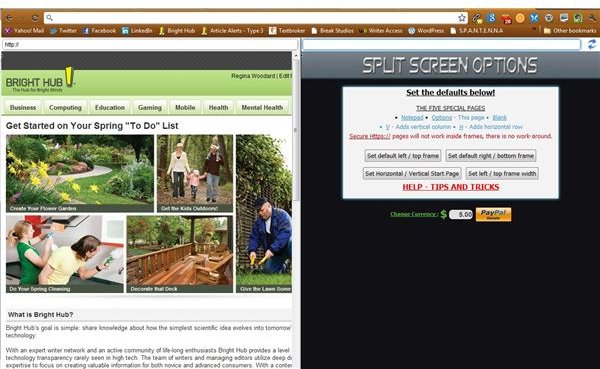 and Chrome, this helpful add on basically turns your opened tab into two. You can have two tabs within one window, which can allow you to read and research in one window, while writing your findings in another.
A bit of a downside with this however is the use of the back button; unfortunately, hitting the back button in one tab will send both tabs back one website, which can be frustrating if writing or documenting with an online publication.
Chromodoro (Chrome)

Based on the Pomodoro Technique created by Francesco Cirillo, Chromodoro takes the concept of selecting a task and then setting a timer to a convenient location on your browser. The icon takes the shape of the Pomodoro tomato, allowing you to select how much time you want to devote to working on your particular task. The default time is 25 minutes, but you can change that, as well as the resting time.
The timer goes off when it hits zero, reminding you that it's either time for a break or it's time to get back to work. Press the browser button once and it'll set the timer for you to start working; a pop up will notify you when it's time for a break or when it's time for work.
Website Blockers
A website blocker is a program that blocks a user from a particular website. Many companies employ similar software to prevent

employees from going on to sites which are potentially unsafe, dangerous, and right out distracting. These website blockers are the perfect things to stop you from wondering around on Facebook or Twitter all day.
Leech Blocker(Firefox)/Stay Focusd (Chrome)/Concentrate (Chrome) - all three of these add ons allow for a user to customize which websites are distracting for them, as well as specify a time in which they need to be blocked. Spend too much checking Yahoo or Gmail? Get caught up in a wikiwalk? You can use these to block those websites.
Stay Focusd even has something called a nuclear option. This means that for the amount of hours you have specified - say 8 hours - none of the sites on your block list can be accessed, no matter if you've placed them on an active day list (such as Monday thru Friday). This option can not be canceled when in use, effectively stopping from either getting distracted in the first place.
To Do Lists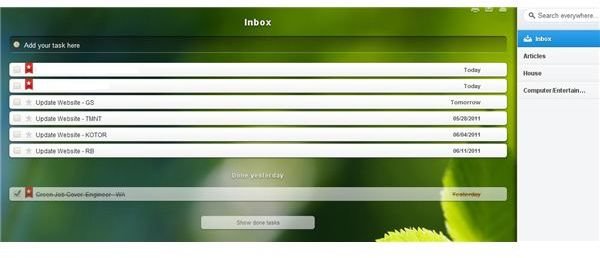 Keeping track of what you need to do is often helpful in getting things done. These are some that can help you take down to do lists.
Wunderlist (Chrome) - Wunderlist is a great to do list application that can be taken with you. Use the web interface, download the desktop application, use the Chrome app, and/or use it on your mobile phone. Wunderlist allows for you to set up to lists, then put in subsections.
Need to shop for groceries? Make a grocery list and then add items within it. Need to get some reports done? Add a report list and then add the ones that need to get done. You can even star the most important items so that they appear first. You can also set reminders to be sent to your email when things are over do.
Evernote (Chrome)
Evernote is a great note taking application, but you can also use it for to do lists and then mark them off when completed. Like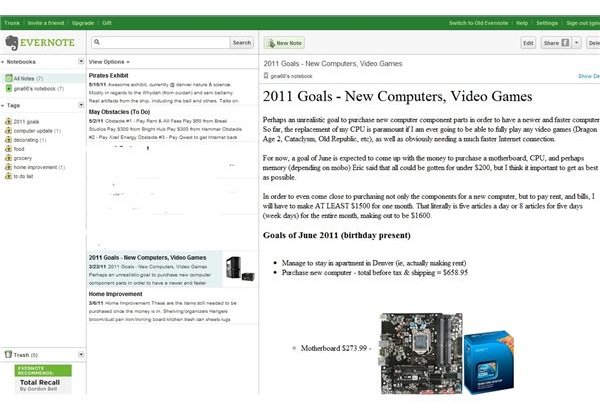 Wunderlist, Evernote has a variety of different ways of keeping track of notes - a web version, a desktop version, and a mobile version. This app for Chrome is just a quick launch of the site; you can also get a Evernote web clipper add on for both Firefox and Chrome that will add websites to your Evernote.
Time is of the Essence
These offerings are only some of the ways that you can use your browser to help you keep productive as you work. The ideal situation is that you won't need all or any of these add ons or extensions, but sometimes we need as much help as we possibly can in order to ensure that our work gets done.
The previous listings of add ons, extensions, and web apps are inexpensive - all of them are free, with some having premium options should you want the extra features. These are to help you achieve your goal of GTD or getting things done, to ensure that everyday you work is a productive day.
References
Stay Focusd via Chrome Webstore, https://chrome.google.com/webstore/detail/laankejkbhbdhmipfmgcngdelahlfoji?hl=en-US
Daily Links via Chrome Webstore, https://chrome.google.com/webstore/detail/keepgbcgekdilbnpklfknmkfmehppaag?hl=en-US
Google Shortcuts (Firefox), https://addons.mozilla.org/en-us/firefox/addon/google-shortcuts-all-google-se/
The Pomodoro Technique, https://www.pomodorotechnique.com/
Rescue Time, https://www.rescuetime.com/
Wunderlist Web App for Chrome, https://chrome.google.com/webstore/detail/fjliknjliaohjgjajlgolhijphojjdkc?hl=en-US#
Evernote Web App for Chrome, https://chrome.google.com/webstore/detail/lbfehkoinhhcknnbdgnnmjhiladcgbol?hl=en-US#
Images via Google Shortcuts, Daily Links, Xmarks, Chrome Webstore, Rescue Time by author via autho dashboard, and author browser interface