8 Goal-Setting Freeware Options for Helping You Meet All of Your Business Strategic Objectives this Year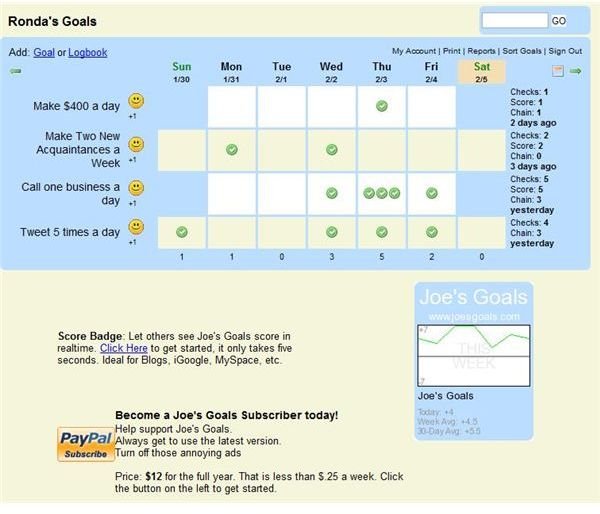 Whether the goals are tracked in a special journal, in a word-processing program, or by having a friend hold one accountable, chances are that there can be a lot more done to achieve goals. For instance, goals need to be SMART - specific, measurable, achievable, relevant, and time-bound. Additionally, it's been shown that if you not only write your goals down, but create a plan for achieving your goals then you will be more likely to meet what you've set before you. Having a goal setting program can be a great way to track your progress. Fortunately there are many free options available online.
Joe's Goals
Joe's Goals is super-straightforward. Enter your goals into the program, and check them off for each time you meet those goals, You can determine what days of the week appear for which goals. In this vein, it's also a good way to track your small business recurring tasks - did you spend time marketing? Did you get two new customers a week? Did you work for at least eight hours (or did you get sidetracked playing Facebook games?)
Pros:
Really easy to use - you can get started using Joe's Goals right away
Cute graphical interface with smilies and frowns for goals you are trying to meet and things you are trying to stay away from
Cons:
Really basic - if you just want to track goals, it works pretty well, but if you want something that allows you to plan based on your goals, this software isn't for you.
Screenshot courtesy of Ronda Levine
Goal-Buddy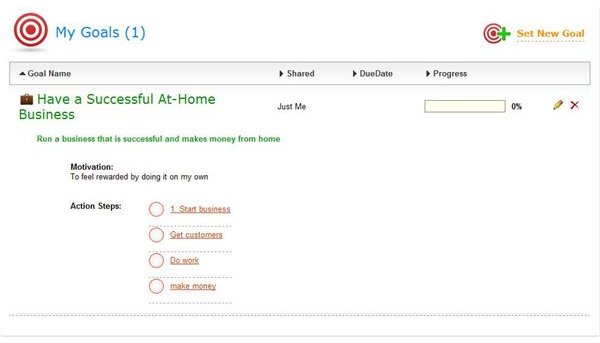 Goal-Buddy combines two proven strategies for seeing your goals through to completion: tracking goals with a set action plan and having an accountability partner to check in with about the status of your goals. When you check off each action item that you have entered in, you can see the progress you've made toward your goal in terms of a bar and percentage. Choose to share your goals with the public, your goal budy, or just yourself. Additionally, you can track your progress towards a habit you would like to form, keep track of tasks, and track various lists (life list anyone?)
Pros:
This program offers a lot for free - between tracking goals, finding accountability partners, and developing new habits, Goal-Buddy has you covered.
You can get really detailed with the breakdown of your goal - list actions, dates, and motivational information that will help you to reach your goal.
By teaming up with others who have similar goals, you can not only increase your likelihood that you will meet your goals, but you will also get to know new people and network.
Cons:
Some may be uncomfortable with the social aspects of the program
Screenshot Courtesy of Ronda Levine
Goal Setting 1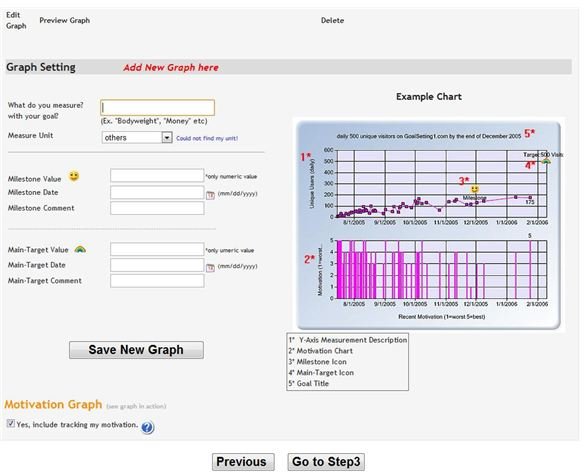 Goal Setting 1 takes the ideas required for the production of useful goal-setting freeware, and like Goal-Buddy, helps you to outline your goals and then make them public. Rather than simply track your goals, however, Goal Setting 1 allows you to set metrics for your goals and then keep track of your progress towards those goals on a chart. Because Goal Setting 1 holds you accountable to what you say you're going to do (by way of having you share your goal with others), the software promises that you will be more likely to achieve your goals.
Pros:
Goal Setting 1 allows you to create metrics from your goals and view your progress on a chart
The program is web-based meaning you can access it while on the road with a laptop or at home on a desktop and there is no need to download multiple copies of the program
Cons:
When testing the freeware, I found that the program had a glitch in the metrics-setting page and had to restart
You may prefer a more structured approach to outlining your goals rather than the free-form approach provided by Goal Setting 1
Screenshot courtesy of Ronda Levine
Goal Setting Toolkit
Goal Setting Toolkit is a tem
plate, not so much a goal setting freeware program, but it's useful to those looking for free tools to increase the likelihood of meeting the goals they create. With Goal Setting Toolkit, you download the template and then print it onto business card stock. Pop out the cards, and then fill in your goals on each card. The website providing (successbeginstoday.org) also offers tips on filling in the template.
Pros:
You can easily carry the cards with you wherever you go so that you can refer back to them at any point
Doesn't require you to be able to master a computer program in order to be able to use it
Cons:
Business cards are easily lost in the daily shuffle of things
Not software per se, so doesn't track your goals or the tasks related to the goals automatically, this could be disappointing for those looking for a more interactive approach
Screenshot courtesy of Ronda Levine
GoalSync 3.0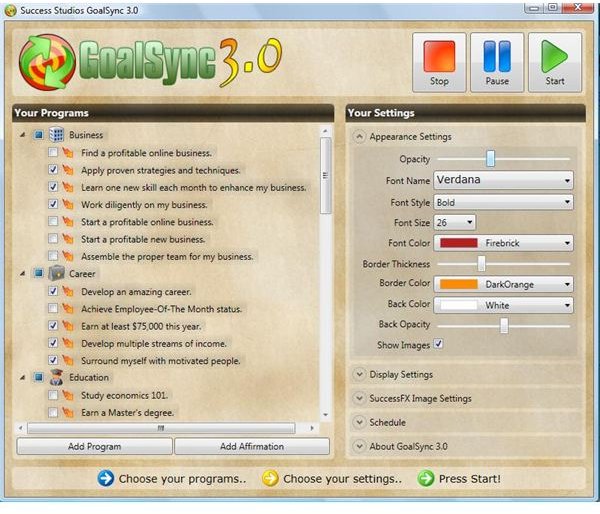 GoalSync is a tool put out by Success.NET. GoalSync allows you to select from prefabricated goals or create your own. Once you've inputted an over-arching goal, you can then input specific goals that will lead to the over-arching goal. What happens then? GoalSync flashes affirmations and goal messages subliminally while you work on your computer. The thought is that by having these subliminal messages pop up in front of you while you work, you'll be far more likely to meet your goals.
Pros:
This is a great tool for individuals who enjoy "law of attraction" type methods of setting goals
You can define your goals and have achieving those goals on your mind
The quotes on the "motivator" images are kind of fun
Cons:
Having little boxes pop up around your screen can get really, really annoying if you're trying to focus (I know, I've had them popping up as I've been writing this overview!)
You may find yourself trying to actually read the messages as they pop up and then find yourself equally frustrated because as soon as your eyes focus the message disappears
Screenshot Courtesy of Ronda Levine
Backpack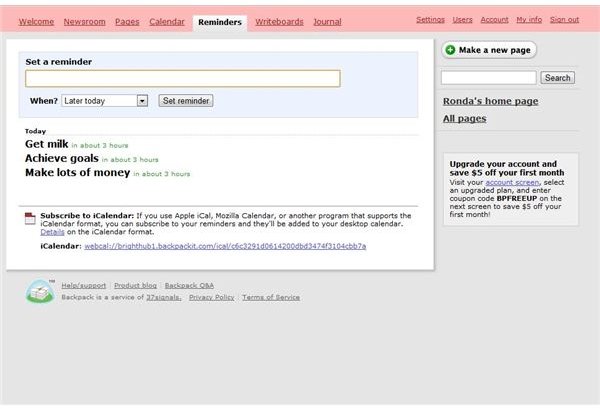 Note: Backpack has been retired and is only available for pre-existing customers.
Backpack technically is project management software, but especially when you are setting goals in your home business, you should treat your goals as though they are projects. Backpack is free for two users and five pages - you won't be able to use the calendar or message board features of the program in the free version, but you will still have plenty of leeway to get your goal-setting underway. Add images to your goals, notes, task lists, and more in this program.
Pros:
You can create an electronic vision board and keep all the information you need tied to a particular goal on one page
You can access your information from anywhere so long as you have access to a computer.
Backpack is easy to use
Cons:
As with much of the available proprietary software, the free version of Backpack is limited, so if you want to have more than 5 pages, you'll need to upgrade to a paid version
Screenshot Courtesy of Ronda Levine
The Abundance Site Excel Program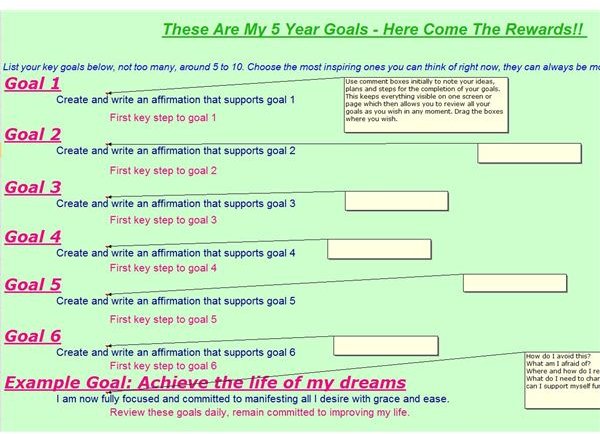 TheAbundanceSite.com's Excel Template goal-setting freeware is a great option for those who would like to utilize a program they already have in creating goals that are achievable. The purpose of this template is to allow you to fill in your 5-10 most pressing goals, affirmations to support those goals, and then on separate pages, your action plan for achieving those goals.
Pros:
The Excel template is easy to use (and if you don't use Excel, but use a program such as Open Office, you can still use it)
The template doesn't take up too much space on your hard drive since it installs into software you already have
Cons:
If you're looking for goal setting freeware that reminds you when you set your milestones for and reminds you to make progress on your goal, this is not your software.
Screenshot Courtesy of Ronda Levine
Destiny Goals
Destiny Goals is very straight-forward. Enter in your goals with comments about the goals and dates you would like to meet the goal by. Once you have entered your goals in, you can then click on your goal to modify, delete, or even add a sub-goal. This program is great for those who want accountability, but who don't need the bells and whistles of other programs. For instance, if your goal is to get more business in your home office, then you can create sub-goals of "call one business a day" or "get two clients a week."
Pros:
Destiny goals offers a simple way to formulate and track your goals and important subgoals
Find links to articles about successful goal setting included on the website
Cons:
Destiny goals does not send email reminders about your goals
If you enjoy checking things off as you complete them, this program will leave you dissatisfied
My Life Organized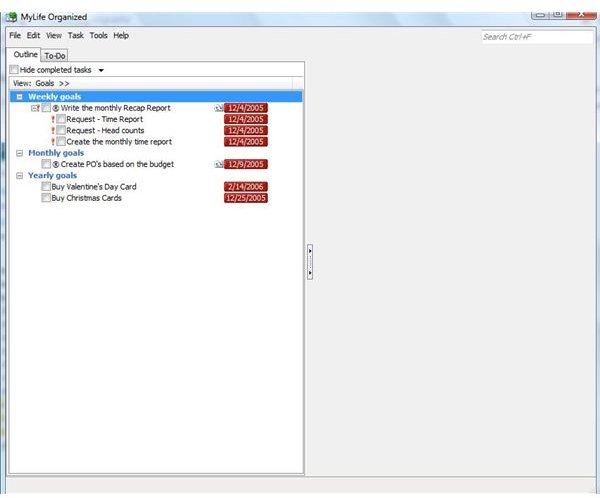 Finally, My Life Organized makes an outstanding choice for individuals looking for go setting freeware. Technically this is more of a planner program. The free version allows you to use templates including GTD and Steven Covey. You can set goals, projects to meet those goals, and be sure that all of your business's objectives are met. This program is great for those who want more from their goal setting software. The paid version allows you to sync Outlook with My Life Organized.
Note: There are many different downloads available. The free version is second from the bottom and is labeled Light Edition (freeware). This is not their most recently updated program. You can download a free trial version of their paid program if you prefer.
Pros:
Use templates for commonly used goal-setting programs to help you get started on your goal-setting
Easily enter in goals, delete goals, and create routines for goal attainment
Create an outline for your goal attainment, and then create a to-do list based upon this
Assign due dates, create task templates, and keep work and home tasks blissfully separate
Cons:
If you want to sync this program with Outlook or your mobile device, you'll need to purchase the full version for $49.95
You'll want to play around with the program a little bit - while it's easy to use, you'll want to get to know all the things it does by using the program.
This post is part of the series: Self Assessment & Goal Setting in the Home Office
When working from home, it's more important than ever to set goals for yourself and to regularly assess those goals. The thought of these activities may make you cringe, but they're not as bad as they seem. In this series, find tips to make the whole process easier.