Find Free Accounting Software for Excel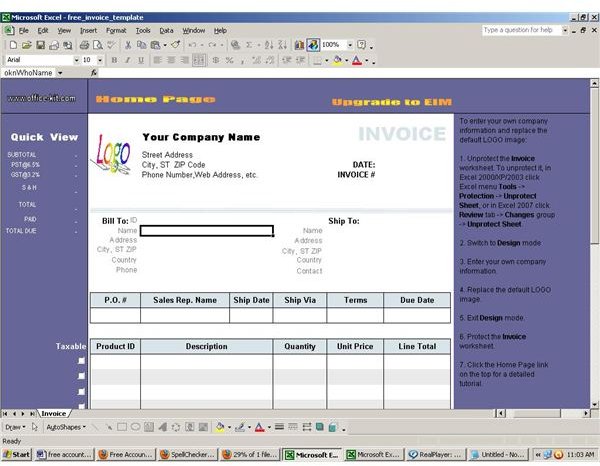 Microsoft Excel is the most popular desktop accounting tool, providing options to perform basic and advanced calculations, maintain ledgers, and other accoutning functions.
Selecting the "Function" category from the "Insert" menu, and selecting "Financial" provides a range of in-built formulas for many financial measurements such as rate of return, internal rate of return, present value, rate of interest, payment for loan, depreciation, and more. The user only needs to input the specified value and Microsoft Excel calculates the value automatically.
The availability of MS Excel accounting templates and other add-on software make it even more easy to perform accounting functions with this application.
Templates
Many websites allow free download of accounting template software for MS Excel. Such MS Excel accounting templates have built-up formulas with the user only having to input values. Templates exist for almost all accounting purposes such as billing schedule, budgeting, cash flow, asset deprecation schedule, and other functions.
The best free accounting software for Excel templates are the ones accessible from the Microsoft site. The user just has to click on the download button, agree to the user service agreement, and start the download. These files are, however, in the .XLTX format of MS Excel 2007 and require the MS Office Compatibility Version to run.
The Budget budgets template section, accessible from https://office.microsoft.com/en-us/templates/CT010117232.aspx, offers ready made programs for small business budgets, budget plan, cash budget, flexible budget, manufacturing overheads, sales budget, activity budget, start up budget, expenses budget, event budget, annual operating budget, marketing budget, training budget, and a host of other purposes.
The forecasts templates provide about 45 forecast templates catering to sales and other financial forecasts, cash flow forecasts, and other projections.
The reports section accessible from https://office.microsoft.com/en-us/templates/CT010142348.aspx contains useful templates to track expenses.
The financial reports section accessible from https://office.microsoft.com/en-us/templates/CL102207727.aspx contains other useful templates for balance sheet, debt rations, accounts payable, income statement, profitability ratios, cash flow statement, sales report, and more.
Other Software
Among other third-party free accounting software for Excel, VicMan Software's Excel Invoice Template stands out. This billing and invoice software allows the user to input quantity, quality, description, unit price, tax status, and amount per line, and it creates and calculates the invoice automatically. This software is downloadable from https://www.vicman.net/download/7129/
Image: Screenshot of VicMan's Accounting template Software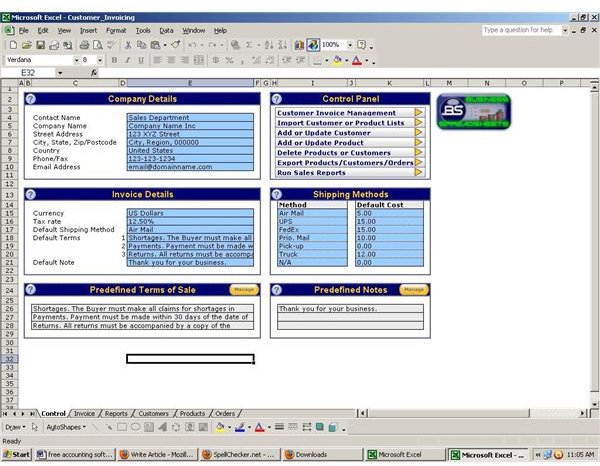 Another excellent resource for free MS Excel accounting templates, add-in, and conversion software is https://www.ozgrid.com/. This website offers a host of paid applications that allow a range of functions such as the conversion of an Excel file to HTML code. The free software options related to accounting are found at https://www.ozgrid.com/affiliations-with.htm, and they include software for customer invoicing, investment valuation, multiple regression, portfolio management, and more. These files download as .EXE files using Microsoft Excel and provide user-friendly menus to input values.
Image: Screenshot of Ozgrid's Customer Invoicing free accounting software for Excel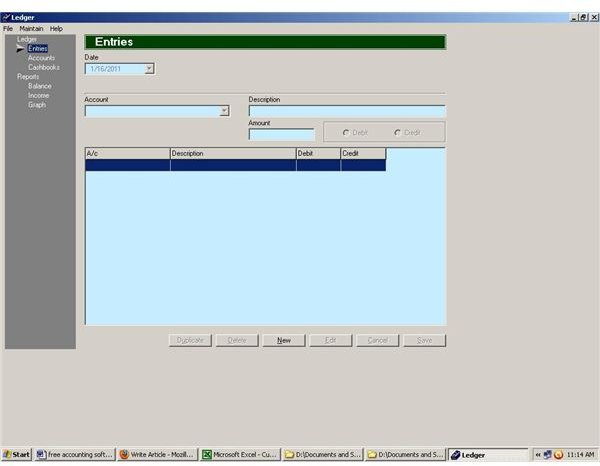 Responsive Software's (https://www.responsive.co.nz/) general ledger and cashbook is another useful accounting software for Excel. This requires download and installation. This software is flexible and allows double-entry bookkeeping. It allows for creating standard accounting reports for any arbitrary date without a period close or rollover. This software, however, comes as a separate application and does not integrate with MS Excel.
Image: Screenshot of Response's Software "Ledger"
MS Excel is a versatile tool that allows for much more than pure accounting functions. Users looking to integrate project management requirements with accounting using MS Excel would do well to continue reading Project Management Templates and How-To Guides for Excel Users.