Create a Great Business Partner Agreement Following This Sample!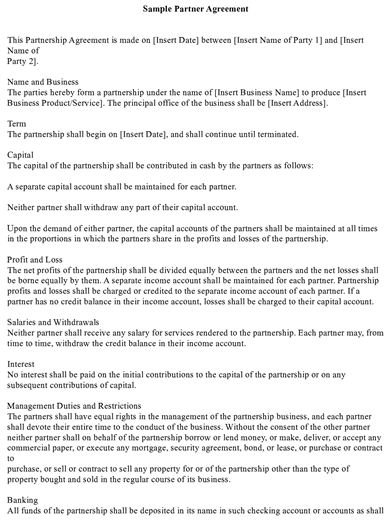 Why Create a Business Partner Agreement?
Too many partnerships have been inadvertently destroyed due to misunderstandings, errors, or out-right fraud. In order to help prevent these situations from happening to you, it would be a prudent decision to draft a business partner agreement between all partners concerned. In many cases, if you don't completely spell out the rights and responsibilities of each partner, then you leave it up to your state to do it for you.
What Every Business Should Know
Before entering into a business partnership with anyone, several factors need to be considered in order for everyone's rights to be fully protected. Usually, when there is a misunderstanding in any area of the business, it is in the areas listed below. Therefore, when drafting your business partnership agreement, make sure to cover these specifications.
Detail what each partner will contribute to the partnership. Whether it's cash, property, or service contributions. Then list separately the stock percentage ownership between each partner.
Allocation of Profits and Losses
Describe how profits and losses will be allocated. Will it be proportionate to each partner's interest in the business? Secondly, decide whether each partner will receive a draw, or a single pay-out of profits at the end of the year.
Will you grant binding authority to all partners, or only certain individuals? If this decision is not expressly stated, then any partner can bind the partnership without the consent of other partners.
Decision-Making Authority
You should decide whether you would like certain partners to handle major decisions. Or, should all partners discuss them, and handle it together as a cohesive unit?
Daily Business Operations
Decide who will keep the books, supervise employees, deal with customers, or negotiate with suppliers. Many of the major business operations should be explained here, so that everyone has a vital part to play in the success of the business.
Before adding new partners into the mix, there should be clear guidelines which detail the admission of each new partner.
Write out clear, concise, and defined rules explaining the procedure for a partner who leaves the business. In addition, explain whether there will be some sort of buyout plan listed in this agreement as well.
What happens if all partners cannot come to a complete agreement? How will it be handled? A description of dispute resolution should be included. Whether it is for attending something like a mediation, or arbitration meeting so that the dispute can get settled.
Business Partner Agreement Advantages
Business partnership agreements have many advantages. Mainly it should aid in resolving issues, disputes, or disagreements before they occur. This creates an environment of teamwork as all partners are working towards more important issues, such as creating a successful business. More importantly, if you do not take control over the handling of your business partnership, your state has the authority to intervene and control your business partnership via mandated state laws.
Business Partner Agreement Sample
Refer to the following sample of a business partner agreement when drafting your own. Please click on the image to enlarge.
Business Partner Agreement Sample