Make your Business Thank you Letters Unique – Five Creative Ideas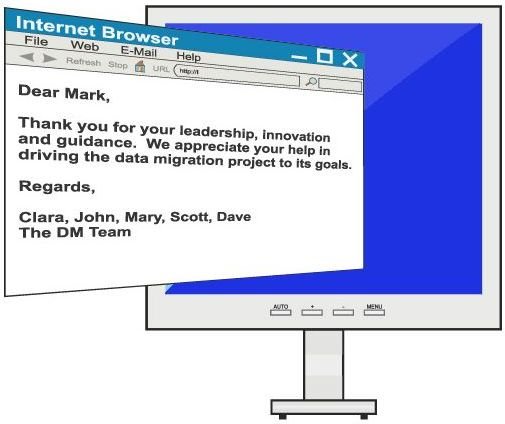 Five Unique Ideas for Business Thank You Letters
Make your business thank you letters unique to ingrain their messages in the recipients' minds for their lifetime. Here are five ideas to create business thank you letters for different situations that standout:
1. Expand on a Proverb: Choose an adage that has a strong fit with the business situation. Next, quote the proverb and expand on it to craft the message.
Consider a scenario:
One of your staff members finds that a file is missing in the master DVD for replication of 50,000 copies. What a good work by the tester! Had she not found the lapse before the DVD left for mass production, it would have cost the company thousands of dollars.
How can a proverb set the tone for a business thank you letter for a scenario such as the above? Checkout this letter sample:
Dear Martha,
"A Stitch in Time, Saves Nine"
You actually saved many! Martha, thank you.
Your thorough check of the sales e-learning master DVD saved us all from a near disaster. I appreciate your attention to details. Keep up the good work.
Regards,
John Manager
2. Use a Medallion Sticker: Gold or silver embossed stickers with text that highlight the achievement can perfectly convey your appreciation. Surprise the reader by not making the sticker visible right away. Here's a way to go about that task:
Say you use an A5-size page for your business thank you letter. Fold it at its center to create two parts. On the inside of the first part, paste the sticker. Use the second half to write your thank you message.
Where can you find the medallion stickers? Buy such products from companies that sell motivational merchandise. Google the keywords and order online or drop in at a store that carries the medallions.
3. Use a Relevant Graphic Image Cut-out: Do you want your peers to feel envy of your thank you letter strategy and want them to ask you, "Hey, how do you always make your business thank you letters unique?" Then, try out this method:
First, select an image relevant to your message. Websites that sell royalty-free images are a good resource for that task. So also are clip-art CDs. If you've the time and design skills, you could create the graphic yourself. In either case, ensure the image will have adequate space to handwrite your content.
Second, print the image on a thick, quality paper. Some of the paper grade you could try includes paper cover and parchment. Be sure to first check what paper types your printer can handle.
Third, cut-out the image and write the message in the relevant empty space.
How to turn this concept into a reality? Here's a scenario:
A software team takes a creative route to convey its appreciation to its manager for his help in completing a complex project on time. The team produces a cut-out of a computer monitor image and writes the message on it.
4. Use Artistic Borders: Professional quality borders for your business thank you letter give a unique dimension to it. The artistic borders can give a special appeal to your message and indicate how much you appreciate the effort. Use borders for only the edges or that run along the four margins.
Checkout royalty-free stock images sites like shutterstock.com to buy artistic borders that have a good fit with your content and the target audience. Compose the thank you letter template on computer and handwrite the message.
For the envelope also, use one with borders. If you don't find a perfectly matching envelope, try to produce one with software like CorelDraw or PageMaker.
5. Enclose the Letter in Zip-lock Bag with Sandalwood Powder: This idea suits best for a woman manager wanting to send a business thank you letter to a woman staffer.
Why sandalwood powder? The reason is that it has a classic fragrance. The powder has the potential to convey rich gratitude.
Here's a way to implement this idea: Use a sandalwood powder sachet. Enclose it and the business thank you letter in a zip-lock bag. Why use it? There are two reasons: first, the letter can absorb the fine smell and, second, the bag doesn't let the aroma escape.
The recipient can place the sachet, for example, between clothes so these absorb the scent. It helps her move your compliments from her short-term memory to the long-term.
Image Credit: Image created by the author.