Free Sample Letter of Business Closure for Your Partners, Customers, and Suppliers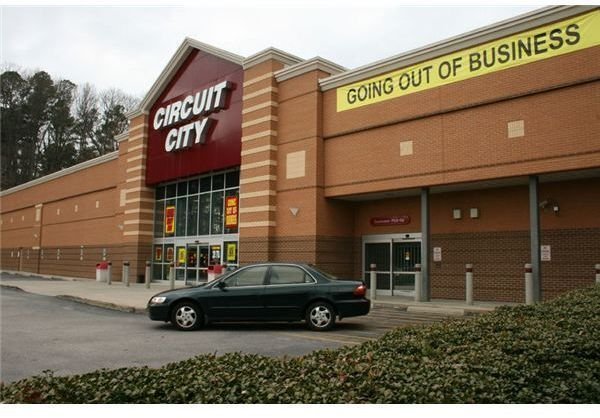 Business owners who are forced with the decision to close their businesses are understandably going through a difficult time. Not only are they forced to face the reality of their failing business, but they must also communicate this fact to their business partners, customers, and suppliers. That's why it's a prudent decision to write a letter of business closure to all parties involved, so that they may prepare for the closing of your business prior closing day.
Although your business is closing, you should take the time to acknowledge your customers, suppliers, and partners for all their support. At the same time, you are notifying them of your intent to close the business sometime in the near future. Therefore, you should purposely use your letter of business closure to state the following:
Create an end to your business relationships professionally.
Thank your customers for their support and loyalty to your business over the past years.
Thank your suppliers for servicing your business with their products and services.
Clearly explain to your partners, customers, and suppliers about the various actions that need to be taken before the business closes.
Image Credit (Wikimedia Commons)
Key Components of Letter of Business Closure
If you are writing a letter of business closure, there are a few key elements that need to be contained in the letter in order to have a successful closing day. When composing a sample letter of business closure, it is more important to keep it short, concise, and focused on the core issues. Therefore, you should include the following information:
Clearly state the final date of closure.
Include contact information for anyone who may have questions about the closing.
Inform all parties about any actions that should be taken before the business is closed. (i.e. pick up your automobile before stated date (for automobile repair shops), remind customers to pay their outstanding balances before stated date, or explain that you will be having a closing sale.
Inform all parties that their past support and business are greatly appreciated.
Timing Is Key
When mailing your business closure letters, you have to make sure you notify people in enough time before you actually close. However, depending on your situation, you will have varying times in which the letter should be mailed and all parties are notified. Therefore, you should send your letters at specified times when faced with the following scenarios:
Announcement of a going out of business sale - If you are having a going out of business sale, you should mail out the letters 30 to 45 days before the sale begins.
Address any accounting issues - You should send the close of business letters approximately 60 days before close of business. This allows your customers, as well as your employees enough time to settle any outstanding balances.
Address future business plans - This is optional because you may not want to disclose this information. However if you expect to open a new business, then this can be a great way to create awareness of that fact. Nonetheless, plan on sending the letter of business closure a few weeks just before the opening of your new business.
Sample Letter of Business Closure
When you begin composing your letters of business closure, you have to make sure that you write three types of letters for your suppliers, customers, and business partners. Below are sample letters of business closure that specifically addresses each party. You can tailor your letter to fit your particular business objectives, however you can still use the basic framework of these letters to communicate your closing specifications. (Please click on any of the below letters to enlarge).
Business Letter Closure for Customers: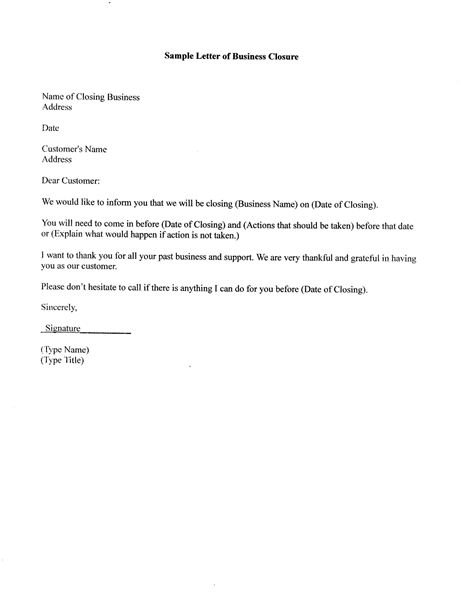 Business Letter of Closure for Partners: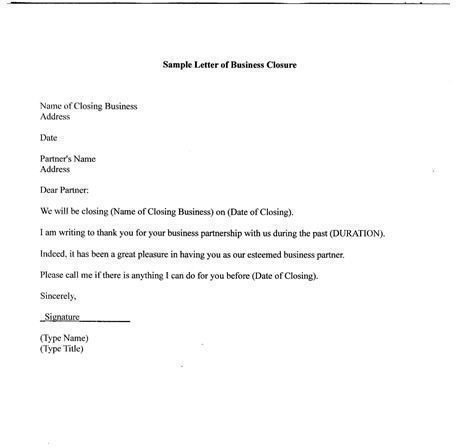 Business Letter of Closure for Suppliers: