10 Tips on How to Conduct a Business Meeting at a Restaurant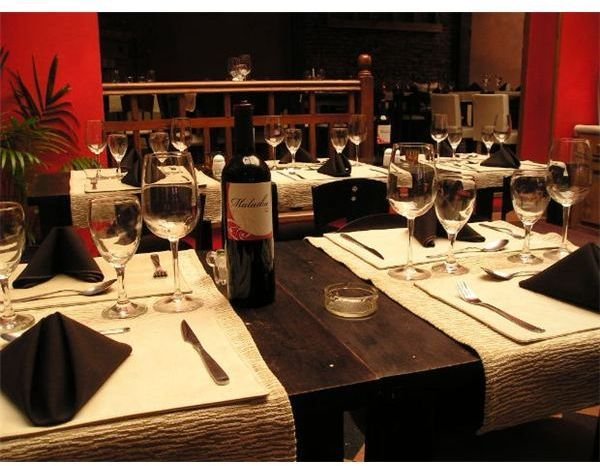 Restaurant Business Meeting Tips: One to Five
For many entrepreneurs, meeting in a public setting such as the local coffee house is the norm. Entrepreneurs typically pick a setting that allows for comfort and familiarity but also gives a sense of privacy in the meeting setting. Far too often, entrepreneurs are unfamiliar with how to conduct a business meeting at restaurant venues, but here are a ten tips to help alleviate the unfamiliarity and make you and your client feel comfortable.
1. Do not take your client to a location that you frequent. I have witnessed this several times with clients wanting to take me out to lunch. We enter into the restaurant, since everyone knows their name interruptions can occur. It is a distraction and counterproductive.
2. Eat before you discuss business. One of the greatest errors I have seen since I started consulting is when a business deal is transacted during bites of food. It is disgusting and unprofessional. Therefore, either order drinks until the meeting is concluded or wait until the meal is finished to discuss business affairs.
3. Do not allow your customer to pay or tip. Your client may feel inclined to pay the tip or pay something on the bill but I warn you it is unprofessional to ask your guest to pay any portion of the bill or leave a tip. Pay the entire cost because it is a business expense which can be claimed at the end of the year.
4. Allow your client three options for restaurant choice. This gives you a better option when determining your budget for the evening. You do not want to overly impress the client by dining in a restaurant which is too expensive, nor do you want to not eat yourself if they order something expensive off the menu. Three choices allow you to pick what's in your budget.
5. Do not drink alcohol. Again another no-no in my book. There is never a time or place for alcoholic drinks for a business meeting at a restaurant. If your client requests an alcoholic beverage, then by all means request that they have it after you have completed the business aspect of the event.
Image Credit: Restaurant Tables (Morgue File)
Restaurant Business Meeting Tips: Six to Ten
In order to ensure a great experience for both you and your client when holding a business meeting at a restaurant, here are tips six through ten:
6. Remember your etiquette. Etiquette is very important when you are at a business lunch because the last thing you want to do is pick your teeth or belch at the dinner table. Use the proper utensils for each meal course and always place your napkin across your lap.
7. Never be rude to the wait staff. Even if they messed up your order or drop a drink in your lap, you must remain calm. You do not want to display any negative mannerisms or behaviors which might result in a bad business representation.
8. Stick to business. When you are in a setting such as a restaurant, it is easy to become relaxed and start chatting about your personal life but DO NOT DO IT. Business is first and should be the priority, so remain focused and once the business affairs are complete then lightened up.
9. Prepare needed materials ahead of time. If you need to set-up equipment or supplies then prearrange the setting and arrive early before your client arrives. The most embarrassing thing you can do in front of your client is not being prepared for a presentation because you are unfamiliar with the set-up. Therefore, you should arrive early enough to give everything a quick run through.
10. Follow up. No matter what the reason for the business meeting, wait until what you feel is an appropriate amount of time and follow up with a telephone call or note. Try and make direct contact, however, and skip the email.
Conducting a business meeting in a restaurant is not a daunting task. You have to be focused and ready to handle the business affairs before other requests or drinking are completed. You always want to give your client the option of what they want to eat, and yourself the option to afford the restaurant, especially since you are an entrepreneur. Never forget your etiquette or allow your client to pay for anything, even the tip.
Now that you know some basic tips for conducting business in a restaurant you are ready to go!
Image Credit: Condiments (Morgue File)