Free Templates for Business Meeting Minutes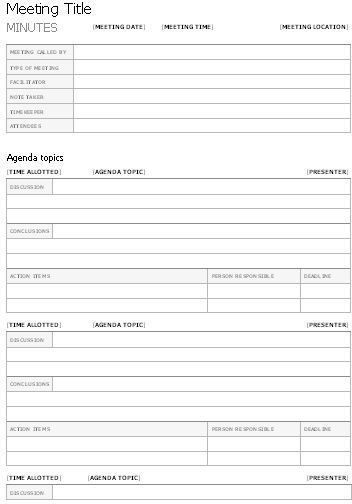 Free Templates for Meeting Minutes
Business meetings can contain a lot of information. Marketing reports, analysis and evolving projects can be just a drop in the bucket to the myriad of information that can be presented during a meeting. Some groups chose to record their meetings, having another co-worker type up the minutes later while others choose to collect the minutes as the meeting is taking place.
Meeting minutes can be taken down on in house forms but the majority of minutes that are taken during a meeting end up written down on a yellow legal pad. Random meeting notes can end up costing a business, whether it is large or small due to the possibility for human error and the jumbled way in which the notes maybe crammed together on regular paper. Here we are going to take a look at two free templates for business meeting minutes that will help keep those hand written notes organized. Both of the templates listed here are free to download and can be copied as many times as needed.
MSOffice Meeting Minutes Template
Microsoft Office has a variety of templates for both personal and business use. The majority of their templates are clean, simple and easy to use for any type of business. Their newest offering for a template for business meeting minutes, meets the standard simple format for general meeting usage.
This template features a series of headlined theme boxes with room for information to be filled in during a meeting. The start of the page shows an insert-able area to place the information of meeting time, date and location. Underneath the title information area, there are boxed places to insert the following information: meeting called by, time of meeting, facilitators, note taker, time keeper and attendees. This template begins with this information to allow for an organized record of the people involved in the meeting.
The next main section of this template features the Agenda Topics box. Within this record keeping area of the template there is room for the main title sections of time allotted, agenda topic and presenter. Each agenda topic has lined and boxed sections to include the information of each topic discussion, conclusion, actions items, who is responsible for each action item and the dates that each action item is due.
This template can be donwloaded for free through the following direct link: MSOffice Meeting Minutes Template
OpenOffice Template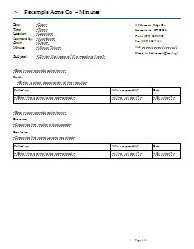 OpenOffice is an open source suite of business related software. Their software package works along the same lines as that of MSOffice and can provide the same functionality to programs such as Word and Excel. Just like MSOffice, they also have an online source of user created templates that can be used with the main application.
The Minutes 4 template was created by SunMicrosystems as a template for business meeting minutes that can be edited both on MSOffice and OpenOffice Word. This template features a title lead of the business name and colorful light blue page separators. The top section underneath features listing spaces for meeting date, meeting time and meeting location. Other section listings in the top section include meeting arranged by and topics to be covered during the meeting.
The middle section of this template is boxed for topic discussion coverage. This section is left open for the most part to allow for filling in the meeting topics and how they will be dealt with in the future. This template can be used with OpenOffice 2.0 or higher and with MSOffice Word by saving the file format to a .doc, to download this template follow the direct link here: Minutes 4 Template.