Entrepreneurs of the 19th Century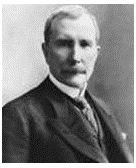 The Industrial Revolution
The Industrial Revolution was a critical period in the development of American business enterprise. With roots in the late 18th century, the Industrial Revolution transformed 19th century commerce and industry while producing remarkable advancements in transportation, industrial production, communications and energy.
The resulting effect was a profound alteration of society from both an economic and cultural standpoint. This fertile environment created extraordinary business opportunities for entrepreneurs with vision and fortitude. Encouraged by a system of government that promoted risk taking and minimal regulatory interference, entrepreneurs of the 19th century forged an American system of capitalism that remains the envy of the world.
In studying dynamic business innovators in the 19th century, it is interesting to note the common characteristics they share with successful entrepreneurs from other eras.
John D Rockefeller
John D. Rockefeller had the vision to recognize that a mechanized society would be highly dependant on energy. It became apparent
in the early development of various energy sources that oil provided the highest yield for the lowest extraction cost.
A devout Baptist with a penchant for business opportunity, Rockefeller built a naphtha and kerosene refinery in Cleveland in 1863. He was shrewd in controlling costs while constantly insisting that profits were reinvested back into the business.
Rockefeller is credited with stabilizing the oil industry by strategically targeting the refinery segment and quickly becoming the dominant company within that sector. Controlling industry refining operations allowed Standard Oil to provide market price stability while systematically integrating every phase of oil production from discovery through retail. Through this process, Rockefeller was able to save structural costs on each component in the oil delivery supply chain which resulted in enormous profits when multiplied on a mass production scale.
Inevitably, Rockefeller's success brought closer government scrutiny and from 1892 through 1911, a series of unfavorable court decisions resulted in the dissolution of the Standard Oil Company. Despite these setbacks, Rockefeller remained a philanthropist, giving substantial amounts to the Baptist church in particular.
Image Credit: commons.wikimedia.org/wiki/File:John_D_Rockefeller.jpg
Andrew Carnegie
From humble beginnings, Andrew Carnegie defined the American entrepreneur. A Scottish immigrant, Carnegie had the vision and foresight to embrace the eponymous converter, a new steel technology that resulted in large scale iron to steel conversions. Carnegie defied conventional wisdom by borrowing substantial sums to build a steel plant in Pittsburgh where he installed the state of the art equipment. Always vigilant in controlling costs, by 1900 the Carnegie Steel Company was producing more steel than all of Great Britain.
Eventually, Carnegie sold his company to J.P Morgan in 1901 for the astounding sum of 480 million dollars, making him the wealthiest man in the world at that time. As a philanthropist, Carnegie spent the balance of his life building libraries and funding entrepreneurial ventures while giving away most of his fortune before his death.
Cornelius Vanderbilt
Cornelius Vanderbilt was already a successful steamship operator in 1862 when he realized that the future of the transportation industry
would shift to the railroads. Joining the New York and Harlem railway as a director, Vanderbilt became President and subsequently acquired a controlling interest in the Hudson Railway.
Vanderbilt engineered a series of acquisitions including the New York Central, the Lake Shore and Michigan Southern Railway, the Harlem Railway and the Canada Southern Railway. By controlling several lucrative runs such as the New York to Chicago line, Vanderbilt built a fortune of 100 million dollars and became a railroad icon. Later in life, Vanderbilt became a primary benefactor to Vanderbilt University and various other charitable organizations.
Image Credit: commons.wikimedia.org/wiki/File:Cornelius_Vanderbilt_Daguerrotype2.jpg
Andrew Jackson Beard
No one personifies the entrepreneurial spirit more than Andrew Beard. Spending the first 15 years of his life as a slave, Beard overcame remarkable odds to create several important inventions. While farming in Birmingham, Alabama, he was granted two patents for agricultural plow improvements that he subsequently sold to finance a successful real estate business.
Beard later worked in the railroad industry where he lost a leg in an accident while coupling railcars. A very dangerous process, car coupling required precision pin dropping that resulted in many accidents and loss of limbs. Inspired by his own misfortune, Beard invented a new rail car apparatus called the "Jenny Coupler" which was the predecessor of the mechanism used in modern railcar coupling. He sold the rights to his patent for $50,000, which was a considerable sum for that time.
Common Characteristics of 19th Century Entrepreneurs
Following their dreams of wealth, success and personal fulfillment, entrepreneurs of the 19th century mirror their modern counterparts. Following a vision, taking calculated risks, controlling costs and giving back to the community all serve to enhance the likelihood of a successful outcome. Like all triumphant innovators, these individuals pursued their goals with a single minded purpose and a passion that is as relevant today as it was two centuries ago.
For more inspiring stories, check out the other profiles in Bright Hub's Collection of Interviews and Biographies of Successful Entrepreneurs.
This post is part of the series: Learning From Successful Entrepreneurs
Whether you're embarking on your first entrepreneurial venture or you're trying to find inspiration for a new endeavor, it never hurts to look at some success stories for motivation and ideas. Check out these articles that highlight inspirational entrepreneurs.