How to Run a Successful Candle Making Business - Interviewing a Successful Candle Entrepreneur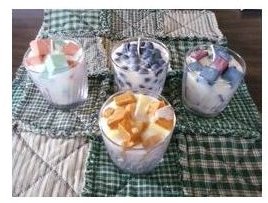 Introduction to Country Keepsakes
Entrepreneur Becky Ryan-Willis of Country Keepsakes knew that she wanted to start a niche business that would be practical to fill a need – but she also wanted to provide a product that people wanted. Prior to starting her business, she conducted thorough research into candle making, learning all she could about the process and the market for handmade, hand-poured candles. She decided to make soybean candles, as they were the "new thing" on the market at the time, and offered a cleaner burning, natural base.
Ryan-Willis also found a supplier in a neighboring state who offered most of the necessary supplies, meaning paying only one shipping cost for soybean wax flakes, candle dyes, scents, and wicks. She also found a local business that sold different size jars and lids, another cost-saving step. In 2002, Ryan-Willis opened her business in a storefront near her home in Watkins Glen, New York. She started with four scents that were popular at the time for "bakery" candles, including Cinnamon Buns, Vanilla Bean, Amish Carrot Cake, and Gingersnap Cookies.
Advice from a Successful Entrepreneur
Ryan-Willis claims her motto is, "Whatever I sell needs to reach my customer in a way that I would want to receive it." Therefore, she advises that one of her first business principles is to focus on quality and presentation:
Ensure that the candle burns from start to finish with a pleasant, strong scent.
Ascertain that the candle burns evenly with no residue left on the sides of the jar.
Next, Ryan-Willis emphasizes the importance of marketing. She stated that she learned a few basic facts early in the life of her business:
Market yourself even more than what you sell by being professional and knowledgeable.
Get your name out everywhere possible, such as through business cards, flyers, websites, craft shows, and word-of-mouth.
Price your candles competitively to guarantee you cover your costs, but also make a profit.
An ongoing and underlying business concept that Ryan-Willis practices and espouses is the understanding that any business takes time and effort, but even more so when you are a sole proprietor. As Ryan-Willis emphasizes, in most cases, people should not expect to start one month, and be well known and successful within six months. Running your own business does not usually meet with instant success. During her first couple of years in business, Ryan-Willis did not make any significant profit.
Another important consideration for running your own successful candle making business is to acknowledge that it requires discipline, time management, and organizational skills. You become your own boss and must treat your business as a business, whether you make and sell candles in a storefront or in your own home. Ryan-Willis said at the beginning, she spent about 20 minutes daily finding more information on how to improve her business, advertise on other websites or read about other successful candle makers. Now, eight years later, she sometimes spends 12 hours or more daily on her business to fill orders and ship them out in a reasonable amount of time to both retail and wholesale customers.
Expanding the Business
Ryan-Willis likes to keep her candle making business fresh by adding new scents and new designs (see samples of her products at the end of this article). As of 2010, Ryan-Willis has increased her business offerings to include over 150 scents, three different jar sizes and a plethora of different types of wax melts. She has invested in candle molds to make pillar candles, cakes, and other sorts of wax creations in the popular "bakery" candle styles. She also added handmade room sprays and potpourri blends to expand her offerings.
As Ryan-Willis says, "I know my business is not a 'need,' so I do everything in my power to make it a 'want.' I know that when people burn my candles, or use my room sprays or potpourri blends, they are getting great quality, and are able to enjoy a nice smelling room or home. This is due to the hard work I have put into my business for many years."
In Conclusion
Ryan-Willis emphasized the importance of having the support of your spouse or significant other, and your family, in your business endeavors. In 2009, Ryan-Willis was able to move her business home into a newly built addition onto their house. She claims her husband as her most enthusiastic supporter and sometimes "helper" with her candle making business. In summary, Ryan-Willis offered these tips for how to run your own successful candle making business:
Be determined.
Do your "homework" through researching ahead of time about the whole candle making process, as well as zoning laws, if you plan to have a home-based business.
Test your products before you sell them.
Ascertain that you have the ability and the desire to make candles.
Market yourself, not just your products.
Be willing to work hard to attain the success you desire.
Images of Country Keepsakes Products