Business Programs to Run Your Plumbing Company - Tools for Plumbing Contractors

Programs for the Plumbing Industry
A well structured plumbing business can provide a steady source of reliable revenue for the business owner, jobs for employees and the satisfaction of providing a vital service for customers.
Whether focusing on new construction, repair and replacement or a combination of both, there are a variety of useful plumbing specific business programs designed to increase sales, streamline labor costs and maximize profits.
Comprehensive business programs to run your plumbing company should contain several important elements. Among these is a module for automating the estimating process, a service tracking module to control labor costs and enhance customer service and an accounting module to integrate invoicing, job costing and financial report generation.
Many modern plumbing specific programs contain additional functions that give the owner of the company extraordinary control over every significant aspect of the business. Although there are a variety of "stand alone" programs, they often will not integrate or share data easily. This can lead to a confusing information bottleneck and should be avoided. Multiple function programs may require a higher initial investment, but they will prove to be far more cost effective as the business matures.
ServiceCEO
ServiceCEO is an all-inclusive package that provides an exceptional level of functionality and complete integration of every critical
component for operating a successful plumbing business. Their "Job Completion Wizard" and "Work Flow Management Center" are both service marked and offer flexible and unique structures for uncomplicated navigation through the many processes of the software.
The incorporated systems include broad customer management functions such as billing history, equipment tracking and service contracts. Sales and estimating features allow for instantaneous quote conversion into an active job account while creating customized, professional looking estimates that can be easily linked to email functions.
Scheduling and dispatching is automated and optimizes routing for enhanced efficiency and can even generate job specific driving directions. Professional looking invoices are generated automatically from completed work orders while sales commissions, vendor payments and job costing results are effortlessly integrated with QuickBooks accounting software.
There is an extensive and useful variety of in depth reports including sales and marketing, project management, financial and customer relationship management. Within each of these broad categories there are numerous task specific reports as well.
Price range: $995-$2895
Maxwell Systems
Maxwell Systems Specialty Trades and Subcontracting Software has several versions, including one that is designed for plumbing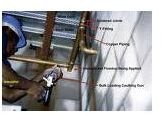 applications. It offers a wide array of inter connected modules including estimating and proposals, project management, financials, workforce monitoring, materials control and inventory and material buyout management.
Independently and in concert, these powerful modules provide estimates and proposals while tracking the statistical probability of acquiring each job. Jobs can be pre screened by size and other factors to determine where estimating and bid efforts are most effectively employed.
Job costs are accurately measured and revenue is meticulously tracked through streamlined data entry and a variety of historical and real time reports. Material usage is controlled through a sophisticated automated purchasing process that ensures aggressive cost management.
Financial management is simplified through a complete array of tools including payroll, workers compensation, Union, payables, receivables and a host of comprehensive accounting reports. Maxwell Systems offers a variety of deep level analysis and thorough integration of all accounting, purchasing, inventory and estimating systems.
Price range: Varies due to package and level of sophistication. The cost is typically $5000 and up.
Wintac Pro
Wintac Pro is a flexible and complete package that has a consistent appearance across all of the components. Instead of combining disparate programs into a difficult and counter intuitive system as some competitors have done, the entire Wintec process was designed and implemented concurrently.
The result is the elimination of redundant data entry. The seamless integration of the various sections insures that data flows to all of the appropriate elements of the program quickly and with consistent stability
The various program functions include customer relationship management, scheduling, inventory management, estimating and proposals, job costing, purchasing, financial reporting and a host of other essential tools. Users can utilize one mouse click functions for phone dialing, mail merge, and obtaining complete customer histories. Jobs are automatically time stamped with arrival and completion designations and job tickets can be electronically signed by customers.
Inventory management is enhanced through bar code capabilities, automatic reorder reports based on maximum-minimum criteria. The software contains multiple billing environments including time and material, flat rate pricing, and point of sale processing. Of course, there is a host of sophisticated accounting tools to thoroughly track payables, receivables and general ledger entries.
Price rage: $995 for a single user, $8975 for unlimited users
Control and Profits
Comprehensive modern business programs to run your plumbing company come in a variety of configurations and features. Whether in new construction or the retrofit business, the initial investment in a fully featured system will pay handsome dividends as your plumbing business continues to thrive and grow.