26 Catchy Cleaning Business Slogans: Ideas You Can Put to Use in Your Advertising Today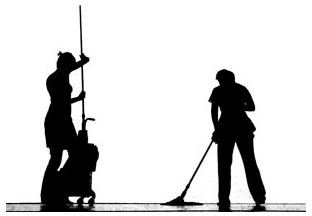 Do You Need a Business Slogan?
The right cleaning business slogan entices prospective customers to visit your business. A business slogan identifies for your cleaning business and helps to inform clients about the services you offer.
Do slogans help people remember businesses better? Well, do you still remember Coca-Cola's 1963 slogan: Things Go Better with Coke?1
Odds are you remember it very well because it satisfies all the components of a powerful advertising slogan: short, memorable and clever.
Business slogans are short statements that have a motivating and powerful impact on prospective customers, and they distinguish the business from competitors. The business' slogan acts like a branding statement for any business. Since the cleaning business is very competitive, it is a smart business idea to build a strong image by drafting an intelligent and witty statement for the slogan.
Try one of these effective cleaning business slogans ideas for your business:
Maid in Bliss
We Love The Jobs You Hate
Got Dirt? We Got Clean!
The Clean Team - Leave Your Troubles With Us!
Fresh As A Daisy
Neat 'n Tidy
Swept Away
We Leave the Competition in the Dust!
Leave Your Dust to Us
Always Sparkling
Sparkle Aplenty
Tidy Shines
Rise 'n Shine
My Business is Making Yours Shine
Your Panes are Our Pleasure
We're a Glass Act
Take a Bite Out of Grime
Grime Busters
Call Us! We're the Dust Busters
We Do, Do Windows
Let Us Hurt Your Dirt
We Can Bust Your Dust
We've Got a Lust for Dust
We're a Lean Mean Cleaning Machine
Clean Your Clock and Everything Else
Extreme Clean
If you'd rather come up with your own, unique slogan, feel free to modify any or all of the above phrases to your liking. Remember to keep your message short and sweet. Try out new slogans on friends, relatives and business acquaintances until you find the perfect fit for your business and personality.
Put Your Slogan to Work For You
Your slogan acts like a cherry perched on top of luscious looking whipped cream on a delicious banana split: Let's analyze some examples of different types of slogans and how they can portray your services:
Defines Who You Are
A slogan offers a clear definition of your company to your customers. This type of slogan informs the prospective customer of how you stand out from your competitors. The uniqueness that can be added to a business with the help of its slogan is very effective: Something like:
Where spotless cleaning comes to your door
The above is a unique business slogan for a cleaning company that also tells your customer about your business services.
Answers a Question
Slogans can be in the form of a query:
Do you want your home or office to be neat and tidy?
Most people read and react to such a suggestion in a positive way. This type of slogan must be drafted in such a way that is viewed as a must-have essential for potential and repeat customers.
Gets Your Business Noticed
Use the slogan to explain to the potential customers what your business does. It is a good idea to include the benefits and advantages in your slogan:
Pick up the phone, we'll clean your home
Use this slogan for a business to make its service sound fast and convenient for people in a hurry.
Makes Customers Laugh
There's no reason why your slogan can't also be humorous. A funny or witty slogan makes readers smile, but more importantly, it cements the information about your business firmly in their memory:
Lose the mop and we'll clean the slop
Neat is our middle name
Word plays, puns or rhyming sentences like the above are humorous and interesting cleaning business slogans ideas.
Proclaims Your Goals
A business slogan can be set in a way that implies a goal:
For example, this slogan explains the goal of the business very clearly.
The necessity of a unique slogan is important for your business to get recognized. Play with some of these cleaning business slogan ideas to come up with one that is uniquely you.
Share Your Slogans, Please!
Creativity begets creativity, so please take a minute to post your idea for an award-winning slogan in the comments section below. Your fellow entrepreneurs will thank you for sharing your ideas and tips.
References and Image Credits
Coca-Cola 120th Anniversary, Coca-Cola Slogans Through the Ages, The Coca-Cola Company, https://www.thecoca-colacompany.com/heritage/120_slogans.pdf
Author's experience in the advertising industry selling billboard and yellow pages advertisements
SXC, Stock Photo Image ID: 901029 used under standard image license