How SCORE Can Help the Small Business Owner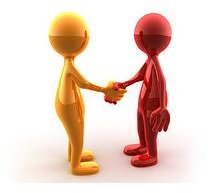 How SCORE Can Help You
As a new business owner, you're probably learning you will need things like a business plan and cash flow projections in order to obtain any type of financial funding. Writing a business plan can be a daunting thing if you've never done it before. However, with the help of SCORE, they can turn that task into reality in no time along with offering other resources and counseling for the small business owner.
SCORE offers free business advice and services from over 12,000 small-business-skilled volunteers located in 364 chapters throughout the United States. A visit to SCORE's website and you'll find helpful areas such as online mentoring advice, in-person meetings, how-to articles and business templates, and online and on-site free and low-cost workshops.
Here, we'll break down all of SCORE's services and provide quick links to help you be more successful as a small business owner.
Services and Counseling
Trying to go it alone as a new small business owner can be overwhelming. SCORE can help you with everything from startup to running and growing your business. Here are the services SCORE offers:
Online Business Mentoring - This mentoring service is easy to use. Simply ask a question and one of the many SCORE volunteers will respond to your question within 48 hours. You can choose the type of mentor by a keyword search.
In-Person Mentoring - Find a SCORE office near you with their quick locator map, make an appointment and visit a counselor. Prepare yourself for the meeting by making a list of questions.
How-To Articles - The SCORE Learning Center offers many how-to articles such as how to start and manage a business, how to grow your business, funding your business, business tips, and even technology help for online business.
Business Templates - SCORE's Template Gallery offers a variety of useful templates such as business plans, projected balance sheets, loan request documents, cash flow statements, sales forecasting forms, and many more all provided as either Excel, Microsoft Word or Adobe files. These templates are easy to download and the Excel spreadsheets provide formulas that calculate automatically.
Online Courses - The Online Learning Center offers a two-minute assessment tool and lessons on starting a business, the IRS online classroom, and courses on how to grow your business through customer retention and advertising. All online classes are free and only require you create a user name and password.
On-Site Workshops - SCORE also offers on-site workshops at affordable prices to cover the cost of mentors and materials. Use the quick locator map to find a SCORE office near you to see a list of upcoming workshops.
Newsletters - Subscribe to monthly newsletters to receive counseling and mentoring tips for the small business owner.
Individual Offices - Each individual office also offers a variety of free services such as accounting and tax help and how to run businesses with area-specific tips.
Disaster Preparation and Relief - SCORE's Disaster Relief Center offers tips not only for business who are located in hurricane devastated areas, but also advice on how to rebuild you business, how to protect and prevent business disaster, and crisis planning essentials.
Be a SCORE Volunteer
If you have expertise in any business area, why not be a SCORE volunteer? SCORE is always looking for mentors that can offer online help, in-person assistance, and business counseling.
Being a SCORE volunteer also connects you with a great network of business owners that share advice, strategies, and special business resources set aside just for volunteers.
Visit SCORE to obtain counseling and resources for the small business owner or sign up to be a mentor or volunteer. With SCORE's business connections and partnership with the Small Business Administration, you can start, manage, and grow your business to success.