The Annual Picnic: Employee Gifts for Company Picnics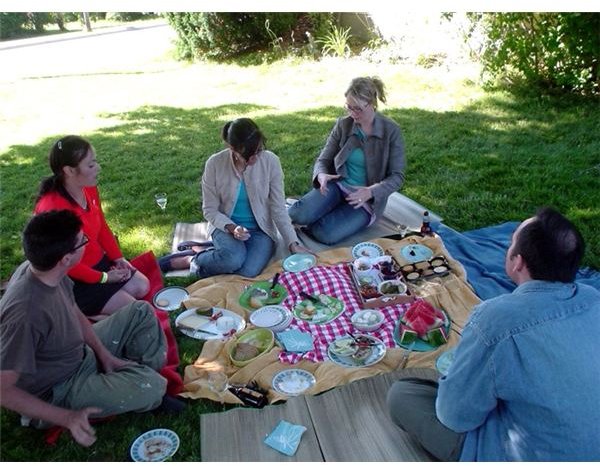 Working Within Your Budget
Even small business owners should consider buying some employee gifts for the company picnic. Gifts don't have to cost a lot to be appreciated and will go a long way to lift employee pride. Here are some great gift ideas for your employees:
Recycled Gifts - No, we don't mean take a gift you don't want and re-gift it, but a true recycled gift can be inexpensive and send a message. Tote bags made of recycled materials are available at Reusable Bags for under $6.00. Recycled beer and wine glasses made of windshield glass are also a great idea and both have reasonable prices under $25.00.
Food Gifts - Swiss Colony offers food gifts of all kinds starting from $12.00 ranging to $100.00. They allow businesses and individuals to set up "Choose 'N Charge" accounts and you can select specific gifts for each employee. This is a great place if you set a budget for each employee gift because their variety of gifts are vast. The Honey Baked Ham Company offers both hams and turkeys that will feed a dinner party. You can find eight pound hams and ten pound turkeys for under $50. Gift certificates and corporate charge accounts are also available.
Service Gifts - Buy gift certificates to local car washes, dry cleaners, and house-cleaning companies. These are great ideas for the busy employee and can help save time and money.
Gift Certificates - These can be tricky if you don't know the likes and dislikes of your employees. Certificates from Barnes and Noble, Pier One, and Target are always welcome gifts with the variety of items they have to choose from. If you can't decide on a gift certificate, Visa Gift Cards can be obtained in amounts as low as $25.00 and used just about anywhere.
Specialized Gifts - FindGift.com offers many gift ideas and allows a one-stop shopping experience. From office accessories to keepsakes to monogrammed gifts, you are sure to find many items in your price range.
Desk Items - A good source for desk items is Levenger. You can browse their gifts by price to find your budget range. Levenger has grown over the years and although they cater to the desk organizer, they offer reading gifts, totes, pens, and luggage.
Cold Hard Cash - Some small business owners want to skip gifts and hand out cash. This is fine as long as you are fair. Choose your cash amounts based on department and experience with your company. Place the cash inside a hand-written card to personalize it.
Tips For Employee Gift Giving
There are some unwritten rules about employee gifts for company picnics, so before you buy gifts, keep these tips in mind:
Be Fair - Try and keep your gifts fair as far as cost, especially if everyone is pretty much equal in their job duties. Giving one person an expensive gift and another employee an inexpensive gift is a sure way to lose respect.
Gender Specific - Stay away from gender specific gifts such as football or baseball tickets for the guys and necklaces for the gals. The office is not the place for gender specific gifts.
Don't Overspend - Company picnics are fun for everyone but consider your employee gifts as an expense and budget for that expense.
Do It Yourself - As a small business owner, don't assign all the employee gift buying to one of your employees. Do it yourself or ask a friend, associate or relative to help you.
Cards - A nice card along with a personal hand-written note to go along with your gift is the perfect touch and will be appreciated.
Lottery Tickets - Steer clear of lottery tickets as gifts. They will appear as if you put no effort into your gift-giving.
Employees Do Talk - Even if you request everyone open their gift once the picnic has ended, they will talk and compare gifts. When gift-seeking, keep this tip especially in mind.
You can buy inexpensive employee gifts for company picnic outings without breaking your budget. Be creative and use your imagination or choose one of these gift ideas for your employees and make your annual picnic a time to remember.
Beyond determining what to hand out as gifts at the annual picnic, now is also a great time to start an employee incentive program to keep your staff motivated!
References
As a business owner, the author has experience in planning company picnics, employee rewards and gift giving.
Picnic - Wikimedia Commons/Andreas Duess
Picnic Table - Wikimedia Commons/Bdesham