5 People in Your Business Community You Need to Thank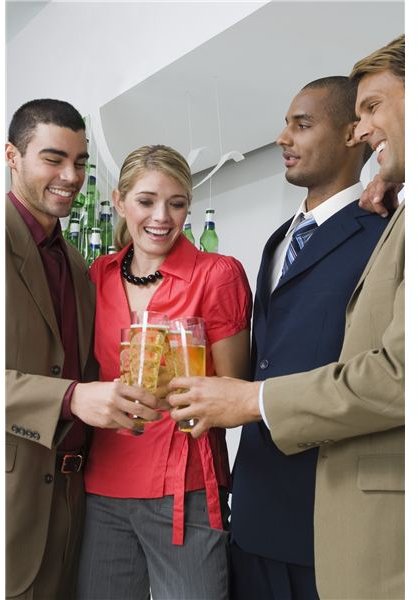 I couldn't do what I do without my family. They live and breathe my business with me and support me behind the scenes. When you have kids, every tiny success and milestone is a cause for celebration, yet there are hundreds of people who quietly support your business every day without acknowledgment: your business community.
Your business community doesn't just encompass your employees, partners, vendors, and customers; it includes everybody who influences or is influenced by your business. Think of it as your company's extended family.
Just as you would celebrate your kids' achievements at a special family gathering, I believe it's important to acknowledge all the people who positively affect your business.
Here are some people you might be forgetting about:
5 People You Need to Thank
1. Educators
Education is incredibly important, and you can never underestimate the power of good teachers. They motivated you, challenged you, and invested in your future, so showing them how far you've come and how grateful you are is a rewarding feeling. When I threw a business social, I made sure I invited my MBA professors so they could share in our success.
2. Employees' Family Members
When we celebrate success, we often imagine toasting our business associates and investors and giving ourselves a pat on the back. But it's important to remember that your employees' family members take part in the journey, too. They motivate and encourage your employees and sacrifice time with them so they can work hard for you.
3. Service Providers
This broad category includes lawyers, bankers, accountants, insurance agents, marketing agents, printers, and really anyone who performs a service for your business, however infrequently. Even though these providers may seem disconnected from your day-to-day activities, they are instrumental to your company's success, and recognizing the work of others is important for maintaining a caring, energetic community.
4. Mentors
Your past and present mentors deserve recognition, even if you haven't seen them in years. Remember the first person who took a chance on you by giving you a job? What about the alumnus who offered you important career tips? Think back on their valuable advice and kind encouragement, and use your times of celebration as an opportunity to reconnect and thank them for all their guidance and inspiration.
5. Neighbors
Just because the office next door isn't in the same line of work as you doesn't mean you should live totally separate business lives. Mingling with all types of professionals can be rewarding and beneficial for your business. Celebration leads to collaboration, which can help build a stronger business community.
Reasons to Celebrate With Your Business Community
Nobody needs a reason to throw a party around the holidays or to mark an important business milestone, but there are plenty of other reasons to get together:
Motivate your Team. Celebrations motivate your employees to stick together and keep working hard. They spur team members on by reminding them of what they have achieved and why your company provides more than just a job.
Give your Employees a Sense of Ownership. A chance to reflect on success allows people to feel ownership of it, which provides personal fulfillment and positive reinforcement. A community is made up of individuals, and if they're feeling good, your business will thrive.
Provide a Festive Opportunity to Share News. Celebrations give you the opportunity to network with community members, update them on your company's progress, and hear their news.
Spread your Message. Events are a great PR tool for meeting new people and putting names to faces, which helps boost the word-of-mouth influence of your company.
Help your Team Bond. In the business world, it's important to let your hair down every so often. Having fun is the best bonding method I know. It makes people feel connected, and that feeling of community extends to every aspect of your business.
3 Ways to Celebrate
Once you know why you're celebrating, it's time to get started planning your next event. Here are a few ideas for your next celebration:
An Office Warming Party: Celebrate moving into a new space by having a fun office warming party. Cut a ribbon, bring in some delicious food and good music, and start things off right in the new place by making some happy memories.

A Company Appreciation Party: Your business community will love this type of celebration, and it will provide a huge morale boost. You can even make goody bags or write personal notes for your guests to take home.

An Ice Cream Social: Summer is a great time to celebrate and host an event for your whole community. An ice cream social is fun for everyone — not just your employees' kids. You can get outside, meet new people, and network within your community in a fun, low-pressure setting.
The next time you feel like celebrating, remember all the people who have supported you throughout your business journey. There are probably lots of people you need to thank, and there's no better way to acknowledge the impact they've had than to invite them to your celebrations.
By including your entire business community in your success, you're not just showing appreciation. You're spreading positivity that will grow and support your business for years to come.
About the Author: Zeynep Ilgaz and her husband co-founded Confirm BioSciences and TestCountry, where Ilgaz serves as president. As the global leader in the field of lab and instant testing for drugs of abuse and health, Confirm BioSciences is committed to being on the cutting edge of offering new, service-oriented drug testing technologies. Keep up with her on Google Plus.