Create a Reputation Management Policy: Don't Leave Your Business Open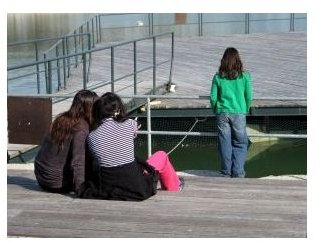 I Can't Believe She Said That!
Unfortunately, somewhere in the scrolls on human nature, there is probably someone who has noted that human beings love to gossip. With the increasing prevalence of social media and the necessity for many businesses to maintain an online presence, reputation management is more important than ever. Whereas fifteen years ago, companies worried about what was being spread through word of mouth, now companies need to worry about what's being stated about the business online and the way that the employees present themselves online.
The most important rule when it comes to managing a company's reputation is: Even if you delete something that was posted online, often, that information can be often be found, later.
Even though we strive to mention this rule to employees and friends who post on personal pages, remember that anywhere your name appears online with your business, you are representing that business. Because mistakes are made, and unsatisfied customers and clients are liable to post their disgruntled thoughts online, it is vital that you have a reputation management policy for your business.
Elements of a Successful Policy
In order to employ a policy that works for your company, it is important to take into account the following places where your business reputation might falter:
With the Better Business Bureau and other consumer affairs agencies
Within word of mouth circles
On social media websites such as Facebook or Twitter
In public forums and bulletin boards
On individuals' private blogs
Other Internet and real-world places
Once, in a galaxy far, far away and in a time long, long ago, I worked at Blockbuster Video (before Netflix even existed). One of the things I've carried with me from my employment there was a statement that went something like this:
For every poor customer-service experience an individual has, he or she tells around ten people about the dissatisfaction.
When you realize that in order to make good on dissatisfaction a company needs to have a dozen positive reviews to negate the critical review, it is easy to see where the first checkpoint for reputation management needs to be. Customer (or client) satisfaction needs to be the biggest focus of managing your reputation.
However, while customers and clients are a huge part of what you need to focus on when you want to build a good name for your company and brand loyalty, you also need to watch what your employees are doing.
Thus, every policy involving the management of a company's reputation needs two prongs: How that company will deal with customer or client satisfaction and how that company will deal with employees.
Delivering More Than You Promise
When you run your own business, you have even a more vested interest in protecting your reputation than does the customer service representative at your local video store. If you do not maintain a good record for delivering what you say you will (though some argue you should be careful not to bend too much when it comes to providing good service), then you will find yourself hard-pressed to find clients and customers who are willing to pay for your deliverables. Since the purpose of a business is to make money, it would behoove you to do so.
It's not enough, however, to just do what you will say you're going to do. Sure, you can maintain the status quo and run what will become known as an "okay" place to go. On the other hand, if you often go above and beyond the call, then your customers or clients will recommend you often. Your reputation will flourish, and you may find yourself with more business than you can handle. While these extras are not expected by customers, they are certainly appreciated.
What will you do to wow your customers and clients today?
Anti-Social Media Policies
What are your employees or partners posting on Facebook? This, and other social media websites are extremely popular, and they are perhaps the largest threat to your business's reputation. Not only do you need to worry about dissatisfied customers and clients posting about your products and services, but you also need to worry about two things when it comes to your employees:
What employees say about your business
How employees are presenting themselves to your target audience
Employees aren't the only ones who can have moments of weakness online that compromise your reputation. Did you have a bad experience with a customer today? You had better think twice about posting it in a public venue. After all, some people check out a business's social media website before they try out the service.
It's best to establish early and often what expectations you will have of yourself and your employees when it comes to posting online. Some businesses ask their employees to maintain private profiles, but with rapidly changing privacy policies, this can be difficult. Additionally, monitoring what employees post can be difficult. There are pros and cons to monitoring your employees activities online. No matter what the policy, it is vital to maintain consistency.
What will you do when it comes to social media use in your business?
Non-Disclosure Agreements
Non-disclosure agreements (NDAs) are a vital part of protecting your brand. An NDA protects any of your proprietary ideas from being patented or used by another individual. Whenever you run a business where your ideas are expressed before products or services are developed, it is important to have anyone who does business with you where that idea is involved sign an NDA or confidentiality agreement. Should someone reveal your idea before it is patented, you then are entitled to some form of compensation. Some businesses choose to have all employees sign a form of an NDA, meaning that if any business practices or trade secrets are discussed in any venue, it then becomes a breach of contract issue. The NDA may be a helpful reputation management tool.
Would an NDA help you to manage your business reputation?
Public Relations Representatives
Finally, no matter how hard we plan, sometimes it's the case that our reputation precedes us - in a bad way. In cases like this, or when you've been in business for a while but still fairly unknown, you may wish to look for outside reinforcement. Enter the public relations (PR) representative. A skilled PR person can help you to get your reputation back on track - or establish one if you don't have one. A good PR firm maintains a solid image for your business while at the same time working to minimize damage from those who have been dissatisfied. While there are many companies that bill themselves as being reputation management specialists (and you can hire such specialists should you desire a focus on your Internet reputation), a good PR firm should be well-versed in managing your brand and business reputation in a number of venues.
Does your business need a PR expert to help with your reputation?
By taking time to carefully think about how you will manage your business reputation, you can nix some of the reasons businesses lose their customers and clients. However, don't just think about your professional reputation management policy. It is also important to value your own name and take care not to compromise your personal reputation.
References:
JamieD (May 14, 2010) "Make Sure Your Business Information Stays Secret with Non-Disclosure Agreements." Business Law Advisor. https://community.sba.gov/node/46135
Tozzi, J. (April 30, 2008). "Do Reputation Management Services Work?" Bloomberg Business. https://www.businessweek.com/smallbiz/content/apr2008/sb20080430_356835.htm
Image courtesy of sxc.hu/gallery/lusi