Need a Business Process Map? Samples and Software You Can Use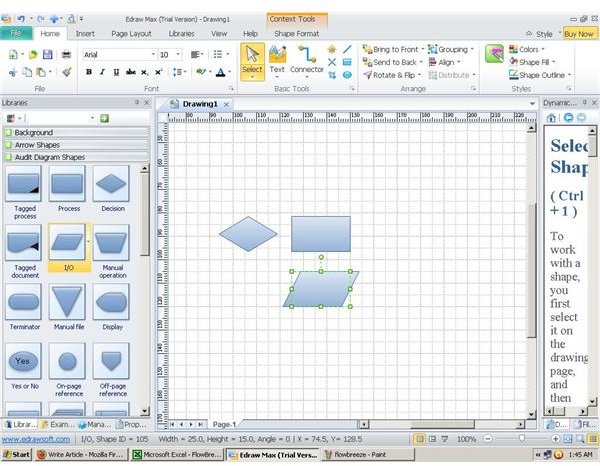 Business process maps illustrate what a business entity does, in terms of processes. It illustrates the steps involved in the process, and the people responsible for each such step, thereby making explicit the requirements without ambiguity or uncertainty. Such an approach helps gain better control over the organizational functioning. Business process mapping has a host of applications, such as helping the organization meet ISO 9000:2000 procedural requirements, and facilitating Six Sigma implementation.
Two common sample business process maps programs are Microsoft Visio and PowerPoint. In addition, there are many paid and freeware applications that generate business maps, available for download on the Internet. The advantages of such downloadable applications are customization features and ready-made features designed specifically for business maps, that even a lay person with little or no understanding of flowchart processes can use.
1. Microsoft Visio
Microsoft Visio 2010 ranks among the most popular and powerful tool to create business process maps.
The MS Visio process is easy. Open a new file, point to the "flowchart" option and click on "mind mapping diagram" to create a drawing area. Place the central idea or thought into the central theme box, and drag the relevant boxes from the toolbar into the drawing area. Connect the boxes to the central theme using the "branch handle" tool.
It is possible to create a business map in Visio using the help feature, but a basic idea of how to create business maps and the elements of a flowchart is required to do a good job.
Download a 60-day Microsoft Visio free trial from their website.
2. EDraw MindMap from EDraw Soft
EDraw MindMaps from EDraw Soft ranks among the best sample business process maps. This is an easy to use vector-based application, and comes loaded with many examples and templates. Open the application, select the required template from a host of ready to use templates that are divided into categories. The Business Diagram category for instance, has templates for audit diagrams, basic flowchart, brainstorming, cause and effect fishbone, data flow, EPC, fault tree analysis, organizational chart, work stream, value flow, and much more. Editing the templates is easy, and expert users can create new maps from scratch without recourse to templates.
The advantage of EDraw MindMaps is that unlike most other applications, it is freeware, and comes loaded with a range of unmatched options and functions.
Download the entire version, and not just the trial version from this link.
3. Process Developer Enterprise Edition 2.1 by Process-Worx Ltd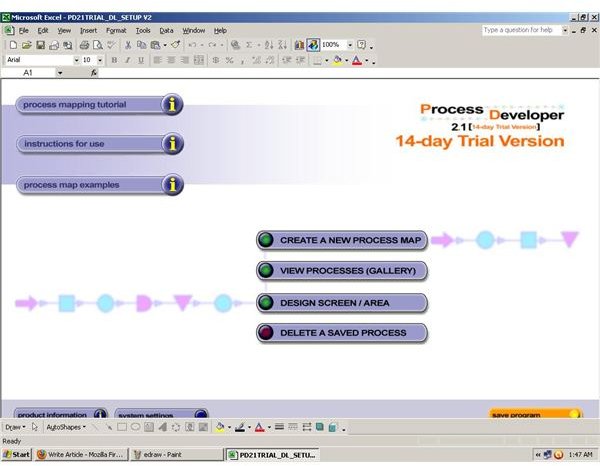 The Process Developer Enterprise Edition 2.1, a business process mapping software developed by Process-Worx Ltd. is a MS-Excel 97-based simple to use business process mapping tool that allows making activity maps, and creating flowcharts.
The software helps create maps and flowcharts from the design stage to the manufacturing process, through self explanatory menu buttons and toolbars. Clicking on the "symbol definition" icon attached to each "process symbol" provides a description on the standard use of the element. To create a map, simply create "lines" to describe each activity of a process, and add the various process symbols wherever appropriate.
Download a free trial version from their website here. The zip file extracts into a Excel 97 file containing the program to create the map, and a PDF-based instruction file that contains detailed instructions on how to use the software and create maps.
4. FlowBreeze Flow Chart Software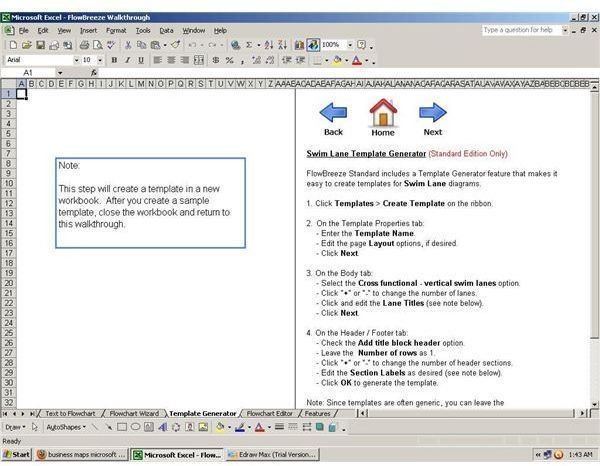 FlowBreeze FlowChart Software is another powerful tool to create business maps. This application help convert text to flowchart, and carries a step-by-step instruction alongside the MS Excel space to enter text and edit the generated flowchart.
Download a 30-day trial version from this website. Installing is easy, and only requires extracting the MS-Excel file on which this application is based from the downloaded .zip file.
In the age of competitive pressures, organizations that leverage the resources available on the Internet and spend the time saved "reinventing the wheel" to further core business activities, stand a greater chance of success. Downloading sample business process maps from the Internet and customizing or developing it to one's requirements saves time and effort.
References & Screenshots