Turbo Lister Tutorial: Learn How to Use Turbo Lister for eBay Listings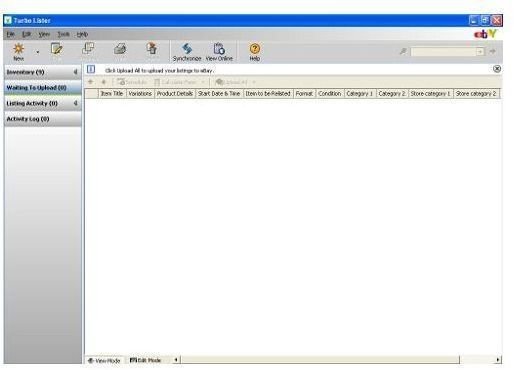 Turbo Lister is a free piece of software provided directly by eBay to help create and manage your listings. It allows you to quickly develop both individual and bulk listings, cutting down on the amount of time it takes to run your eBay business. While the program may be difficult for some users to understand at first, the listing creation process is actually quite simple and can be completed in a manner of minutes.
Download and Registration
To begin, download the official Turbo Lister program directly from the eBay website. Ensure that you get your copy from the official website so you are certain that it does not contain any malware or other issues. After the download is complete, double click on the icon and follow the installation process. When the installation is done, launch the program and follow the registration wizard to input your eBay account details and the country in which you plan to sell. Turbo Lister is now ready for the listing creation process, so click the "New" button on the top left and select "Create New Item" from the drop down list.
Listing Title and Categorization
The first set of options Turbo Lister will present is a text box for your title and a drop down menu of eBay categories. Create a catchy title for your listing that includes all relevant information about your product. You can only use up to 55 characters in your title, so include the most important elements. If you wish, you can also include a subtitle, but you eBay will charge you an additional fee. Finally, select the most appropriate category for your listing from the drop down menu provided.
Item Details and Photos
Next, Turbo Lister will display an area in which you can insert photos of your item. Simply click one of the boxes and navigate to your image file to insert it in your listing. After the photo has been added, you will see a blank text box in which you can create an item description. This description should be as detailed as possible and include everything buyers need to know about your item and your policies.
Format and Pricing
Turbo Lister will then ask you to specify your listing format and the starting price of your item. Additionally, you can add a reserve price for an additional fee. By adding this, you will not be required to sell your item if the bidding does not reach your set price. Furthermore, you can specify a buy-it-now price in which buyers can purchase the item without having to wait for the auction to be completed.
Shipping and Payment Options
In the next set of options, you will be asked to specify your shipping method and cost to buyers. Select the method of your choice from the drop down menu and type the cost to buyers in the text box next to your selection. You can offer multiple shipping services of varying delivery speed and cost to provide choices for your bidders. After setting up your shipping options, choose which payment options you are willing to accept from the provided list and enter in any account details necessary. When you are finished, you can add any additional details about your policies as a seller if you so choose. Click the "Save" button and your listing is ready to be uploaded to the eBay marketplace.