Learn About Sharing Your Documents in This Dropbox Review
What is Dropbox?
Dropbox is a filesharing and file backup program. You save your files in Dropbox and you can either share them with others, or you can share them across multiple computers. The application automatically backs your work up and shares it across multiple computers. Dropbox is cross-platform, meaning that you can use it on Windows, Mac, and Linux machines. It will also work on your iPhone as a mobile application. You start the application with 2 GB of free storage space.
Installation and Setup (5 out of 5)

To install Dropbox, you will want to visit the website and click on the appropriate platform for what you want to download. The program will download for you. Dropbox will work on the following platforms:
Windows 2003 or later
Mac OS X Tiger or later
Ubuntu 7.10 or later
Linux
Internet Explorer 7 or later
Safari 3 or later
Firefox 3 or later
Opera 9 or later
iPhone
Blackberry 4.5 and above
Once you've downloaded the appropirate version and installed it onto your computer, you can start sharing your files. To share a file, go to the Dropbox website. Create a new folder. When you create the folder, it will ask you who you would like to share it with. Enter the email address. You're set up. It's that easy.
Ease of Use (5 out of 5)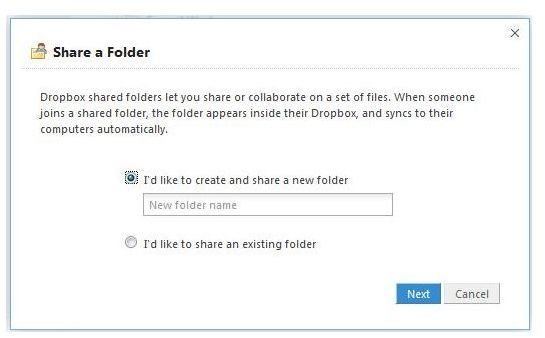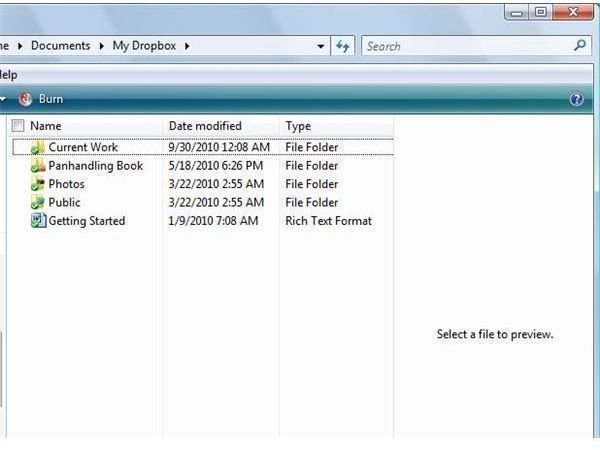 If you can use folders on Windows (or any other platform, for that matter) then you will find that Dropbox is quite easy to use. The trickiest part is getting the person or people you are sharing your files with to accept the invitation to share files. When you save files that you would like to store with Dropbox, simply save them in the Dropbox folder. If you like, you can set up multiple folders to sort your work. All of this is done with the ease that you find in setting up folders on your computer as it is. There's only one difference - as soon as you close your file, it is synced with all computers running Dropbox.
Features (5 out of 5)
I think the best feature of Dropbox is the automatic syncing of your documents between computers - this makes it really easy to share documents, take your work with you on the go, and have your client or collaborators see instant updates. This makes Dropbox an ideal program to use not only if you are collaborating with others, but also if you have a desktop computer and a laptop computer and you want it to be easy to access a file no matter where you are working.
It doesn't matter what type of file you use on Dropbox, so long as you save that file in the Dropbox folder. You don't have to be online to work on your Dropbox files either - the file will sync up as soon as you have an internet connection. Not only can you share files, (and you can provide links to your files), but you can also use Dropbox as a secure backup spot for your files. You can even undelete files that you mistakingly deleted.
Dropbox features high security and privacy measures, automatically encrypting your files so that you cannot see anothers files unless you have shared those files. Also, no one can see your files unless you have set up a password. Any public files you set up are viewable only from a link. This means that your documents are not searchable.
Price to Value (5 out of 5)
For up to 2 GB of storage space (that's quite a bit, I've been using the program for a year, and I have only used 5% of my storage space), Dropbox is free. You can earn more storage space through referring others to the program up to 8 GB of space. If 2 GB is not enough for you, then there are two other options: Pro 50 with 50 GB of storage space, costing $9.99 a month, and Pro 100 offering 100 GB of storage space for $19.99 a month. Considering the ease of use, security, and automatic syncing, this is an outstanding deal.
User Support (4 out of 5)
Dropbox features different forms of user support, including a help center, forums, votebox, the ability to send user feedback, and the ability to directly contact the makers of the program. The help center is filled with tutorials, tours, getting started, and tons of other great getting-to-know-and-use Dropbox tools. Votebox gives you the ability to vote on features you would like future releases of Dropbox. This allows you to have some control over what your program will look like in the future.
Is Dropbox for You?
Dropbox is an outstanding program for sharing files. Because you can share any type of file using this program, it is especially useful for anyone working in collaborative teams, with clients, or on multiple computers. I've found this to be an invaluable program for working with clients and for taking my work on the road.