Review of the Eudora 7.1 Email Client: A Fast and Effiient Mail Program that Blocks Spam and Phishing Emails
Eudora has been around for years and offers a classic approach to emailing. In this review, you will learn why many consider Eudora a flexible and efficient email program.
I can't say just how much I enjoy using Eudora. From conception, the makers have been successful in fixing any bugs that has arisen. They have faced each and every problem with elegance and efficiency. With each new release, Eudora has become faster, more flexible and incredibly easy to use.
There is a certain amount of finesse to reading and writing emails in Eudora 7.1. Using Bayesian filtering, Eudora's SpamWatch easily eliminates spam with versatile rules. ScamWatch can look for spoof URls and cracks down on the phishing emails that are looking to steal sensitive and secure data from your machine.
List of Features in Eudora 7.1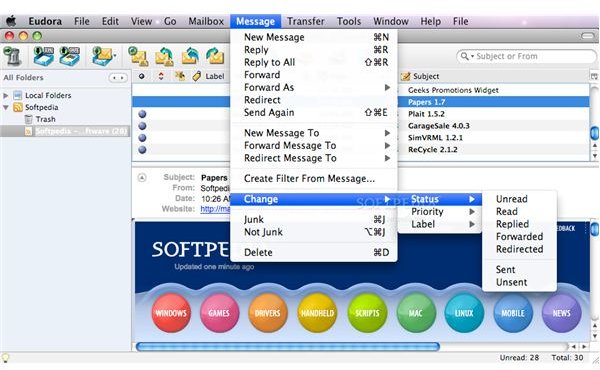 · Can effectively hand multiple POP and IMAP email accounts
· Filters, labels and reply templates are both powerful and flexible.
· Fast searching and indexing of emails
· Quoted text is trimmed with Content Concentrator
· Precise Bayesian spam filters with Eudora's SpamWatch
· ScamWatch feature that eliminates phishing emails
· Control the error of sending unwarranted emails to bosses and clients with BossWatch
· Solid plain text and HTML editors
· Support for Windows 98/ME/2000/3/XP/Vista and Mac OS X 10
Pros
· Powerful SpamWatch, ScamWatch and BossWatch delivers security and mail management reliability
· Alerts for phishing emails and deceptive URLs
· Super-fast searching and indexing of emails
· Powerful and efficient
Cons
· No smart folders with saved searches, but the program do offer virtual folders
· No automatic classifications of emails, any classification will need to be done manually.
· 7.1 version needs some improvement on the privacy protection of remote content
Verdict (4 out of 5)
Eudora 7.1 is a valid program, and the franchise seemed to have greatly improved with the 8.0 beta version that is currently going around. There is a free (Sponsored) and paid version of the program, but if you don't like annoying ads, the paid one is the way to go. It is only $49 for the full version or $39 for the upgrade. Either way, you will be impressed with the power and reliability of the email client. Sorry Mac users, Eudora doesn't currently offer support for the Mac after version 6.2.4.