The Optimal Vacation for Stress Reduction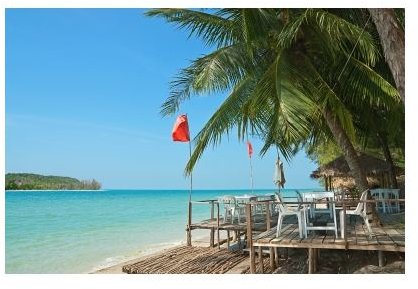 Feeling burned out from work is not uncommon; almost anyone that works understands the need of taking time off. Although, according to CareerBuilder, of the 36% of full-time workers that feel comfortable taking time off from work, 24% of workers say they can't afford to take a vacation that year and 12% who can afford to are not planning to take time off.
Another study done in 2007 by recruiting firm Hudson discovered that 56% of the work force does not use all of their vacation time allotted. Even 35% of managers and 14% of non-managers that do take a vacation tend to do some work while one vacation, often daily. While on vacation, 1/4 of individuals say that their boss expects them to be available as needed during their vacation. Even though you may need to do some work while on vacation, it's important to try to separate yourself from it as much as possible to get a real break from work.
As far as the ideal vacation length, many people recommend two weeks because the first week is spent unwinding and the second week is when you really enjoy your vacation. Although, if time allotted to take off from work is limited, even be a three or four-day weekend can be adequate to feel like you got a break.
Factors to Consider
The length of vacation you will be able to take depends on a variety of factors. Planning out the details and timing of your vacation is vital to have the type of vacation you want. You'll also need to work with your boss to have time off ahead of time and make any needed arrangements before leaving town.
Allotted time off: You need to plan out how much time work will allow you to take off. This may take saving up your vacation days to have enough time off. It's important to plan ahead and let your boss know when you will be leaving and when you will be back. Also, know who will be taking care of things while you're gone and know your boss may need to contact you while on vacation about business matters.
Expenses: One of the most obvious factors of taking a vacation is what you can afford. It may be easier to take time off if you get paid vacation time, but even then you need money saved up to get where you're going and for activities you want to do. It's a good idea to plan out what you will need to pay for ahead of time.
Break needed: You also need to look at is how long you need to feel like you get a real break from work. While a weekend away might be enough, many will be more refreshed by taking a week or two off. In general, it can be a good idea to leave and/or return on a weekend to minimize week days away from work (if you have a Monday through Friday schedule). For instance, you could take a Friday and the following Monday off to have a longer weekend away, but only miss two days of work.
Reserving time off: Although you could just use all your allotted vacation time off, you need to consider if you want to save some vacation hours if you want time off again soon for family activities or other events. You might even rather take two shorter trips by breaking up your vacation hours.
Vacation spot: The destination of your vacation could mean driving for a few hours or flying for up to a couple days. Remember to consider travel time into the length of your trip. A more local trip could mean less travel time and more time to relax, but traveling to a beautiful country may be more exotic.
Family vacation or couples get-a-way: If you have kids you need to decide if you want to plan a family vacation or get a sitter and take some time away with your partner. Extra planning ahead will need to be done with either option to have all arrangements made and ready to go.
Returning back to work
Upon returning home and back to real life, you will be more prepared to focus on work again and feel a greater sense of balance in work and home life. In fact, according to Wallace Huffman, an economics professor at Iowa State University, "Productivity could increase by up to 60 percent for employees in the month or two following a good vacation." Taking vacations for stress reduction will help you stay healthier and be more relaxed. Less stress decreases your risk for many chronic diseases such as obesity, heart disease and insomnia. Taking time off also helps your body to rejuvenate and avoid becoming burned out, exhausted or even depressed.
Sources
CNN Money: Summer vacation tips
Careers on MSNBC: Take that vacation: It could help your career
The Job Board: Top 10 checklist to prepare for your vacation from work