TechSmith Camtasia Studio 7 Review: New Screencasting Features and Enhanced Production Capabilities
Overview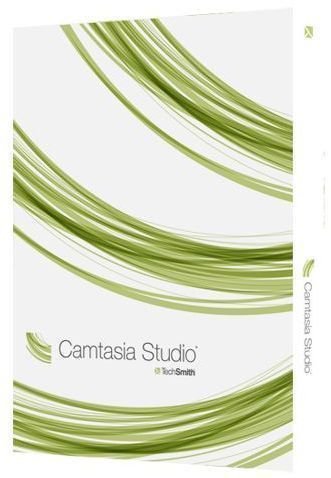 When it comes to screen recording and editing software, TechSmith's Camtasia Studio has held the position as leader of the pack for quite some time. More and more developers continue to enter the market with competitive products, but Camtasia Studio still holds its ground as the "name to beat."
Rather than simply rely on past reputation, the latest version of the screencasting software presents several new features and enhanced capabilities. We'll take a closer look at these and other functions as we review Camtasia Studio 7.
Installation and Setup (5 out of 5)
The installation and setup of Camtasia Studio 7 is typical of any modern Windows application. An easy-to-use automated wizard handles the whole process, allowing the program to be up and running in no time. The software does require Windows XP or higher, and it's fully compatible with Windows 7. Here is a complete list of system requirements.
Windows 7, Vista, or XP operating system
DirectX 9 or later
1.5 GHz single-core processor (Intel 2.0 GHz dual-core recommended)
1 GB RAM (2GB recommended)
500 MB hard disk space
1024x768 or greater display
Specific features, such as iPhone-ready production and camera video recording, have additional requirements.
Ease of Use (5 out of 5)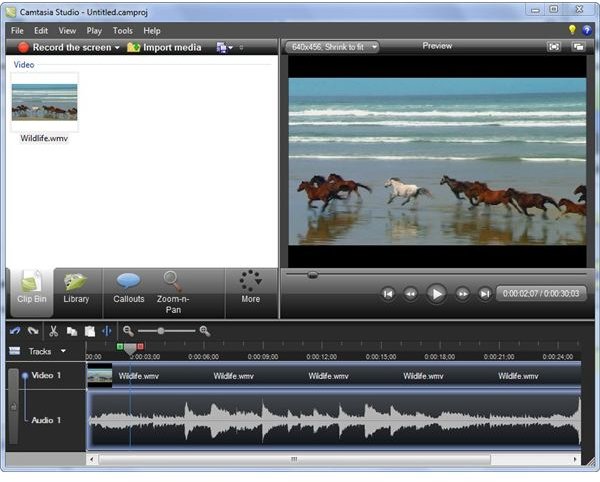 If you're a relative newcomer to video editing tools, Camtasia Studio's user interface may seem a little intimidating at first. To help mitigate that problem and make the learning curve as easy as possible, TechSmith has developed a comprehensive series of video tutorials, broken down into several categories.
In particular, the Getting Started series is a collection of eight short videos (each one is about 2-4 minutes long) that demonstrates the basic and most often used capabilities of the software. With these guides, even brand new users should be able to jump right into making their first videos in less than 30 minutes.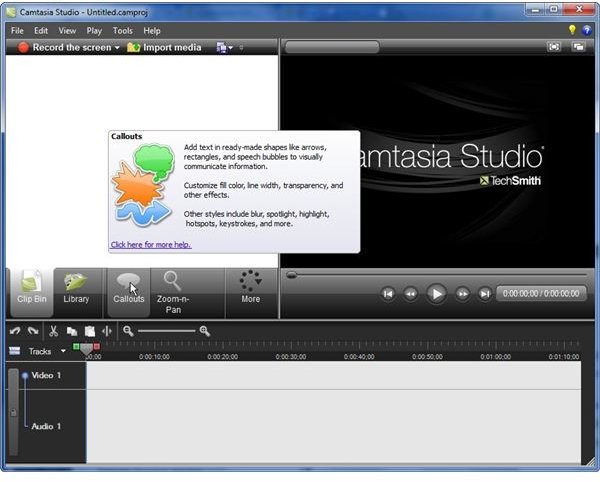 Version 7 of Camtasia Studio sports some very attractive improvements to the user interface. In addition to being easy on the eyes, these enhancements help streamline the recording and editing process, making it even more intuitive and efficient. For those that have had some experience with recent versions of other video editing tools, the basic layout of the user interface should feel familiar and comfortable.
Camtasia Studio also has an extremely detailed, well-integrated user manual that can be accessed from the Help menu of the application. This system, which allows you to search for the help you need, includes screenshots and detailed explanations for almost any question or problem that you might encounter.
Features and Performance (5 out of 5)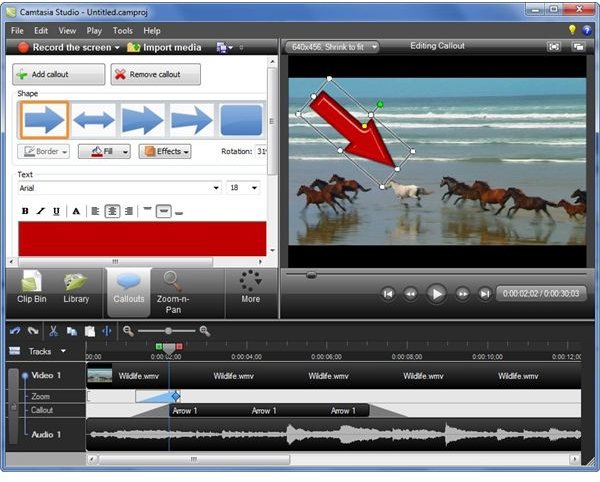 In addition to all of the high-powered tools found in previous releases of Camtasia Studio, version 7 includes some nice enhancements that should be particularly appreciated by those who create similarly-styled groups of videos.
The new Library feature lets you group and store common elements, such as intro sequences, music tracks, callouts, and logos – making it easier to insert these items quickly into multiple related projects. Another new capability that works very nicely in conjunction with Libraries is Copy and Paste. With this functionality, you can copy an effect from the timeline of any video and either paste it to another spot on the timeline or save it to the Library to use later in other projects.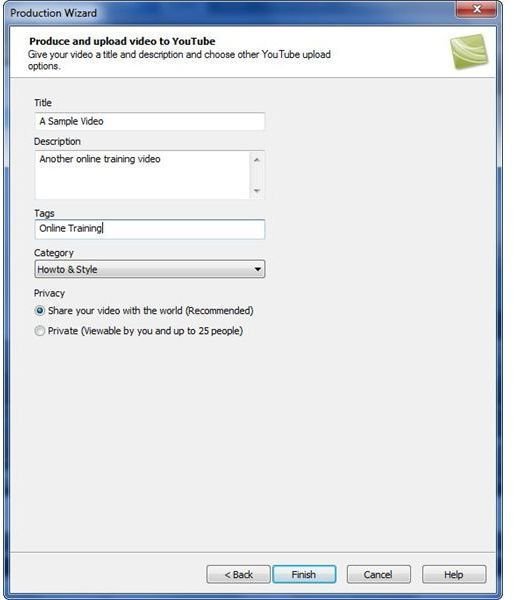 Camtasia Studio 7 also supports uploading to YouTube without leaving the software interface. A simple wizard walks you through that process, allowing you to share any video on YouTube with just a couple of clicks.
Other new features found in version 7 include new and enhanced callouts, editable cursor effects, and an optimized screen recorder. Even with all of these extras, the software still performs quite well – assuming that your machine meets the system requirements. In fact, Camtasia Studio outperforms many other dedicated video editing programs in this area.
Price to Value (4 out of 5)
An individual copy of Camtasia Studio 7 runs $299, and owners of previous versions of the software can upgrade for $149.50. Volume discounts are available if you need to purchase the software for 5 or more users.
Although this price might seem a little steep to some, it's actually quite a good deal when you consider the program's wide array of features and dedication to ease of use. However, the price tag may put Camtasia Studio out of budget range for casual users or those who aren't quite sure how much use they will get out of the software.
If you're only interested in creating short simple screen recordings, you may want to check out Jing – another TechSmith screen recording product – instead. While Jing doesn't come close to Camtasia Studio in terms of features and capabilities, it's still a very nice alternative for casual users. Plus, Jing actually has a free version.
You can also download a free 30-day trial version of Camtasia Studio 7 from the TechSmith website so you can try the product out for yourself before making the investment.
Overall Rating (5 out of 5)
The concepts of remote collaboration and online training have cemented themselves as necessary standards in today's technological world, and the number of industries that utilize these methods continues to grow. This is more than just a trend – it's part of the global evolution in communication, which recognizes the need for tools that allow us to reach out to larger groups of people who may be spread out all over the world.
The problem with many of these tools is that they are either not robust enough to handle all that is required of them or they have such a high learning curve that it's hard to maximize their potential. Camtasia Studio 7 may have a higher price tag than some other screen recording tools on the market, but it's definitely top of its class – especially when it comes to balancing ease of use and advanced functionality. All in all, Camtasia Studio is still the screencasting tool of choice for both professionals and hobbyists alike.
Image Credits:
Camtasia Studio Box Shot, courtesy of TechSmith.
Screenshots of Camtasia Studio 7 taken by Michele McDonough.