Compressor 3.5: Video Compression and Conversion Software for All Purposes
Video Compression Software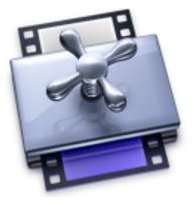 Codecs, compression, and video file types are something that is relatively new to the last couple decades. In the world of mixed standard definition and HD formats this is even more complicated than it normally sounds. Each different device, viewing format, streaming platform, and disc type uses slightly different video compression rates. For the digital video filmmaker this is even more trying as you have to know how to output your own video editing project to the codec that is needed for the purpose you have set out for. To do this you essentially need a video compression program that is going to get the job done in a way that is clear to use and target for file types. Apple's Compressor, which is an integral part of the Final Cut Studio, has always stood out as the perfect recipient of this award because of the way it ties together all of the application in the Final Cut Studio and is able to bring in outside file types as well. Compressor 3.5, which is now matching with Final Cut Pro 7, has taken the reigns and ran even further than the previous incarnations.
Apple's Compressor
Apple's Compressor itself is a well known standard in video production. When using Final Cut Pro 7, or earlier versions, you can Export With Compressor. This sends your file directly to Compressor where you can select a codec by name or purpose and then set it to "compress" your file to the format you want. This is how you compress your video files for iPhone upload, DVD authoring, online viewing, or use with Apple TV. Compressor 3.5 just builds on this by realizing the change in formats and what is needed in the new environment.
New to Compressor 3.5
One of the most important new features in Compressor 3.5 is Batch Templates. This is where you utilize a Job Action tab that allows you to set up conversions for other applications really easy, such as exporting standard videos for creating different DVD authoring formats. The templates in general allow Compressor 3.5 to make the process of selecting codecs even easier as now you have to just think in terms of what devices you want to use instead of the mathematics. This does, however, give preferential treatment to Apple components, but this was somewhat true of all incarnations of Compressor as it is a part of Final Cut Studio. Droplets actually let Compressor 3.5's presets go even further that allows you to do simple encoding quickly. All of these features are a way in which Apple hopes to extend the use of Compressor 3.5 beyond just the Final Cut Pro 7 workflow and into the general codec world. The auto-detection in place in Compressor 3.5 also lets you take the codec from a file that you bring into the software and create a custom from it, which is the perfect way to create a consistent transcoding workflow. In this way Compressor 3.5 may be a major step forward. Apple has recognized that compression and file type transfer is a central part of media viewing today and that Compressor 3.5 can be positioned to be at the heart of what is going to be a consistent part of media management at all levels.
Blu-ray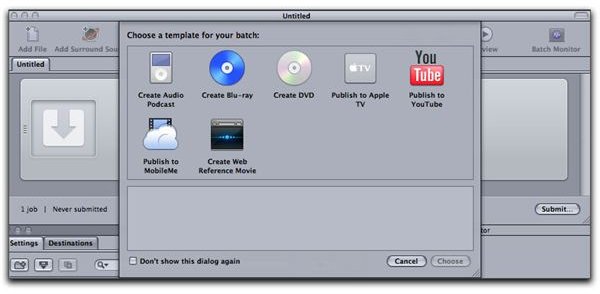 Blu-ray disc encoding is a central part of Compressor 3.5, and you can actually do some DVD authoring features right inside it. This is likely included in Compressor 3.5 because of some of the functions that are limited in DVD Studio Pro, and also to give the option for a quick and easy way to write DVDs.
ProRes and Image Sequences
Compressor 3.5 really does fit well with Final Cut Pro 7, especially with the support it has for all the new ProRes codecs. Compressor 3.5 is also boasting diversity in the support of image sequencing, which comes in differently from programs that deal with things like graphical compositing. This will also Compressor to step into image positions that it has not normally been known for.
Compress the Future
It is true that Compressor 3.5 still takes a notable amount of time to compress files, but since it does so efficiently and with the transparency of a progress bar it seems that his may be alright. In terms of video compression and conversion software there really is nothing on the market that can compete with the workflow perfected in Compressor 3.5.
This post is part of the series: Final Cut Studio 3
Articles with outlines and reviews for the programs inside Apple's Final Cut Studio 3.