Corel VideoStudio Pro X4 Review: Video Editing Software for All Types of Users
Future of Video Editing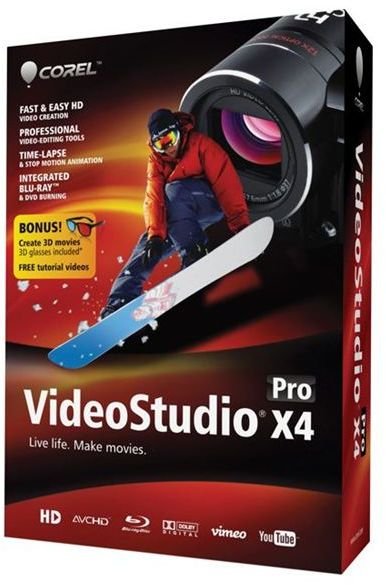 In today's world, there are countless video editing applications available on the market with more and more cropping up every day. Since video recording capabilities are now becoming standard features in smartphones, digital cameras, and other handheld mobile devices, this trend is only going to keep growing. That is, video editing and production is no longer limited to devout hobbyists and budding film makers—nowadays, everyone is making their own video clips and uploading those files to share on sites like YouTube and Facebook.
VideoStudio Pro has been one of the major players in the video editing market for quite a while now, due to its wide array of features and intuitive user interface. Several major enhancements and brand new capabilities have been introduced in the X4 version of the product, but how do they stack up? We'll take a closer look in this VideoStudio Pro X4 review.
Ease of Use (5 out of 5)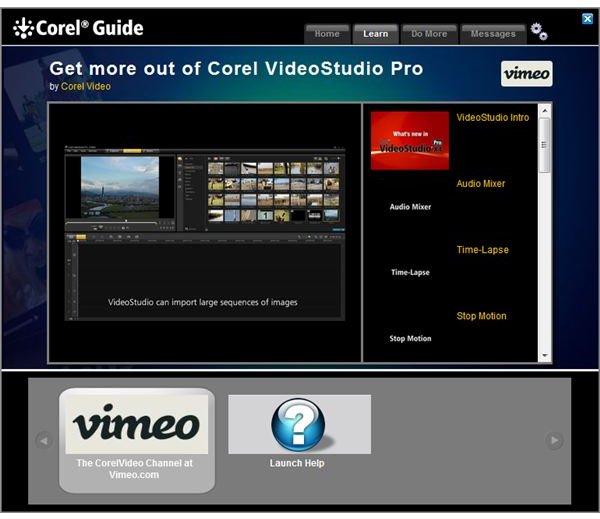 One of the things that has always made VideoStudio Pro stand out from the crowd is its focus on ease of use—without sacrificing fun features and advanced capabilities. This tradition is kept alive in the X4 version of the product, and even relative beginners should be able to jump right into the software to start experimenting with video editing.
Of course, if you want to take advantage of the software's full capabilities, there is a bit of a learning curve—mainly because there are just so many tools available. To help with that, Corel has created a series of instructional videos that are easily accessible through the Corel Guide.
Performance and Stability (5 out of 5)
While I was extremely impressed with the speed and performance of VideoStudio Pro X3, Corel has found ways to enhance these capabilities even more with the X4 release. The hardware specs of your system are always going to influence these issues to some degree, but VideoStudio Pro X4 takes advantage of all the latest hardware innovations—including the new Intel Core and AMD Fusion processors—to improve response time and make the video editing process as seamless as possible. When combined with past enhancements, these new innovations make VideoStudio Pro X4 one of the fastest, and most stable, video editors on the market.
Features (5 out of 5)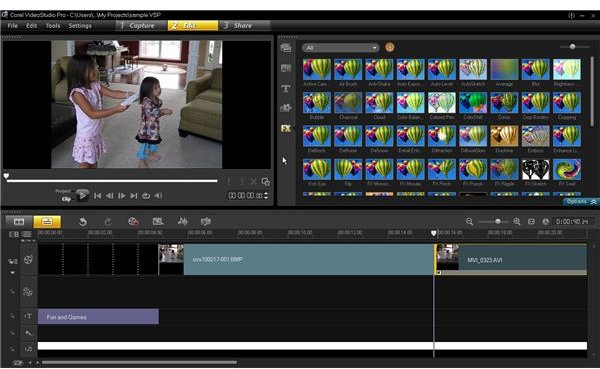 VideoStudio Pro definitely isn't short on features. Along with all the enhancements and new tools introduced in the X3 version of the product, X4 has several additions—some of which focus on making the video editing process faster and easier while others pump up the creative possibilities. I'll discuss some of these features in more detail, but here is a quick list of what's new in X4:
Faster speed and enhanced performance
Faster-loading and more intuitive Corel Guide
Stop Motion animation tools
Flexible workspace with undockable panels
Time-lapse photography tools for use with video clips or series of digital images
Enhanced library and timeline that are easier to navigate
Advanced upscaling features for improving video quality
Export to 3D tools
Ability to import and export templates
New Flexible Workspace With Support for Multiple Monitors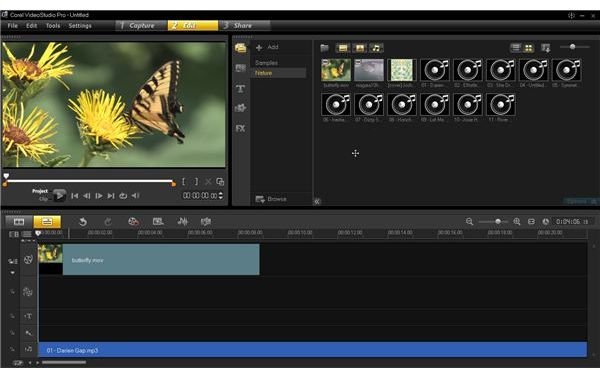 The new flexible workspace options in VideoStudio Pro X4 allow you to grab and undock any panel—then you can drag, drop and resize that panel however you like. If you have a dual monitor setup for your system, you can even drag individual panels to a separate display unit to enlarge your workspace area.
For instance, the screenshot to the right shows the traditional default setup for the software with the preview window in the upper left portion of the interface, the library in the upper right, and the timeline taking up the full bottom half. You can quickly undock, drag, resize, and redock to get a more useful workspace layout for any particular project. Below are a couple of examples.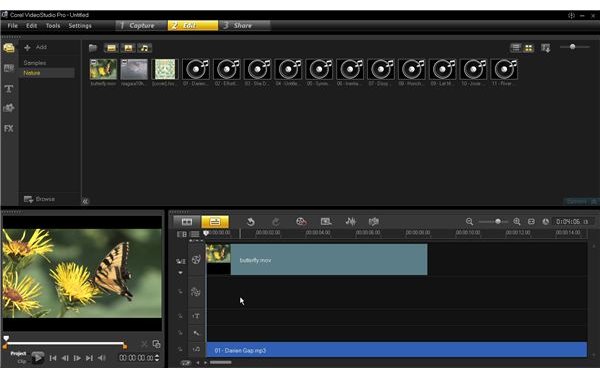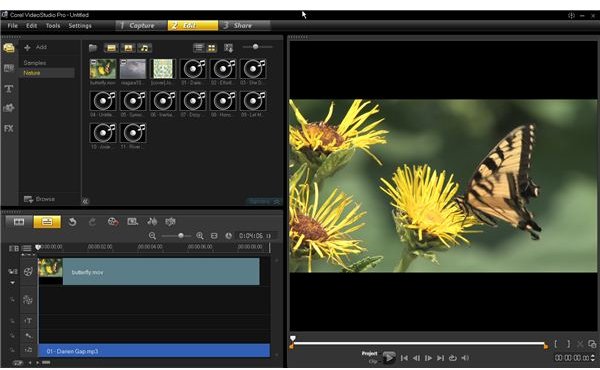 You can also leave the panels undocked, minimize and maximize as needed, or drag individual panels to be shown on separate monitors. This is extremely useful for complex video editing projects or for those times when you just want a more detailed preview of your work.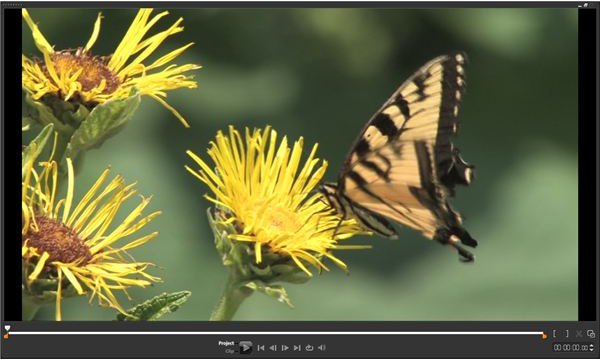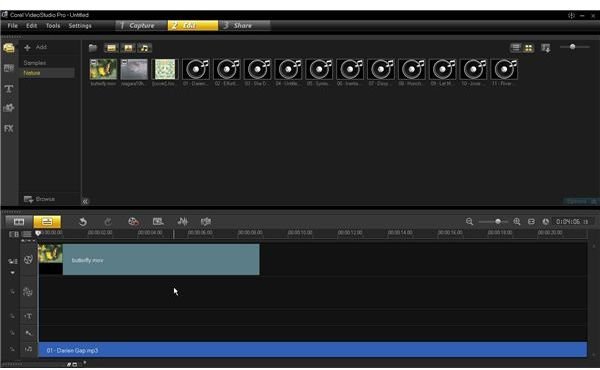 Continue on to the next page for a closer look at some of the other new features found in VideoStudio Pro X4.
Stop Motion Animation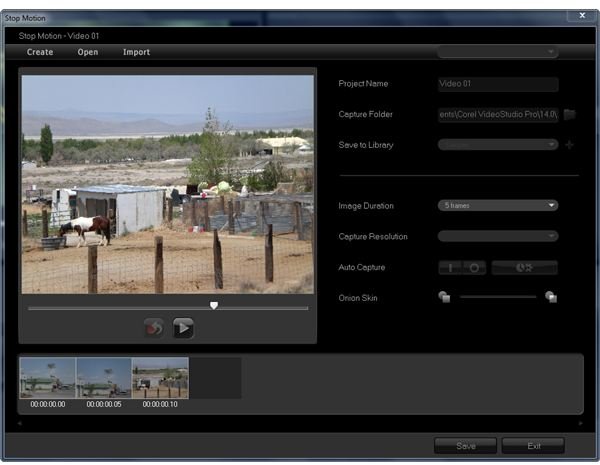 One of the coolest new features in VideoStudio Pro X4 is the inclusion of Stop Motion animation tools. If you have a webcam or a supported camcorder hooked up to your PC, you can manually capture frames or use the Auto Capture tool to save a collection of images that can be blended together into a Stop Motion animation video.
Even if you don't have a video recording device attached to your PC, you can still experiment a little with the Stop Motion tools by importing digital images. You won't get quite the same effect and not all options will be available, but you'll still be able to create some interesting projects.
Create 3D Movies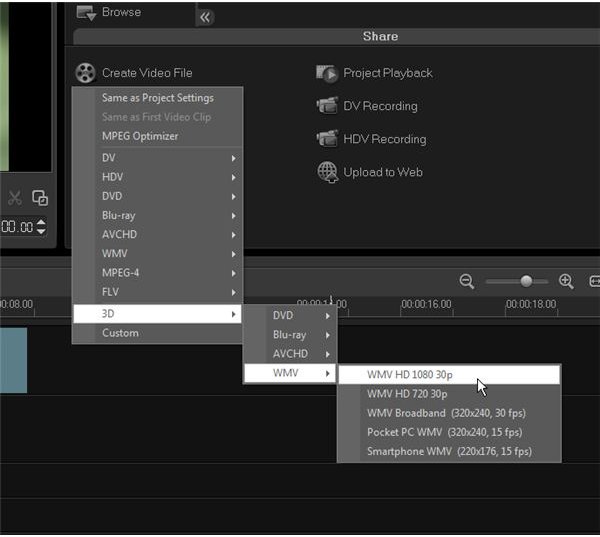 VideoStudio Pro X4 also has a new 3D export option that lets you convert a 2D project into a 3D movie file. To use this feature, all you have to do is create your movie as you normally would and then, when you're ready to save your final project, choose one of the 3D options from the Create Video File option on the Share tab. Or, if you plan to post the movie on YouTube, you can choose the YouTube 3D export setting from the Upload to Web sharing option.
If you buy the boxed version of the product, you'll even get a free pair of 3D glasses.
Enhanced Corel Guide and New Template Import/Export Ability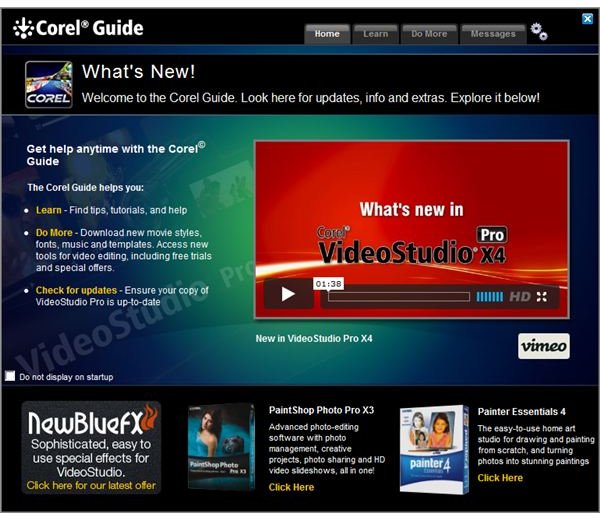 With the release of VideoStudio Pro X4, the Corel Guide—accessed by clicking on the Help and Product Information icon in the top right corner of screen—has had a major overhaul. Not only is the new interface slicker, flashier, and easier on the eye, it also loads faster and has a more intuitive navigation structure. I'm really hoping that these enhancements will be implemented in the PaintShop Photo Pro counterpart as well.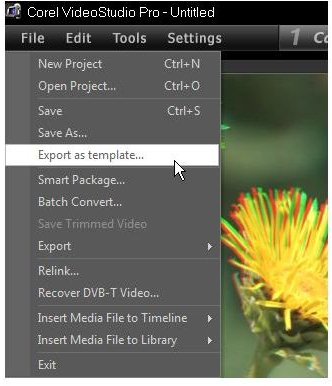 X4 also has some great new tools for template fans. If you like to create your own templates—either to share with other users or just to save for your own use in future projects—you can easily save your creation to a file using the Export to Template option found in the File menu. You can also import templates and other content via the Corel Guide on the Do More tab.
Price to Value (4 out of 5)
Priced at $99.99 for the full version of the software and $79.99 for the upgrade, VideoStudio Pro X4 is a very solid deal for your money. If you'd like to try before you buy, you can download a free 30-day trial of the product from the Corel website. This trial is fully functional, so you can test drive the software completely before making your purchasing decision.
Overall Rating (5 out of 5)
Although there are a lot of video editing applications to choose from, VideoStudio Pro X4 should definitely be on your short list—it's definitely at the top of its class in all areas, including functionality, usability, speed and performance.
Also, if you're new to the realm of video editing, VideoStudio Pro is a great program to use for learning and experimenting with new techniques. You can start out with simple projects like importing a video, making a few minor adjustments, and uploading to your Facebook account with just a couple of clicks. Then, at your own pace, you can learn how to use some of the more complex editing tools to create some truly unique masterpieces.
References & Resources
Official Corel VideoStudio Pro X4 web site: https://www.corel.com/servlet/Satellite/us/en/Product/1175714228541
VideoStudio Pro X4 box shot, courtesy of Corel.
All screenshots taken by author.