Tips for Using FlipShare: Locate Missing Video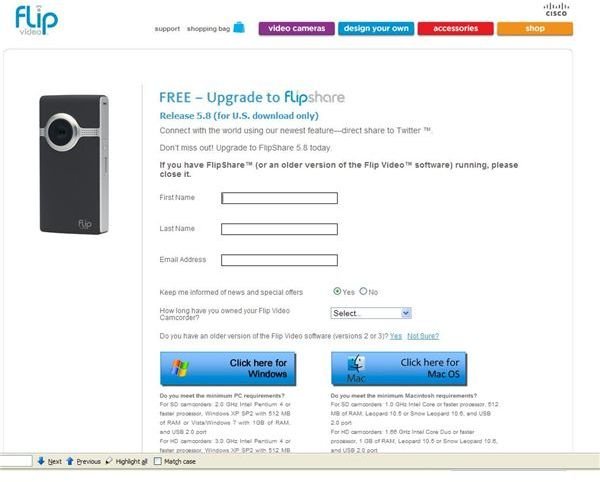 Finding Lost FlipShare Videos
If you have a Flip Video camera, then you have probably used the FlipShare software program. Many people have been having trouble with FlipShare - especially locating missing video. You don't, however, have to panic. There are some easy steps you can take to fix the Flipshare "locate missing video" problem.
First of all, determine whether or not the videos downloaded to your FlipShare account. If you received a FlipShare error message, or if the program stalled while you were uploading your videos, then they may not have transferred to your account. Try just uploading the videos again, and pay attention as to whether or not the program works correctly.
If you get the message that FlipShare cannot find videos on your Flip Video camera, double check that you actually recorded anything. This is as simple as pulling up the video and watching it. If it's there, then there's something wrong with your FlipShare.
Upgrading Your FlipShare Software
Usually, this problem is linked with having an old version of
the FlipShare software. You should go to the FlipShare website, and fill out the information to get the latest version, which is FlipShare. To get the upgrade, fill out your first name, last name and email address. You will also have to select whether or not you would like to get information in your email on news and special offers.
Next, select how long that you have had your Flip Video Camcorder. Then, you can download the latest version of the software. You just need to select whether you have the Mac or Windows Operating System.
Once the program installs, you should restart your computer. While it's not necessary to do this, it will ensure that the FlipShare program has completely installed. Then, try downloading your videos again.
Image credit www.theflip.com
Got Enough Memory?
If this still does not fix the FlipShare "locate missing video problem," make sure that you have the 1 GB (Gigabyte) of RAM memory needed to run the program. This goes for both operating systems. Your videos are very large files. FlipShare will compress them a bit when you download them, but they're still very large files.
If you don't have enough memory, the program will not work properly. In this case, you should consider using another program, or upgrading your equipment.
Time to Ask FlipShare a Question
If you have enough memory on your Flip Video camera, and you have the latest upgrades, then you may want to contact FlipShare directly should you still experience problems. They will be able to walk you through the process and help you narrow down what's wrong with your system.
You could also consider the Ask a Question page found on the Flip Video website. You must have an account to access this area as you will have to log into the system. If you have not created an account, you can do so at this page as well. If you have forgotten your password, you can have it emailed to you.
Resources