How to Use Apple Compressor for Blu-ray Disc Authoring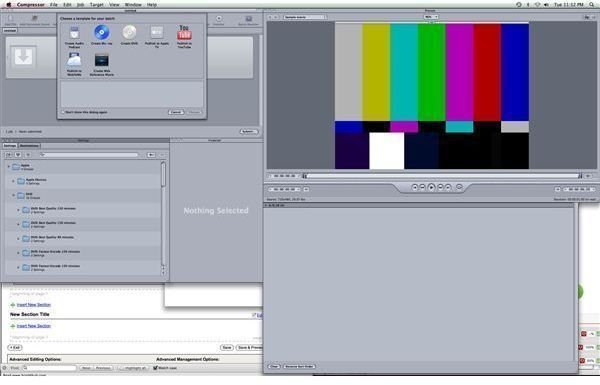 Compress It
Apple's Compressor is great at making difficult video compression and codecs seem manageable, but that does not mean that it is necessarily easy. There are actually quite a few preset codec options that come in Compressor and you can select them based on the format you are intending instead of the specific codec name. If you are compressing for streaming video, DVD authoring, iPods and iPhones, or basic QuickTime video there are preset options that you can use. One of the more recent, and under used, options is to compress video for Blu-ray disc authoring. Here is a tutorial on how to compress your video for Blu-ray disc authoring in Apple's Compressor.
First In Compressor
Start by either opening your specific video files to open in Compressor, or Send to Compressor for your Final Cut Pro video editing project.
When Compressor first opens you will get an initial menu that allows you to "choose a template for your batch." Amongst options like Publish to YouTube, Create DVD, Create Web Reference Movie, and Publish to Apple to TV will be Create Blu-ray. Go ahead and select Create Blu-ray and you will see information in the lower part of the window letting you know that the format will be in the H.264 video codec and the Dolby Digital Professional .ac3 audio. Just select Choose in the lower right hand corner. This will set up your settings up top and you then just set destination and then hit the Submit button. Once the files are done compressing you are going to have a file for the video and a file for the audio, which is standard to anyone that has done any DVD authoring. From here you will simply import both of these files into your Blu-ray authoring software as Assets before adding them to a video track. The process should be familiar to anyone that has done any kind of disc authoring, and your Blu-ray authoring program should be standard.
Other Option
If you already have a file up in your project window and did not select the Blu-ray option from the initial window, you can select it from down below. You are essentially going to choose a DVD codec option from down below as these are the common format, though you are not necessarily going to get the highest quality. Video codecs themselves are difficult to work with, but this is the standard format that is often used on Blu-ray discs.
Blu-ray disc authoring has not gone as far as it should. If you want to get serious about Blu-ray disc authoring it will be important to invest in serious software that can handle it, even though Blu-ray may only be a temporary format holding off the eventual digital formats that will be standard.
This post is part of the series: Special Apple Compressor Situations
Here are Apple Compressor tutorials with unique situations or very specific uses of the software.