Importing & Exporting between Final Cut Pro and Color - Video Editing Software Tutorial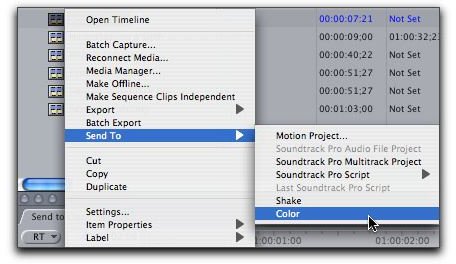 Color 1.5 Workflow
Apple's Color 1.5 is a central part of what is referred to as the Final Cut Workflow. What this means is Color 1.5 is included in Final Cut Studio as part of a complete editing package. Along with Final Cut Pro 7, Color is joined by Soundtrack Pro, Compressor, DVD Studio Pro, and Motion. These programs each serve their purpose in the post-production process and allow for a complete workflow that can get everything done. What Color is designed to do is professional level color grading for projects edited in Final Cut Pro, though it can work with other non-linear editing programs. Here is an easy tutorial for exporting footage to Final Cut Pro and sending it back from Color into Final Cut Pro.
Preparing the Send
If you are in Final Cut Pro start by finishing how your sequence will look. You want it to be done because color grading in Color should be the last part of this and you will not want to do much editing in Final Cut Pro afterwards. You will also want to limit what color correcting you have done in Final Cut Pro as these will be listed as Primary Color Corrections in Color and note that effects and things will be absent in Color and will then be available once you get back to Final Cut Pro. Also try to be at the highest quality setting possible for your sequence.
Sending Files from Final Cut Pro to Color
Go to the Browser and find the sequence you want to send to Color 1.5. Right click it and select to Send it to Color. When the Send to Color window comes up name the sequence something appropriate so you will be able to find it easily. Then just select OK and Color will launch and you will select a directory. Choose a different drive and you will then find you entire sequence in Color 1.5 and you will be ready to do any color grading you were looking for.
Color 1.5 Export
When you are done color grading and ready to send the project back to Final Cut Pro go to the Render Queue tab up top, which is to the direct right of the Still Store. Select the Add All button at the very bottom to get all of your video clips onto the list. Select Start Ready and watch the rendering occur. Once this has finished go to File and Send To, with the final selection being Final Cut Pro. This will import a new sequence to your Final Cut Pro project that will be the color-graded version of what you just exported from Final Cut Pro. This sequence will likely have a different name, but should still be kept in a separate Bin so as not to confuse it with earlier versions of that same sequence. This can create problems in your workflow, especially when it is time for final compression and DVD authoring.