Invitation Cards for a Tombstone Unveiling: Worthy Samples to Buy or View for Ideas in Designing your Own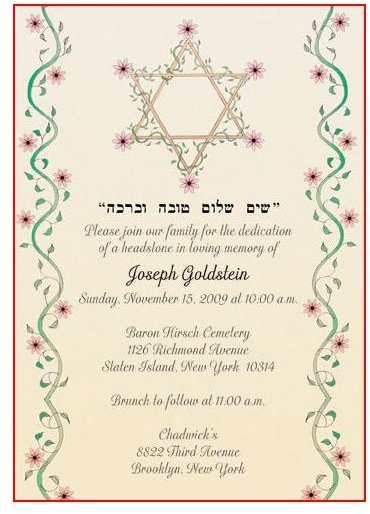 Honoring Those Who Passed on with Reverence
Invitation cards for tombstone unveiling are important in gathering the friends and family to pay their respects and honor a deceased loved one at the ceremony where the tombstone is unveiled. This ceremony traditionally takes place no later than a year after the individual passed away, at the grave site where the tombstone marks their passing. A stone monument erected to mark a grave has biblical roots: "Jacob erected a monument on Rachel's grave" (Genesis 35:20). This way, relatives had a means of identifying the marker when they visit the cemetery and honor the one who passed.
At this reverent unveiling ceremony, Psalms from the Bible are read to the gathered mourners present. A short eulogy is given to mention the most notable traits of the deceased. Then the cloth veiling the headstone is removed and prayers giving praise to God are recited by all those present. Thus, the headstone is formally dedicated. It is also customary for mourners to leave a small stone at or on the marker to show that they had visited the grave. While placing a monument at the gravesite and placing small stones at it are
ancient traditions, the tombstone unveiling ceremony became more of a cherished ritual in the last century.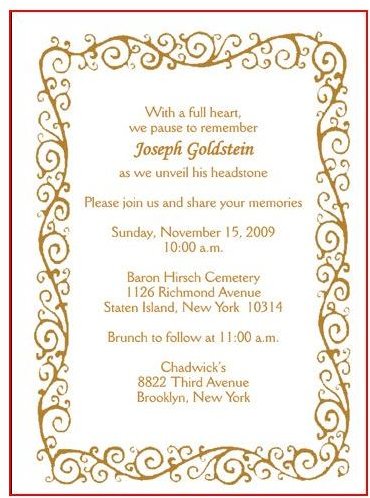 Invitation cards for tombstone unveiling are usually sent out three to eight weeks prior to the ceremony because considerable time may have elapsed since the passing of the individual being honored. The cards will usually give the guests the opportunity to R.S.V.P, preferably by a date two weeks prior to the ceremony. The date, time, and the address of the location where the ceremony will take place should be on it. Sometimes, explicit directions, even to the gravesite within the cemetery are included with the announcement. Cards should reflect the solemn tone of the occasion while also celebrating the life and deeds of the individual who passed on.
Best Source for Unveiling Ceremony Samples That You Can Purchase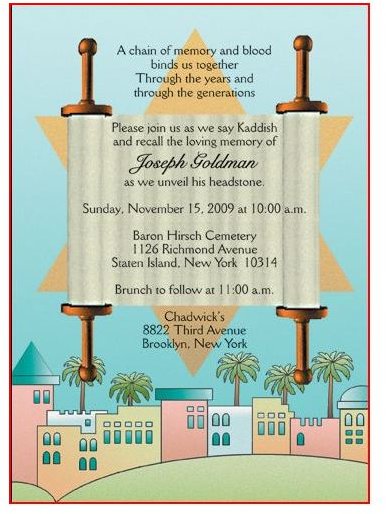 One of the best sources to find a multitude of samples and different designs for Unveiling Ceremony Announcements is at irasperipheralvisions.com. All of these are available for purchase and this website lists several options for unveiling ceremony verses and wording to choose from which you can include on the card. Packages include options for RSVP with a self-addressed envelope, maps, directions, and more. So if you have the time and you're thinking about making your cards as a DTP project infused with your devotion, you've got a bevy of design options, ideas, and even wording based upon all of those samples there. Use the DTP software you're familiar with and build it from scratch or use one of their built-in templates they likely have as a basis to customize your own. These Hebrew Fonts would be helpful to you.
If, you're in a time-crunch and your DTP skills aren't all that stellar, you might find that you can use a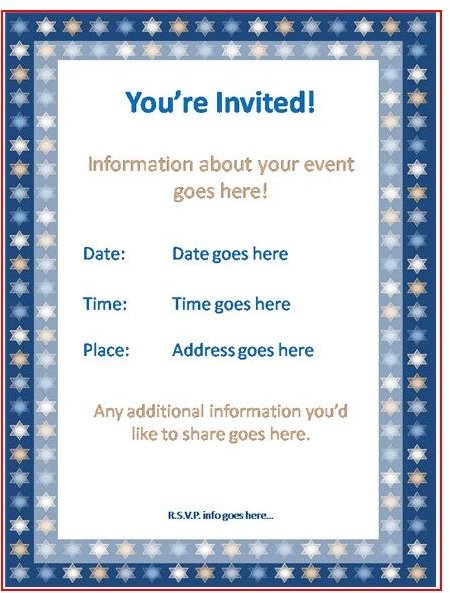 ready-made template for your announcement. Although I couldn't find any templates specifically for an unveiling ceremony, this Jewish Event Invitation Template available at Microsoft.com could serve your purposes with a little bit of tweaking. Otherwise you can browse through their large assortment of invitations to see if there is one in particular that could be used for this purpose. You can upload more appropriate images or borders on it and you already have the wording from all those samples I pointed out earlier to use for your customizable invitation. As you can see from the unveiling ceremony samples above, some of them look like standard invitations that don't include tradition Jewish symbols. You could find a standard invitation by perusing Free Invitation Templates to build on for this purpose. If you're going to do it this way, you'll have to browse through all the collections to find one that is appropriate or that you can customize with images to mark this solemn occasion. Taking the time to get the invitation just right would be a meanigful way to honor the person you're honoring in the ceremony.