Printable Sample of a Wedding Ceremony Program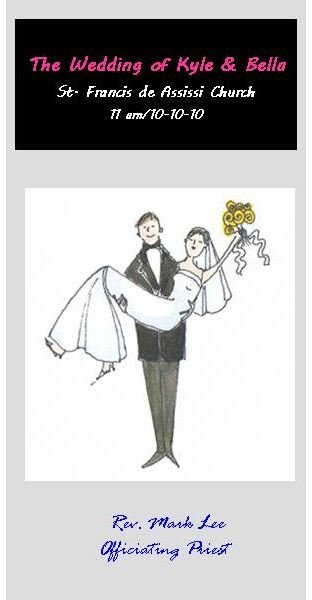 Tying the Knot
We have all heard them say that marriages are made in heaven and celebrated on earth. Moreover, that celebration is usually grand. When preparing for a wedding, there are literally piles of work to do. Your work includes preparing for the necessary marriage documents, booking of church and party venue, gown fitting, food tasting, and so on. Breathe. After doing all these things, there are still crucial tasks to be done which will make or break the entire wedding celebration: the programs. Wipe your worries away. Simply use this sample of a wedding ceremony program.
The Wedding Invites
You are probably thinking of a very formal wedding ceremony layout in neutral colors with your very formal message in a very elegant script. Why not try something fresh and unique? Consider creating a cartoon version of yourselves and have them printed.
Try this DIY program cover that will surely set your invitation apart.
Have someone draw a cartoon version of yourselves.
Scan the drawing.
Using Microsoft Office Publisher (or any similar program), upload the drawing.
Add simple text and use a casual text font. Include the names of the following:
Officiator
Parents of the Bride
Parents of the Groom
Maid of Honor
Best Man
Bridesmaids
Groomsmen
Flower Girl
Ring Bearer
Bible Bearer
Primary Sponsors
5. Add a simple ribbon and voila! A unique wedding program.
The Wedding Ceremony Program Flow
After the wedding ceremony comes the wedding program in the reception area. This should be highly noted by the bride and groom since the celebration will leave memories that will last a lifetime. Often, the bride and the groom spend many dollars just to have their program flow created. Here is the sample wedding program that you can apply:
The Wedding Program
1. Emcee gives a warm welcome to guests and thanks them for gracing the wedding.
2. Emcee introduces the VIPs as they enter the reception area:
Parents of the Couple
Principal sponsors
Secondary Sponsors
3. Emcee prompts guests to stand up and clap as the bride and groom enter the reception area.
4. Emcee prompts the release of doves.
5. Prayer before meal.
6. Emcee calls the bride and groom for the cake cutting.
7. Wine ceremony
8. Emcee announces that it is time to eat.
9. Picture taking of guests with the couple while eating (the newlyweds go from one table to another).
10. AVP presentation to entertain guests while eating
11. Emcee invites the best man to initiate the toast
12. Emcee invites the following to render their messages:
Message from Bride's closest friend
Message from Bride's mom
Message from Groom's mom
13. Bouquet & Garter ceremony
14. Dance Ceremony
Father & daughter dance
Mother & son dance
Couple's 1st dance
15. Bride and Groom's thank you messages
Image credit: Khaye Mydette Sy Cardenas
Resource:
yourweddingcliques.multiply.com