Five Free Alternatives to Zapfino Fonts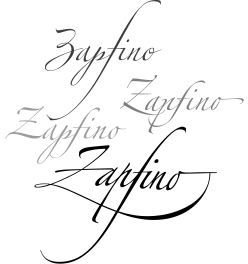 The Zapfino Font
The Zapfino font collection is a handwritten series of fonts that are great for formal, high-class documents. This font is fantastic but that downside is that it's a commercial font and must be purchased before you are able to download and use the font on whatever projects you might be looking on it. Don't fret though because as always, I've got a couple of fonts that are great alternatives to Zapfino that are better not only because they look better but because they're also completely free to download and use!
When looking for alternatives to the Zapfino series we want something thin, handwritten, and lots of loops. Despite being handwritten the Zapfino font is fairly modern so that's another bit of criteria we have to look at while finding a suitable alternative to this font. Here is a list of fonts I have come up with that match these criteria in some way or completely. Please enjoy!
(Click on the image for a larger preview of the font.)
Adinekirnberg-Regular

Adinekirnberg-Regular is a little thicker than Zapfino, but not by much. It is a handwritten font that really stresses how handwritten it is. It's a little rough around the edges giving it a more traditional, old style of font but I feel like it really fits in with this selection of alternative Zapfino fonts.
Source: https://www.fontstock.net/10815/adinekirnberg-regular.html
Beautiful ES

Beautiful ES couldn't be a more appropriate name. This font is popular on Fontstock.net and holds the number one position of popularity at the time of writing this article. It is another handwritten script that is definitely modern and digitally rendered. It is a seamless font and looks very elegant. While not as heavily stylized as Zapfino it will certainly give it a run for its money.
Source: https://www.fontstock.net/9099/beautiful-es.html
Champignon

Champignon is very similar to Beautiful and Zapfino but it's less wide and stylized a bit leaning toward being more like Zapfino than Beautiful. The font will work beautifully in your formal projects and definitely stands up on its own as a unique font.
Source: https://www.fontstock.net/11908/champignon.html
ChopinScript

ChopinScript is stylized in a beautiful way. The handwritten loops and curls are much tighter to the lettering than Zapfino but that's what makes this font it's own entity rather than just a simple alternative. It's modern, seamless, and extremely clean, definitely give this font a shot.
Source: https://www.fontstock.net/10362/chopinscript.html
Exmouth

Exmouth is a straight and narrow script that is seamless. Not very stylized but still a beautifully done handwritten font that is certainly a fine choice for your formal needs.
Source: https://www.fontstock.net/9603/exmouth.html
Freebooter

This is a thicker script font that is one of the more heavily styled out of this entire list of alternatives, maybe even a bit more so than Zapfino, which isn't a bad thing! Freebooter is a tad less formal or decorative than some of the other fonts so if you're maybe looking for a font that's for a project that doesn't exactly scream formal or high class but sort of wants to stay in that area, this is the font for you.
Source: https://www.fontstock.net/1040/freebooter-script.html
Scriptina

I really like Scriptina as just a general go-to script font when I need something for a formal project. Fancy but not too fancy. Stylized but not overdone or tacky. Scriptina is a great substitute for most script, handwritten fonts. It is however a thinner font so if you need that boldness, it will not come with this font.
Source: https://www.fontstock.net/4380/scriptina.html
Credits
All images are used for preview and promotional purposes. Thank you font artists for providing such wonderful work for free.