Retro Brushes: Photoshop Vintage-Style Brushpacks for Free!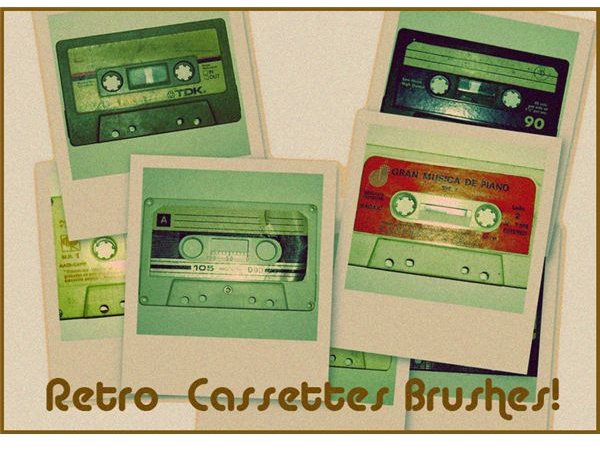 There is something to be said for the retro revival that seems to take place every few years or so. More and more people are digging through closets to find mom and dad's vintage clothing, or browsing flea markets to find some kitschy decor for their house. Why not bring the retro revival into your projects with these retro brushes? Photoshop compatible, these brushes are100% free to use.
Not sure how to install these brushes after you download them? Check out the Find and Install Brushes for Photoshop tutorial.
Not sure how to work with brushes? Check out the Brush Settings tutorial.
Retro Cassettes
Gone are the days of laying in front of your stereo, waiting for the radio DJ to play the perfect song for you to put on your mix tape. Still, Retro Casettes - a set of seven old cassette brushes by agshx - can bring back that feeling with a little bit of style!
Using it? Give credit to: agshx.deviantart.com
Retro I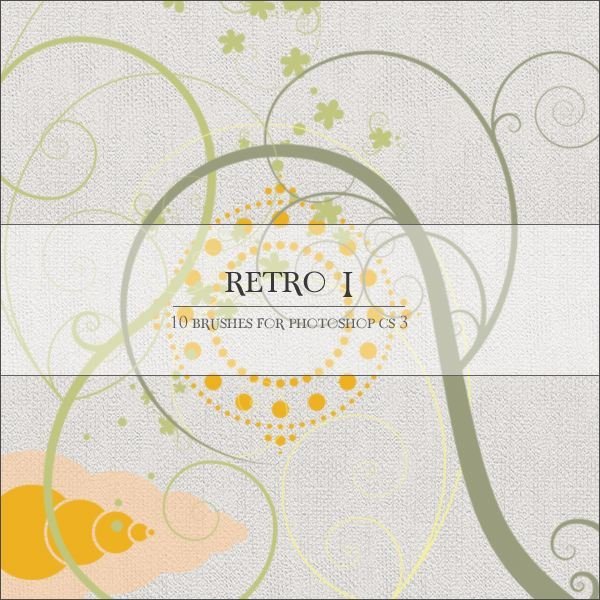 GrayscaleStock shows us that retro doesn't always have to be gaudy and overly kitschy. Retro I is a set of ten, very simple maximum resolution brushes with a very elegant feel to them.
Using it? Give credit to: GrayscaleStock.deviantart.com
Retro Dots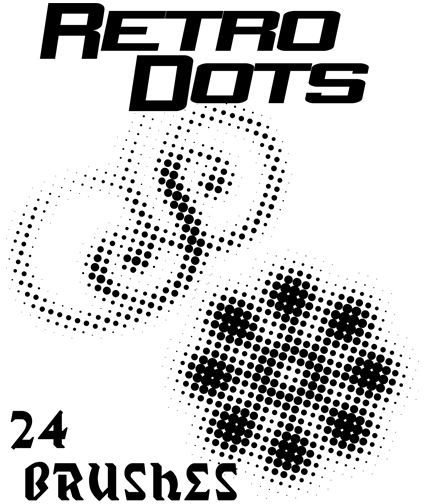 If you're looking for that nifty halftone-effect in a set of brushes, Retro Dots by Chachai is absolutely for you. This is a set of twenty four retro-style high-resolution brushes.
U****sing it? Give credit to: Chachai.deviantart.com
Retro Sryle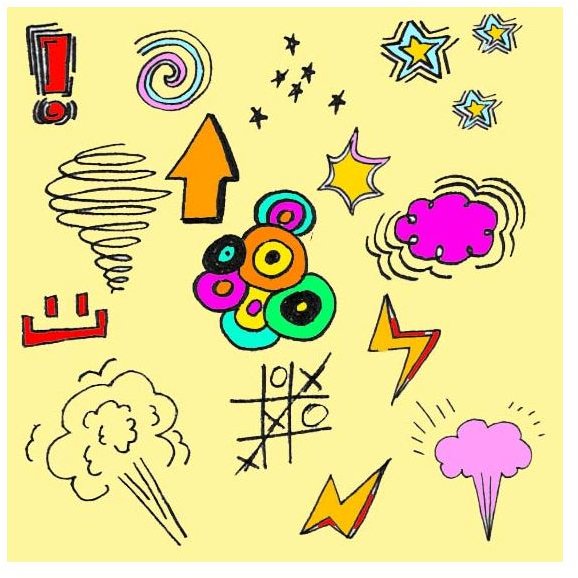 If you're looking for a large set of hand drawn retro brushes, Retro Sryle by circle–of–fire is just what you need! Scribbles an doodles, as well as some nifty stars, smoke, and lightening brushes round out this pack. Includes over 60 retro brushes for Photoshop.
Using it? Give credit to: circle–of–fire.deviantart.com
Retro Drinks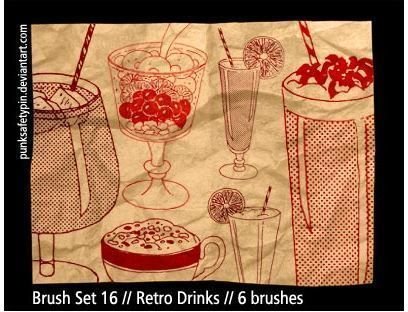 Once again, punksafetypin has managed to come through with a set of awesome brushes to use. [Retro Drinks](https://fav.me/dy1bn0Sample contents.) includes a pack of six brushes, all images that were taken from a book from the 70s. The retro feeling in this one is absolutely awesome.
Using it? Give credit to: punksafetypin.deviantart.com
Retro Brush Set
Retro Brush Set by PhotoshopCS2DOWNLOAD reminds me of the first time I stared into a lava lamp. This pack contains five groovy brushes: Two circular shapes, two abstract shapes, and one plain shape. Far out!
Going to use it? Give credit to: PhotoshopCS2DOWNLOAD.deviantart.com
Retro Ornaments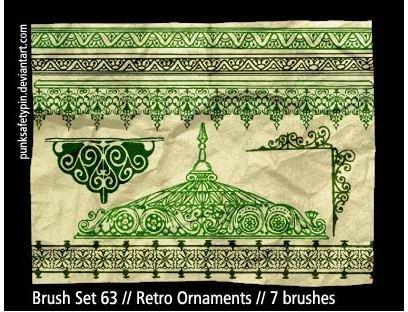 I'm going to have to feature punksafetypin again, because she's managed to create another very awesome retro brush set. This time she's come up with Retro Ornaments, a pack of seven different, elaborate, and very vintage brushes.
Using it? Give credit to: punksafetypin.deviantart.com
Retro Vectors Brushes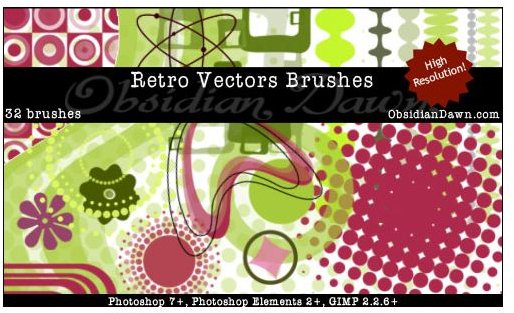 It just doesn't seem like a brush feature without a little something from redheadstock. This time she's come up with Retro Vectors brush, a set of 32 high resolution brushes that are extremely retro in feel. This includes halftone dots, circle patterns, lava lamp like blobs, and of course the ever popular 60's flowers.
Using it? Give credit to: redheadstock.deviantart.com
Retro II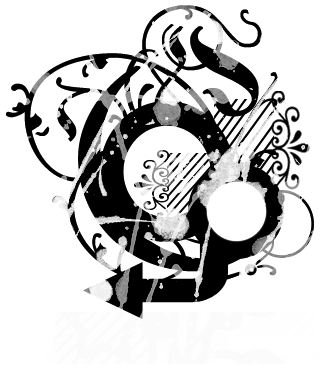 Catastrophical has created a fantastic pack called Retro II. These brushes have a very nice vintage minimalistic feel, with the perfect amount of grunge to make them fit into a variety of different projects.
Using it? Give credit to: catasrtophical.deviantart.com
Retro Images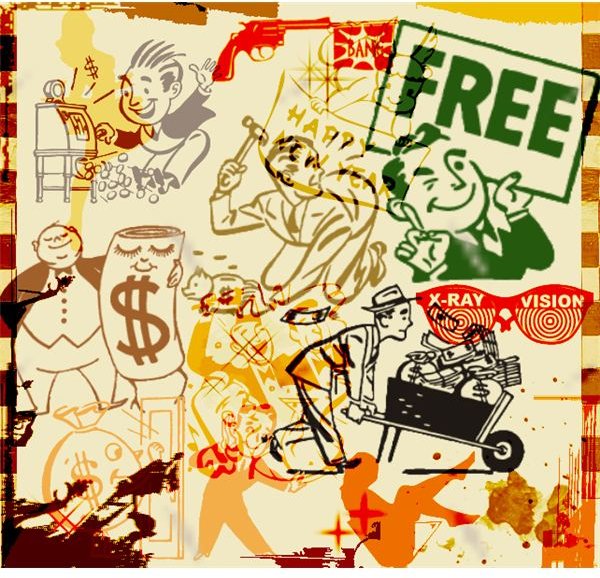 I think absolutbeginner takes first place in this feature, as her set of Retro Images has the most detailed, retro feel to it. This is a set of high resolution brushes featuring little cartoons and graphics from the 1960s and 1970s that seem all too perfect for any number of projects.
Using it? Give credit to: absolutbeginner.deviantart.com
Image Credits
All images are property of their original artists and are used as demonstrations only.