Creating a Funeral Program: Tips for Designing Your Own Personal Memorial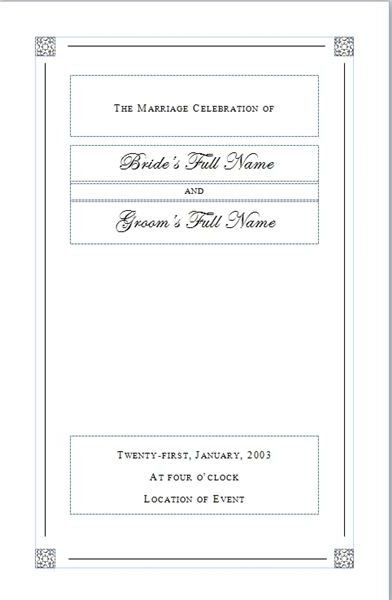 Creating a Funeral Service Program
The idea of creating a funeral program often occurs to someone as a way to honor the memory of the deceased in a meaningful way that can be shared with other mourners attending the funeral. However, it often becomes a daunting task. After all, this is not just some piece of paper. A funeral program can be a source of comfort for those who are grieving, as well as something to read during an unpleasant and often silent time. The responsibility for putting together something worthy of a person who has just died can be overwhelming. Fortunately, a few simple tips for creating a funeral program can make the process easier and ensure that the funeral service program is worthy of the person it is dedicated to.
Finding Funeral Program Templates and Layouts
People looking for a way to create a nice looking funeral service program often look to the Internet for funeral templates that can be downloaded and used to create a free funeral program that can be printed and distributed to those attending the service. Unfortunately, the vast majority of search results for funeral programs are nothing but advertisements. Searching the online Microsoft Office Templates for funeral programs comes up empty as well. A helpful tip is to check with the funeral company or church performing the funeral service. Often, these organizations can either provide a funeral program template or even produce the program for you.
Another helpful tip is to remember that any respectful and important event that utilizes a program can be the source of a worthy funeral service program template. For example, wedding program templates are much more common and several are installed with Microsoft Office or available online. In a pinch, a newletter template can be used as well.
At first, this may seem in poor taste, but a second glance reveals that weddings are also important and dignified events. A few modifications to such a template can easily form the basis of a tasteful and personalized funeral program. In this example, a simple wedding program template has the wording changed and the font of the dates reduced in size to create a very tasteful and simple funeral program. (Click images for a larger view.)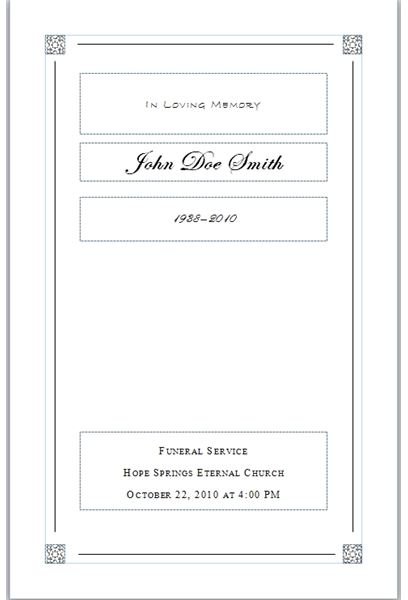 Remember that the most important thing about funeral programs is not their design or layout, but rather what they say and the message they convey. Go light on graphics and colors. Funerals are somber occasions even if other remembrance events are not necessarily so. This is not the time to let your graphic design expertise shine through.
Be sure to avoid the most common funeral program mistakes. Be sure to double, triple, and quadruple check the spelling of the deceased's name. Also be sure that any religious iconography used is appropriate. Obviously, you do not want to mix up the symbols from different religions, but remember that there can be significant differences among the symbols used within different forms of the same religion. Don't just pick clip art because it looks good. Make sure it is right.
Hopefully these tips can help you create a funeral program that honors those who have passed and those who mourn them without too much additional angst.